Three immediate changes academics can make to close awarding gaps
Tutors have a responsibility to identify and bridge attainment gaps in their programmes and must work proactively to bring about positive impact for their students
27 Jun 2022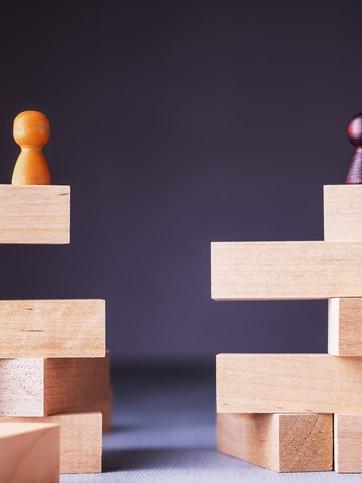 For readers not acquainted with the terminology, the concept of the awarding/attainment gap refers to the gap in (higher) educational achievement (measured by the proportionate awarding of first and 2:1 classifications) between groups of students on the basis of – among other characteristics – ethnicity, socio-economic status and gender. Although not a dilemma unique to the UK, an inability to adequately resolve this gap over the past decade is concerning and highlights a need for immediate consultation and action across the sector.
Awarding gaps are of particular importance because they have potentially long-lasting and life-altering effects on students who find it more difficult to identify, compete for and undertake opportunities within the job market. As discussed here, it may also make these students less likely to continue in academia and so perpetuate gaps in service provision.
Below, we highlight a handful of immediate changes academics can implement to motivate change.
Action 1: Material design consultation 
Over the summer, academics update their teaching material to develop new units and update statistics and impact statements. However, what we often fail to do is assess the accessibility of our material outside of working with learning designers to check for readability. We recommend working with academics and students from demographic groups pertinent to the awarding gap in the (re)development of materials.
This would not only help ensure material can be understood and connections with assessments are made clear but also that the material is timely and relevant to the individuals who are undertaking our programmes. Of course, this must be achieved in the context of the academic remaining the expert in the subject matter.
Action 2: Feedback provision
Building on from material design, there is also a need to consistently seek out opportunities to obtain and implement feedback on both our materials and our content delivery. This be achieved through formal module evaluations at the end of semesters and, in our experience, great benefit can also be gained through actively requesting more informal feedback during semesters.
This could take the form of simply asking students to voice their understanding during teaching. But to ensure all students are given a voice, consider using anonymous, real-time and online notepads. This protects students from feeling social stigma associated with overtly seeking help and allows academics to dynamically – or closely thereafter during especially busy sessions – repeat or expand on trickier material.
Action 3: Breaking down barriers 
Of specific interest, given that many universities across the UK seek to resume "normality" in terms of on-campus service provision from September 2022, emerging data suggest marked decreases in awarding gaps during the Covid-19 pandemic. In part, this could be attributed to diversifying assessment modes, increasing consideration of personal circumstances and reducing classroom-based distractions.
Although we must acknowledge instances of poor internet and access to technologies required to adapt to remote learning (which could widen the gap), students have broadly been provided with increased and often one-to-one support during Covid-19, including deeper discussion of assessment requirements and related material. On a practical level, this has probably acted to break down barriers faced by students who may otherwise have tried to make do with their available resources.
Taken together, though it is excellent to see mainstream discussion of awarding gaps within universities, we must recognise a need to take ownership of this on an individual level. Again, we indicate the importance of working with students to achieve such goals and welcome further discussion to share support and good practice.
Dean Fido is programme leader and senior lecturer in forensic psychology at the University of Derby, UK.
Louise Wallace is an associate lecturer at the University of Derby, UK.
If you found this interesting and want advice and insight from academics and university staff delivered direct to your inbox each week, sign up for the THE Campus newsletter.