Learning designer may be the best job you've never heard of
This role is the bridge between students and academia – and makes use of many transferable skills you may already have in your toolkit

Online Education Services
2 Jun 2023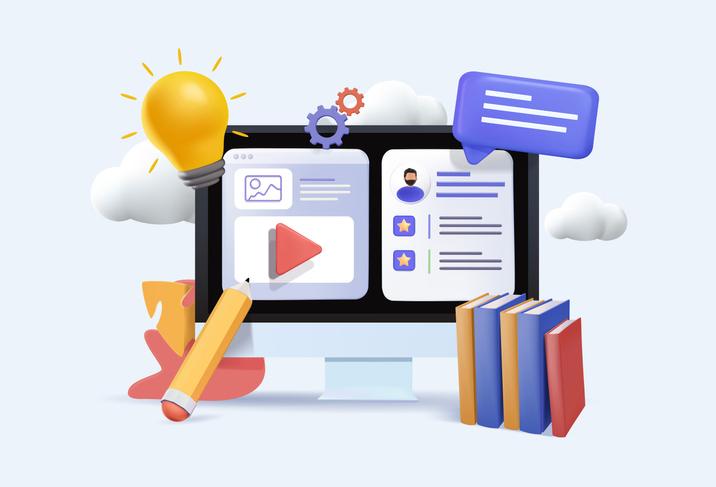 Learning designers are the backbone of remote learning, working hard to develop high-quality courses for online education. Yet, despite their critical role in online education and the rapid growth in demand for learning designers, many people, even those working in higher education, don't fully understand what a learning designer is – if they've heard of the role at all.
To be honest, I didn't know what a learning designer was when I was first approached with an offer a year ago. But since then, it's become a meaningful career where I've been able to apply my teaching skills to design curricula that support our online teaching team.
What exactly is a learning designer?
So, what is a learning designer? Learning designers are the bridge between academics and students. Working alongside programme coordinators (PCs) and lead unit coordinators (LUCs), we translate the large and often overwhelming amounts of information that students must learn into week-by-week phases (or modules) that best help students of all backgrounds learn.
Sometimes, we get a unit that covers a topic outside our area of expertise and knowledge, but the academics we work with are subject matter experts and the channel of communication is always open. We can ask questions throughout the build to "sense check" to be sure that we have interpreted the content correctly.
The way the work is translated into units changes depending on the needs of the students and the subject matter itself, with law units requiring more readings and case studies, while an ICT design unit is more project based and asks students to complete a series of hands-on activities each week to apply their learning. There are daily opportunities to apply creative thinking and be a problem-solver.
What qualifications and training do you need to become a learning designer?
There are no set qualifications you need to become a learning designer, although most have a bachelor's or master's degree, and courses dedicated to learning design are now available.
Many learning designers come from a background in academia or teaching and find that working as a learning designer allows them to continue with their passion for education while giving them an opportunity to work more creatively and flexibly than roles in the classroom tend to afford. The pedagogical knowledge and experience that these industries offer is valuable for learning design as well.
That being said, a lot of my colleagues come from backgrounds outside education, such as graphic design, editing, architecture and medical sciences.
The truth is that many transferable skills complement the learning designer role. Those with an IT or programming background might be familiar with agile workplaces and terminology such as "scrum" and "retro". Likewise, HTML code was brand new to me. After starting with Online Education Services (OES), I soon learned that understanding code was critical as we switch between the coded end and the plain-text version of a unit while building and editing. I found LinkedIn Learning offered introductory courses and these gave me the basics.
Another useful skill is stakeholder management. We deal with internal and external stakeholders across the business and university to bring a unit to life,  and we need to manage and maintain these relationships to ensure that the information is provided so we can complete the work as agreed.
What does a learning designer do?
At OES, the key tasks for a learning designer centre around the planning, development and creation of online units of academic courses, which are tailored to the needs of online students. As part of this process, we liaise with the academic, who is the subject matter expert in the field of study, and seek input on assignments, resources and the general content of the modules.
A common misconception is that learning designers "just make it look pretty". Yes, we do bring a design eye to the way the unit is presented, but there is much more focus on developing the content so that it is relevant and, more importantly, accessible for online students. We pay careful attention to ensuring our images and videos have text alternatives or transcripts for students who may have low vision or hearing, for example.
We also apply our pedagogical knowledge to create a balance between new information and hands-on or applied learning to scaffold our students' understanding and help to support them to achieve the results they are working towards in their final assessments. Sometimes we are involved at a higher level of projects and explore the user (or student) experience and look at ways that we can continuously improve that – from the moment they are interested in a course to graduation – and provide support from the learning designer side of this journey.
Some of the challenges that we face working with a third-party provider can involve striking a balance with our academics in terms of their commitments on campus and supporting us with developing unit content. Often the schedule for exams or marking doesn't correspond with our development period, so there may be times where it is harder to get a response, which can slow the build process. However, we balance this by working on other units, then returning once we have the information – this ensures we are not wasting "scoped time" for a unit and can keep working on others.
Hybrid working environments are a great help these days as it's easy to jump on a call or Teams chat and talk through a query rather than relying on email.
My path to becoming a learning designer
I studied communications and public relations straight out of high school; when the global financial crisis hit, I returned to study a postgraduate primary education degree. After graduating, I found a love of teaching and educating; however, the demands of the classroom and a feeling that I wanted more led me towards learning design.
I had been working in primary education for around seven years when a former colleague reached out to me. Despite not knowing much about learning design, I was open to hearing more. As much as I loved working in education, I'd been feeling creatively stifled and stuck in a rut and, nearing the end of my teaching contract, I was ready for a change.
Being a learning designer is a career I never imagined I would enjoy as much as I have, and it's something that will constantly be in demand as online learning allows students to learn no matter where they are located.
Vanessa Jefferson is a learning designer at Online Education Services.
If you found this interesting and want advice and insight from academics and university staff delivered direct to your inbox each week, sign up for the Campus newsletter.