In support of international students' journey through higher education
International students embark on a challenging personal and educational journey when they enrol overseas. Fiona S. Baker outlines support inside and outside the classroom that can help them succeed

5 Aug 2022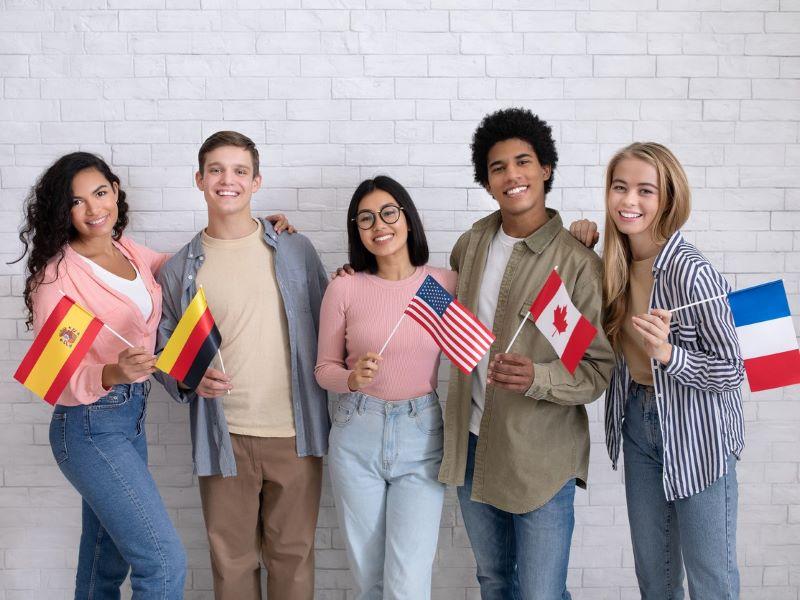 International students opt to study in the UK for a range of reasons: increased job prospects, improved fluency in English, a quicker degree, novel experiences or a preference for a UK education.
International students must achieve the International Examination Testing System (IELTS) band to enter their programme or meet the required score on a pre-sessional programme prior to being accepted on to their degree at a UK university. Some students must continue studying on in-sessional programmes during their undergraduate or postgraduate studies to support their academic English and skills development. But this does not equate to being a native speaker.
International students may not have previously studied their chosen subject and may be entering into a whole new world of concepts and technical vocabulary. Textbooks may be crammed with unfamiliar terms and references.
While this is true for native English speakers as well and some international students will have achieved fluency in English before university, the demand and time required to study will likely be much greater for a non-native speaker. Reading with the help of a dictionary, for example, can be draining and time-consuming. Contextual references may be unfamiliar, so students need to "situate" their reading.
International students often arrive in the UK having experienced considerable success in their native language. In the UK, they may receive lower marks and experience self-doubt in their ability to communicate. In these instances student resilience is dramatically tested.
For some students, studying in English can turn out to be an immense challenge that may lead to a loss of confidence as well as frustration, distress and burnout. International students may seek refuge in their own nationality's community where there can be sharing of their native language, and common bonds and experiences. While this is only natural, an understanding of student well-being and satisfaction is critical to developing policies and practices that effectively support a diverse student population and provide global educational experiences.
What steps can universities take to support international students?
The first six to eight weeks after a student's arrival in first year are crucial as they start to assimilate into the university community. Institutional support should be informed by student voice and wherever possible involve students helping students.  The following recommendations are based on research:  
1) Recruitment practices should provide international students with insights into student life and discuss what past students have found easy and more challenging about the transition. A realistic video that features international students relating their experiences would be beneficial. Increase opportunities to discuss a student's chosen course to ensure a fit and provide a face-to-face or virtual visit to the department.
2) Make students aware, when they arrive, of challenges that may arise from study abroad and provide pre- and post-arrival guidance on living in the city, opening a bank account and finding their way around the city.
3) Nothing is more important than the ability to communicate, so support with English is vital. International students are largely reliant on school English when they arrive so will need help understanding British colloquialisms and phrases. Regional accents, nuances and feelings expressed in English may be difficult for foreign students to comprehend. Peer support may help to bridge the gap until students become more confident in English.
4) Design short courses for staff and students either face-to-face, online or as self-study focused on cultural and communication differences; how to manage differences and how to respond. Aspects of the training should cover how to create and sustain healthy relationships, culturally inclusive best practice and responsive teaching and learning.
5) Clearly communicate cultural norms about instruction and expectations in a UK university setting but also bring international perspectives into teaching. This can be done by creating diverse reading lists and learning materials, encouraging students to work in cross-cultural groups and inviting varied speakers to contribute to lectures. Ensure there is ample opportunity for student-faculty interaction during lectures and seminars for questions and discussion.
6) Facilitate relationship building between students inside and outside the classroom. A vast range of activities can be drawn on for this, including:
"Speed dating"

: arrange a series of brief one-on-one interactions between students, rotating around the class. To help, give students a topic or question to discuss. Give each pair up to five minutes before asking them to move on to their next partner. There are many variations of this activity.  It's a fun way to nudge students out of their comfort zone and help them get to know each other.

Scavenger hunt:

use Scavify or a similar scavenger hunt application to connect students virtually while they navigate the campus. The element of friendly competition provided by the virtual hunt keeps students motivated to fully explore the campus. 

Breakout rooms:

break the class up into small groups and set up breakout rooms so they can collaborate independently to complete a set assignment or solve set problems. By working together on a set challenge students break down barriers and forge new connections.

Team building:

activities such as trivia quizzes can bring people together with a common aim. Trivia quizzes can be useful as their focus on general knowledge can provide insights into British life but also create an opportunity for cross-cultural exchange between British and international students.

Social gatherings:

encourage students to get together outside the classroom by organising informal meetings through social networking sites. These could be based on shared hobbies, interests or events such as a sports match, a live music event or film night.
While universities may have activities and support in place for international students, the whole campus community can play a role in creating a caring environment. Acknowledgement of the journey that international students have embarked upon and encouraging words can bolster confidence and belonging.
Fiona Baker is a teaching fellow in the School of Education at Durham University.
If you found this interesting and want advice and insight from academics and university staff delivered directly to your inbox each week, sign up for the Campus newsletter.