How to start an academic YouTube channel: tips from a psychology YouTuber
YouTube is a wide-open opportunity for university teachers and researchers to share their knowledge with a wider audience, says Dennis Relojo-Howell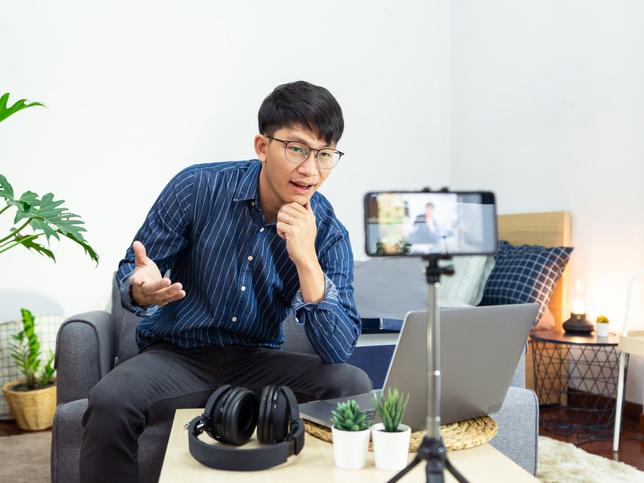 Way back in 2005, I was in my third year at university in the Philippines. That was also the year that Brooke Allison Brodack didn't know where to host her home-made videos online. After scouring the internet for a suitable platform, she settled on YouTube. Brodack, better known as Brookers, became famous for her short videos posted during YouTube's early years.
Right now, Brodack and I are just two of more than 122 million active users consuming about 1 billion hours of a smorgasbord of videos daily – a few of which are also educational.
In the 17 years since its launch, YouTube has developed a culture of its own, one that also touches on academia. And a cohort of self-motivated, independent learners has taken advantage of the ease of accessibility that YouTube provides to learn about topics from all sorts of creators – ranging from Julia Ravey, who gives tips on how to prepare for your PhD viva, to Benjamin Bennett, who has been livestreaming himself sitting and smiling at the camera for roughly four hours at a time! (Why I watched that myself, I haven't got a clue.)
Lack of academics on YouTube
Yet despite the impressive reach of YouTube, very few creators on the platform are academics.
For academics looking to expand their reach and grow an audience by providing valuable educational content, YouTube is an untapped opportunity: anyone, anywhere and at any time can access informative videos and tutorials that can come in handy for those tricky topics at university. In 2013, while I was doing my MSc at the University of Hertfordshire, I learned how to use the statistical software SPSS from watching videos of Professor Andy Field.
Being that there's such a large audience on YouTube, and that academics, by and large, have a strong desire to pass on their knowledge, more academics must become involved with the platform as content creators.
Launching your own channel as an academic
While anyone can launch a YouTube channel, there are a few additional considerations for those looking to build success with their own channel – as an academic or otherwise.
Creating a YouTube channel is hard work, and it takes time to see results. But if you're dedicated to creating quality content in your area of academic expertise, and if you follow some basics of how the platform works, you're more likely to succeed in the long run.
When starting an academic YouTube channel, you might want to consider some of the tips that I have learned along the way as a YouTuber myself:
Focus on one subject
Popular channels have shown that YouTube viewers are more likely to engage in educational content in a series format. Creating several educational videos on one topic and formatting content into a series or playlist allows those interested in your topic to learn sequentially, with each video building slightly on the information provided in the previous video.
Dr Ali Mattu, the host of The Psych Show and previously an assistant professor at Columbia University, gained a substantial following by focusing on his area of expertise. While on his channel Quirkology, Professor Richard Wiseman of the University of Hertfordshire has amassed more than a million views with his jaw-dropping illusions. On my own YouTube channel, Psychreg, I tend to focus on long-format interviews and audio reads.
Prioritise the quality of your content, not subscriber numbers
This is where new YouTube creators often fall short: you'll need to publish quality content regularly. This can be difficult at the beginning when subscriber numbers and views are low. Try to ignore those numbers and focus on developing your videos and improving the quality of your content. Just like everybody else on YouTube, when I set up my channel, I started with no subscribers but persevered in creating quality content.
Incorporate SEO into your videos
What appears on your search results is not accidental; it's an offshoot of how algorithms are programmed to sort through hundreds of billions of pieces of online content. If you're a content creator, you can optimise your content's visibility through search engine optimisation (SEO). This is a set of practices designed to improve the positioning of content in organic search results; by this I mean how you "index" your video. There is a host of YouTube tutorials that can help you better understand SEO.
YouTube is also a search engine, the second largest behind Google. Users can stumble on your content through a keyword search within the platform. So your videos will need to be SEO-friendly to rank higher in search results and gain more viewers and subscribers.
YouTube gives academics unprecedented reach
Whether you're launching an academic channel or a non-academic one, it's essential for you to learn the workings of YouTube: master the basics of hosting a channel, uploading and editing a video, and connecting with your audience. YouTube gives academics the ability to scale up the dissemination of their work, potentially reaching tens of thousands of viewers, compared with reaching only a select few in traditional campus-based lectures or via research articles hiding behind a journal paywall.
Academics have always been at the forefront of knowledge creation and dissemination. But YouTube, along with other new media, has radically changed the way that knowledge is transmitted.
As self-directed learning through these new media becomes more prevalent, it will be up to academics to ensure that university students, or a lay audience in general, have a curated selection of content backed by science – lest we are stuck with videos of Benjamin Bennett sitting and smiling at the camera.
Dennis Relojo-Howell is the host of The DRH Show on YouTube. His PhD research project at the University of Edinburgh focuses on digital mental health.