Queen's University Belfast
201–250th
World University Rankings 2024
85th
Impact Rankings 2023
51-75th
European Teaching Rankings 2019
University Road, Belfast, BT7 1NN, United Kingdom
Queen's University has been making a difference to societies locally, nationally and internationally since 1845. We focus on shaping the world around us through our innovative, impactful and world-leading research which has made positive changes to people's lives.
 We continue to drive forward research to shape worlds, focusing on five key areas. Ensuring a healthy living for all through developing solutions and treatments for diseases; helping to deliver a transformative and sustainable economy for future generations; leading on secure connected intelligence and AI and the data revolution.  We are at the forefront of delivering future focused through human environment relations; and will continue our strong history of expertise in conflict resolution and building inclusive and cohesive communities.
 We are forward thinkers and will continue to direct and shape research to help support a workable environment and society.
 88% of our research has been assessed as world leading and internationally excellent, 99% of our research environment was assessed as world-leading or internationally excellent and we are ranked 24th in the UK for Research Power (REF 2021/ Times Higher Education).
Queen's is globally connected and networked with strategic partnerships across the world. We're linked to 37 active spin out companies which ensure we are ahead on innovation and were ranked by Octopus Ventures in 2020 as 1st in the UK for entrepreneurial impact.
We're based in the heart of Belfast, which was named the Number 1 region in the world to visit in 2018 (Lonely Planet, 2017).
Queen's is one of the oldest universities in the UK and our historic campus is surrounding by a buzzing, diverse community making it the ideal set up for students from all over the world.
We continue to invest in our campus to ensure our facilities and the teaching we provide remains world class.
With some 25,000 students from over 80 countries, Queen's University provides a world-class educational experience to students from all backgrounds.
Students enjoy being educated by world-leading academics working at the forefront of their disciplines and a significant investment in the student experience has resulted in high levels of student satisfaction and employability rates.
The University is situated in Belfast, a modern capital city, known for its welcome, accessibility and affordability. Described by Lonely Planet as a 'must-see visitor destination', Belfast has the lowest cost of living in the UK (Mercer Cost of Living City Ranking 2021)
 and Northern Ireland has been named the safest region in the UK (UK British Crime Surveys 2019/20) .
One of the UK's biggest campus universities, and the 9th oldest, Queen's blends its proud heritage with cutting edge facilities for the best experience of University life.
Over the past ten years, the University has invested significantly to provide world-class facilities for its students and staff. This has included the development of a state-of-the-art Graduate School, which is home to a thriving postgraduate community; the award-winning McClay Library; Computer Science Building; School of Law; and the Wellcome-Wolfson Institute for Experimental Medicine. The University has also invested in sporting facilities, new purpose built student accommodation in Belfast City Centre and has just announced plans for the development of a world-class Student Centre.
To see the full range of undergraduate and postgraduate courses, take a look at the Course Finder or download the UG or PG Prospectus.
Useful Links
Course Finder
The Graduate School
Faculty of Arts, Humanities and Social Sciences
Faculty of Engineering and Physical Sciences
Faculty of Medicine, Health and Life Sciences 
International Students 
Undergraduate Study
Postgraduate Study/Masterplan
Application International students 
Application UG 
Application PG
Accommodation
International Scholarships 
We are a world-class international university built on teaching excellence, leading-edge research, innovation, collaboration, and engagement. 
We are recognised globally for our academic strengths and the impact we deliver through leading research. We encourage a culture of research ambition to tackle some of the greatest societal challenges of our time.
It is our purpose and responsibility to take on major global challenges and shape worlds with cutting edge research; every day, we find answers to help build a better society. Staying apace with rapid societal, economic and technological change, our aim is to shape a better world for all. 
Our Strategy 2030 vision has been designed to further enhance our impact by strengthening our research position and working with industry to broaden our translational impact and innovation, ensuring we deliver high-quality, world-leading research, which addresses local and global challenges. 
Our strategic research areas are based on our record of excellence and ambition for the future:
Colleagues across our Schools and Faculties are dedicated to deepening our understanding of diseases and developing solutions and treatments for them.  Our expertise in conducting clinical trials and our world leading facilities in cancer and precision medicine research are a testament to the breakthroughs that Queen's research has facilitated over the decades. We are also leading the way in developing strategies and initiatives which mitigate against the worst effects of illness, and which act as preventative agents to illnesses developing in the first place. A strong public health approach, focusing on community well-being, aligned with a commitment to social justice drives our pledge to improve health outcomes which can reduce inequalities across society.
How we're delivering:
Researchers from Queen's have transformed the lives of thousands of people with Cystic Fibrosis by leading on the clinical development of treatments. We're supporting cancer care for patients and families through the development of a new model for follow up care termed 'The Recovery Package' and we are developing internationally-recognised expertise in the genetics and treatment of age-related macular degeneration (AMD).
A Transformative and Sustainable Economy
The economy of the next 100 years will be a necessarily different one to the economy we experience today. The ongoing climate crisis, our fossil fuel dependency, raw material shortages and the possibility of supply chain disruptions call for innovative, responsible, and sustainable solutions.  For researchers at Queen's, the strategic priorities and expertise are clear.  We will continue to focus our efforts on established and emerging areas such as intelligent manufacturing and service delivery, advanced and sustainable materials, solutions to future transport requirements, and understanding and harnessing high energy and ultra-fast processes.
We also understand that successful and sustainable economies are about people as well as products - as central parts of society they must be underpinned by equality, equal access to opportunity, and social justice at all levels.
How we're delivering:
Our researchers, in collaboration with Northern Ireland bus building company Wrightbus, have developed best in-class low and zero emissions technologies, playing a key role in decarbonizing UK and international public transport. 
Read more here.
We have led an international team of scientists to improve the technique for assessing the age of historical objects with a new international carbon dating standard. Radiocarbon dating is vital to fields such as archaeology and geoscience to date everything from the oldest modern human bones to historic climate patterns. 
Read more here.
Secure Connect Intelligence – AI and the Data Revolution
Researchers at Queen's are on a mission to make the changing global digital space both safer and faster. Our world leading teams in cyberspace resilience and networks and connectivity are breaking new ground in the digital sphere, as our teams in geographical information science are doing in the physical.
Novel computer systems and changing computing paradigms require agile and cutting age research which can be translated quickly and effectively into real world practice. Using data fusing enabling technologies will assist in socio economic development but will also act as a positive driver for the health of populations in the future, and for their safety and security.
Working within and across disciplines we are excited by the prospect of understanding and pursuing digital breakthroughs which can act as a catalyst for new and creative cultural practices.
How we're delivering:
Queen's Researchers have designed a resilient and agile wireless communications system which can be used when telecommunications networks are severely damaged by natural disasters.
Read more here.
Our Centre for Secure Information Technologies (CSIT) is the UK's Innovation and Knowledge Centre for cyber security which drives forward major research breakthroughs in the field of secure information technologies.
Read more here.
Understanding the relationship between humans and our environment has never been more important.  The choices we face have never been so stark.  Our climate is changing.  The effects of this are being felt now as a day-to-day reality. There is an obligation on those involved in academic research to turn towards the challenges presented.
Whether this relates to our natural environment, creating safe and secure agri-food systems, assessing the way in which our built environment interacts with the natural world, or in the way we build and maintain truly liveable communities and societies, Queen's researchers are at the forefront of innovative, future focused solutions that aim to make our footprint lighter, both on earth and beyond.
How we're delivering:
We are leading an intensive research programme to develop, validate and implement innovative techniques to detect and monitor a broad spectrum of feed-related contaminants to provide a supply chain-wide quality assurance scheme, known as Food Fortress.
Researchers from Queen's University Astrophysics Research Centre (ARC) have also worked with Oxford Instruments' Andor Technology to develop the Balor sCMOS imaging sensor and synchronisation platform, a device which captures the highest resolution solar images in the world, enabling scientists to study the sun's atmosphere in unprecedented detail.
Inclusive and Cohesive Communities
As a University based in Belfast, we are proud of our longstanding and world leading track record in research relating to peace, identity, conflict, and social sustainability. Our lived experience of conflict as a society, its causes, and its consequences, have driven a determination to deliver research excellence which impacts on the lives and livelihoods of communities across the world.
Whether that relates to governance, accountability, and international relations, listening to and responding to the child's perspective, understanding the need for creativity and cultural understanding, or valuing heritage in building inclusive and cohesive communities. 
Our local experiences have become global insights – we will continue to work with colleagues and partners around the world to address the issues of fundamental rights, equality and social justice which lie at the heart of our mission. 
How we're delivering:
Academics at Queen's have produced a significant body of research in transitional justice, the interdisciplinary field that addresses how societies deal with legacies of violence and human rights abuses.
Read more here.
Developed by a Queen's academic and designed to highlight the importance of children's participation in developing policies that affect their lives, the Lundy Model has been adopted by national and international organisations and governments to inform their understanding of children's rights.
It is a prime example of local research that has had truly global impact.
Read more here.
Explore rankings data for Queen's University Belfast
All ranked institutions have an overall score and 4 pillar scores. However for each pillar, only institutions ranked in the top 500 overall or the top 500 in this pillar have a publicly visible score
Key statistics
20,895

Number of FTE Students

(1)

41%

Percentage of International Students

(1)

17.2

No. of students per staff

(1)

57 : 43

Student Ratio of Females to Males

(1)
Video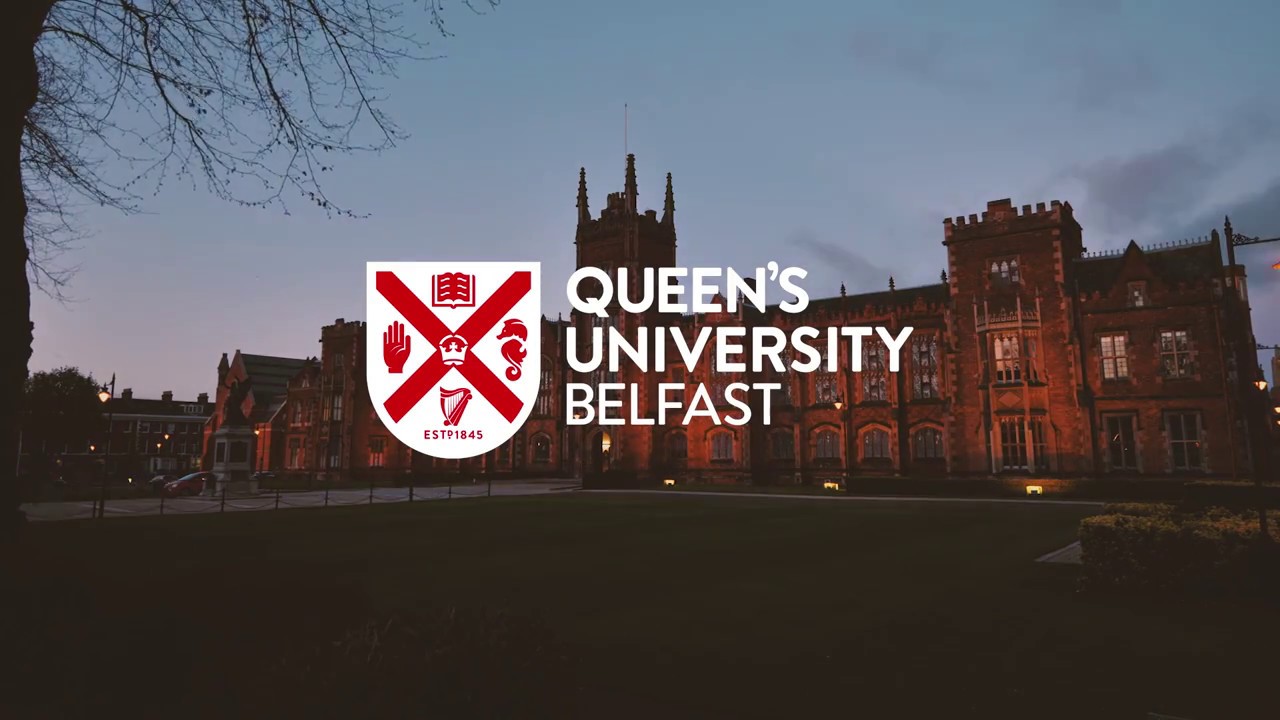 Subjects taught at Queen's University Belfast
Clinical, pre-clinical & health

Medicine & Dentistry
Other Health

Business & economics

Business & Management
Accounting & Finance
Economics & Econometrics

Life sciences

Biological Sciences
Agriculture & Forestry

Physical sciences

Geology, Environmental, Earth & Marine Sciences
Physics & Astronomy
Chemistry
Mathematics & Statistics

Computer science

Arts & humanities

Art, Performing Arts & Design
Archaeology
History, Philosophy & Theology
Architecture
Languages, Literature & Linguistics

Engineering & technology

Mechanical & Aerospace Engineering
Electrical & Electronic Engineering
Civil Engineering
Chemical Engineering

Social sciences

Geography
Communication & Media Studies
Sociology
Politics & International Studies (incl Development Studies)

Psychology

Law

Education