Mapúa University is the premier engineering and technological school of the Philippines. It envisions itself to be among the best universities in the world, unceasingly fostering its long tradition of leading-edge excellence in various fields of studies, such as Engineering and Sciences, Architecture and Design, Information Technology, Business and Management, Communication and Media Studies, and medicine and health sciences, and providing students with a learning environment that will make them globally competitive.
Offering locally and internationally accredited academic programs and other developmental programs that provide international learning opportunities to its students, Mapúa education meets global quality standards of the professions for which it prepares its graduates.
Mapúa has the most number of engineering programs (Chemical Engineering, Civil Engineering, Computer Engineering, Electrical Engineering, Electronics Engineering, Environmental and Sanitary Engineering, and Mechanical Engineering; Information Technology) recognized as Centers of Excellence by the Philippine Commission Higher on Education.
The University's strong academic foundation ensures its graduates are of high caliber taking lead roles in the global arena. To date, it has produced 391 topnotchers across 11 of national professional licensure examinations since 2000. Its students are also prepared for the world of practice through their exposure to international on-the-job trainings, and research and development undertakings, which are achieved through the University's continuous forming of international linkages with prestigious companies and universities.
The University holds the most number of ABET-accredited programs for a single academic entity in the country, with 11 engineering programs accredited by the Engineering Accreditation Commission (ABET-EAC) and three computing programs accredited by the Computing Accreditation Commission (ABET-CAC). The ABET accreditation signifies that Mapúa's accredited programs meet the quality standards to produce graduates prepared to enter the global workforce.
A recognized leader in digital education and online learning in the Philippines, Mapúa continuously provides enriching and engaging learning experiences to its students using the latest in educational technology, enhancing its capability for effective teaching and learning in a digital environment. 
Through Mapúa UOX or Ubiquitous Online Experience, Mapúa offers fully online degree programs to deliver on its commitment to developing and bolstering its world-class quality of education, reaching more learners locally and across the globe through its online learning space.
Mapúa champions research and international experience with 125 global linkages for RDI (research, development, and innovation) initiatives as well as student exchange and international OJT.
Recognized for its social and economic impact based on the United Nations' Sustainable Development Goals, for the third year straight, Mapúa has been included in the Times Higher Education (THE) Impact Rankings, increasing its overall rank to 601–800 this 2022, out of 1,406 institutions worldwide, from 801–1000 in 2021. The University has also been ranked in all 17 Sustainable Development Goals (SDGs) this year, an increase from six SDGs in 2021.
Mapúa University 的排名数据分析
所有上榜的高校都有一个总分和四项指标类别的得分。但只有总分或指标类别排列在前500的高校才会公开得分。
关键统计数据
9,427

Number of FTE Students

(1)
视频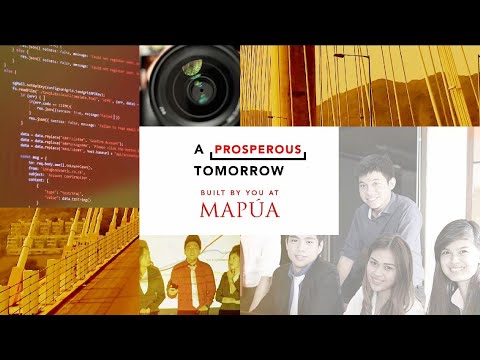 Mapúa University 的授予学科
Computer science

Engineering & technology

Civil Engineering
Chemical Engineering
General Engineering
Electrical & Electronic Engineering
Mechanical & Aerospace Engineering

Business & economics

Business & Management
Accounting & Finance

Physical sciences

Chemistry
Mathematics & Statistics
Geology, Environmental, Earth & Marine Sciences
Physics & Astronomy

Arts & humanities

Architecture
Art, Performing Arts & Design

Psychology

Life sciences

Biological Sciences
Sport Science

Social sciences

Communication & Media Studies

Clinical, pre-clinical & health