Why we start undergraduate transdisciplinary research from day one
Hands-on knowledge discovery can give students the chance to put learning into action from the beginning of their studies, write Gray Kochhar-Lindgren and Julian Tanner
The University of Hong Kong
19 Apr 2023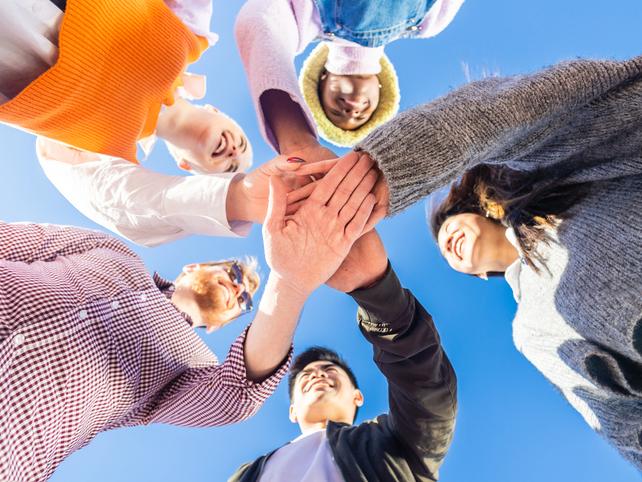 We are huge fans of undergraduate transdisciplinary research. From their first year until their graduation, we would like all undergraduates to engage in collaborative and cross-disciplinary research-led enquiry.
Why? Because it gives them an early opportunity to experience knowledge discovery first-hand, putting their learning into action. Students also develop team-building, writing, digital- and video-research, and presentation skills. All these capacities are precisely what employers around the world are pleading for, and research of different types helps to seed an inventive and adaptable mindset in our students.
Most importantly, such a focus enables students to undertake projects, with appropriate teammates and faculty support, that are deeply meaningful to them. It matters what research they do, with whom and for what reasons.
In 2012, the Hong Kong government mandated an extension of three-year undergraduate degrees to four years. Each university created its own curricular expansion and the University of Hong Kong (HKU) worked through a complex collegial process to establish the common core. A six-course requirement for all our 17,000-plus undergraduate students, the programme opens up opportunities for students to experience enquiry-based learning and multiple forms of research.
Divided into four areas of enquiry – science, technology and big data; arts and humanities; global issues; and China – the 170-plus courses are designed specifically for this core curriculum. This is a key aspect of our role as a sandbox for pedagogical innovation and allows wide-ranging experimentation for colleagues across all 10 faculties. The innovations in design, teaching and assessment – financially supported by the university budget – benefit students and teachers; departments, schools and faculties; and the university as a whole. 
What does transdisciplinary research offer undergraduates?
With this background in mind, let us describe three of the primary transdisciplinary research opportunities for students.
The first is project-based work within the courses. Students have many chances to be involved in self-directed research projects, collaborating with classmates from across all 10 faculties. Projects cover such topics as digital humanitarianism, technology and cultural heritage, rural renewal projects, designs on the future and making (sense of) money. (The Areas of Inquiry tab gives access to course trailers and outlines.)
The second arena for such research is undergraduate team or individual projects, conceived by the students. A faculty mentor provides light-touch guidance on projects as they are completed and prepared for public exhibit. At HKU, the Transdisciplinary Undergraduate Research Initiative funds this programme.
The third set of research opportunities are projects of joint interest undertaken in partnership with NGOs, multinationals and other organisations. Current examples include collaborations with Arup (on lighting at night in Hong Kong), the Absolutely Fantastic Theatre Connection (creativity and transdisciplinarity), Press Start (on designing games for learning), Salween Experiential Journeys (digital storytelling), the University of Birmingham Liberal Arts and Natural Sciences programme and a global action lab with Utrecht University.
We believe that the sooner students experience creative, multidisciplinary, research-led thinking, the better. Such enquiry enhances social connectivity in their campuses and their cities, and enables methodological, conceptual and practical approaches for thinking among students. Critically, the connection between teaching and research for both students and faculty is strengthened across and beyond the campus.
In order to offer a more flexible and impactful curriculum, we have badged our courses with the UN's sustainable development goals, created transdisciplinary minors, are working on global partnerships and will soon offer microcredentials in a compressed format. We are constantly reviewing our performance through student surveys, course evaluations for renewal, direct student reflections on projects, informal conversations and deep interaction with our external examiners.
What is next for undergraduate transdisciplinary research? There is significant space for us to build out the activities further, particularly in connecting globally to enable international collaborations and deepening engagements for our students. The rapid normalisation of video-conferencing during the pandemic has catalysed the possibilities surrounding global classrooms, and initiatives such as collaborative online international learning (Coil) further connect students and teachers to discussions, research and experiential learning within and beyond individual courses. We very much look forward to collaborating with both universities and other partner organisations on undergraduate transdisciplinary research as it becomes more established as a global best practice.
Gray Kochhar-Lindgren is honorary professor of humanities and co-facilitator of the Critical Zones Global-Action-Lab at the University of Hong Kong (HKU), as well as a founding director of Wild Studios Consulting and Creative Productions. He served as director of HKU's common core from 2014 to 2022.
Julian Tanner is director of the common core and professor of biomedical sciences in the Faculty of Medicine at the University of Hong Kong.
If you found this interesting and want advice and insight from academics and university staff delivered direct to your inbox each week, sign up for the Campus newsletter.