Supporting Ukrainian scholars: what's next for #ScienceForUkraine?
Academics and students from Ukraine at home and in exile need help. Here are ways to support the Ukrainian academic community
15 Aug 2022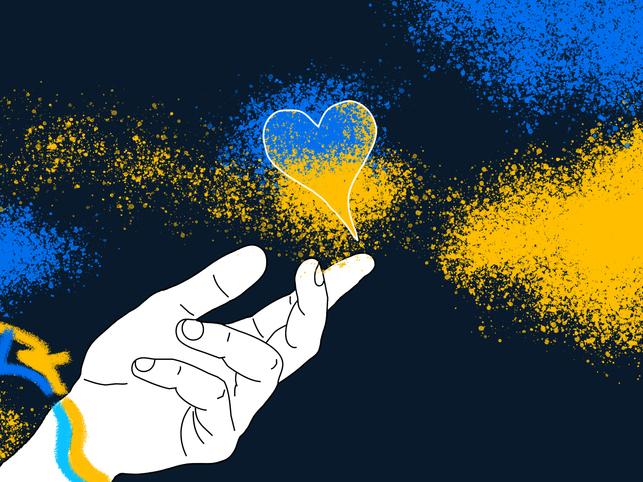 As we were preparing for the last day of a conference at the University of Stirling on 15 July, the Russian army shelled two universities in Mykolaiv. Listening to our colleagues' presentations and sipping coffee during the break, we couldn't help but think about this. Ukrainian-affiliated academics and students, both at home and in exile, need our help. And they need it now.
The Russian invasion of Ukraine has resulted in the deaths and displacement of Ukrainian citizens, as well as destruction of homes, industry and infrastructure. Among the affected are our academic colleagues and students. As the Russian war has unfolded, classes have moved online or underground, and professors joined the army. V. N. Karazin Kharkiv National University was heavily shelled early in March. Despite these adversities, many academics continue their work remotely or on site with wood-covered windows and minimal natural light. Some, understandably, have chosen to move to safer places outside Ukraine.
Individuals from around the world have been trying to help academics and students from Ukraine, with assistance ranging from remote access to library resources to specialised funding and visa support. Working groups have been developed to assist in this endeavour, including Ukraine Hub UK, Ukrainian Global University and Science For Ukraine.
We are both members of Science for Ukraine, a global network of volunteers from more than 30 countries. It was founded on 26 February by a group of European researchers to collect and disseminate opportunities for scholars affected by the Russian invasion. The Science For Ukraine support page and Google calendar pull together current events. Since its inception, the organisation's scope and mission have broadened significantly.
In June, Science for Ukraine published a report outlining its work since it was formed. The organisation has also organised a joint conference and engaged with major publishing houses, such as Nature and Science, to call for more opportunities for Ukrainian scholars. The Science for Ukraine database has listed more than 2,600 offers of support and shared these adverts across all major social networks. This has drastically streamlined the process for those seeking employment or other support in host countries, helping ensure that Ukrainian academic engagement and contributions to research can continue.
The UK working group for Science for Ukraine provides guidance on how UK academics can help, aims to keep track of research and student funding opportunities, and runs a mentoring scheme. The mentoring scheme aims to provide individualised, subject-specific support to help researchers navigate UK academia at any career stage. It covers collaboration, career-planning, preparing CVs and job applications, academic writing, how to secure research funding, and professional conduct. In doing so, the scheme better prepares Ukrainian researchers for working in the UK academic environment or applying for funding.
Crucially, the scheme is also available to academics remaining in Ukraine and wishing to stay there. The mentoring can then take the form of collaborative work, joint publishing or broadening one's professional networks.
Although we do not keep official track of outcomes, informally we are aware that contacts facilitated by the mentoring scheme have helped Ukrainian-affiliated academics find hosts for temporary fellowship applications in the UK. Both mentees and mentors have told us that participation has been a rewarding and useful experience.
How can you help?
There is still more to be done in the UK, however. The visa application process has been more challenging than for many other countries, and funding opportunities for researchers and students often require a right to remain in the UK prior to application. Raising awareness of the issues faced by individuals from Ukraine is key, and Science for Ukraine UK is looking for volunteers to help us keep supporting the Ukrainian academic community. Even one hour per week could help, and there are plenty of opportunities to support us regardless of your skill set. For example, you could monitor and disseminate funding programmes, update offers on the Science for Ukraine website, share our success stories on blogs or social media, develop support opportunities at your own institution, or contribute to our mentoring scheme.
You can contact us by emailing uk@scienceforukraine.eu.
Arran Reader is a lecturer in psychology and Anna Bobak is a Leverhulme early career fellow. They both work at the University of Stirling.
If you found this interesting and want advice and insight from academics and university staff delivered direct to your inbox each week, sign up for the THE Campus newsletter.
You may also like