Practical ways to develop a comprehensive university 'sanctuary' programme
Seven practical steps to developing a comprehensive sanctuary programme that can support the immediate needs of displaced students and academics while including a broader plan for social change
15 Jun 2022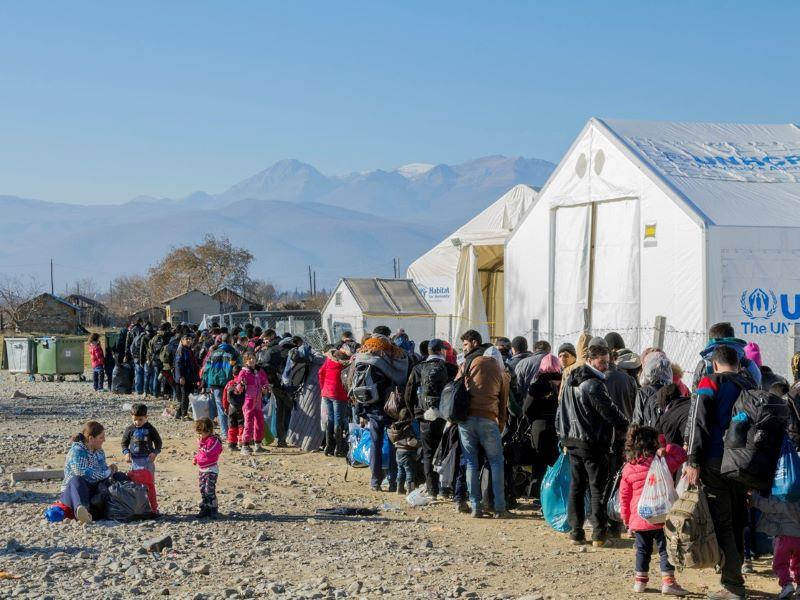 University sanctuary programmes are designed to support people whose education or research has been disrupted due to forced displacement. With more than 84 million forcefully displaced worldwide, many of whom are young people, such programmes are crucial to preventing a generation being lost with limited prospects. It is therefore encouraging that many UK universities have developed sanctuary initiatives in the past six years.
Often, the first step is to establish a scholarship scheme for students with a forced migration background who are already in the UK. This is a practical way to increase access to higher education. The recent invasion of Ukraine has renewed the question of how universities can best support displaced students and academics beyond scholarships and has led to a welcome expansion of sanctuary activities.  
Sadly, forced displacement will continue to impact individuals across the world and the need for this work will remain, if not grow. How then might universities develop their sanctuary initiatives into sustained and institutionally embedded programmes that support a larger number of displaced students and academics?  
Here, we discuss seven practical ways to develop a comprehensive sanctuary programme that can support the immediate needs of displaced students and academics while supporting a broader vision and programme for social change. This is our premise: a good sanctuary programme can actively contribute to making the world a better place.
Seven practical steps to support displaced students
1. Create a sanctuary community, or expand an existing community of people dedicated to supporting forced migrant students and academics. Bringing people together from across the university, and including students, academics and professional services staff, can help individuals to find out about initiatives, combine expertise and create enthusiasm for new projects. Good places to start are the widening access team, migration research groups or centres and student societies, such as Student Action for Refugees.
2. Find an institutional home for the programme. Sanctuary scholarships are often managed by the widening access team. While a broader programme could sit there, too, linking it to a directorate such as service, social impact, international or global engagement can make it more recognisable within the institution as a whole, and make it easier to create links with other groups and initiatives. At King's, the sanctuary programme sits under service, which has enabled us to create projects with strong links to education, research and social impact.     
3. Develop a long-term vision, such as a 10-year strategy, that offers a clear overview of the social impact you hope to have in that period. This vision could be about facilitating refugee access to higher education in the UK or elsewhere, conducting research with displaced communities to find out what initiatives to develop or creating policy change.  
4. Partner with other like-minded universities to facilitate peer learning and support and develop expertise across the higher education sector. The Universities of Sanctuary initiative is a good example of such collaboration. A consortium of universities stands a better chance of developing long-term social change. For instance, King's is working with a group of universities to support students and academics impacted by the invasion of Ukraine through sponsorship, which creates a foundation for the development of broader safe pathways for refugees that are education led and community based.
5. Develop partnerships with other communities and (non)government organisations. This is equally important to enhance and share learning and to develop social impact. For instance, it was through building partnerships with Citizens UK, Reset, the UNHCR and the Home Office that King's developed a community sponsorship programme that forms the basis of the collaborative response to the Ukraine crisis and the broader aim of developing education-led pathways.
6. Find sufficient resourcing to fund a sanctuary programme. This may seem easier said than done. Funding from within your university can be secured by showing the impact of the programme, especially in relation to the institution's core missions (such as education, research). External benefactors are often more interested in funding something tangible than something simply aspirational – "a thing in the world" – such as a set of scholarships or a project that produces measurable social impact.
7. Evaluate the programme periodically to help understand the difference it has made, identify what can be improved and to share what has been learned. It also makes it easier to narrate the positive social impact that has been created; this is especially important for politically sensitive issues such as forced displacement.
Leonie Ansems de Vries is a reader in international politics and co-director of King's Sanctuary Programme, Bronwyn Parry is a professor of global health and social medicine and director of King's Sanctuary Programme, both at King's College London.
If you found this interesting and want advice and insight from academics and university staff delivered direct to your inbox each week, sign up for the THE Campus newsletter.