Intended learning outcomes (ILOs): from sideshow to teaching tool
Used effectively, intended learning outcomes (ILOs) can provide a useful tool to drive student engagement and encourage learners to take responsibility for their education, as Amit Jinabhai explains
Good teaching practice recommends that every lecture's intended learning outcomes (ILOs) are presented at the start of the lecture. But is this enough exposure to allow first-year undergraduates to fully comprehend the importance of ILOs? My personal experience was that only a handful of any given first-year student cohort ever understood how they should use ILOs. However, I could never definitively identify why. This led me to reflect on whether new undergraduates needed targeted guidance about how to embrace ILOs.
I considered the following two questions:
Should new undergraduates be encouraged to use their ILOs as a personalised checklist to ensure that they have covered and understood all of their lecture content?
Should lecturers be leading their students to interact with their ILOs using a self-reflective approach?
In my first lecture to new first-year undergraduates, I now make an explicit point of explaining that ILOs offer them the following major benefits:
ILOs break each lecture down into the basic knowledge required to develop all the key skills for that particular module.
ILOs are the main themes evaluated in assessments.
Checklists derived from ILOs
I perennially encourage my first-year students to actively review each lecture's ILOs at the start and end of every lecture that they read through. To facilitate this appraisal, I recently redesigned the final slide of each of my lectures to appear as a checklist that has been derived from the lecture's ILOs. This final slide also presented meaningful phrases, specifically chosen to enhance the students' understanding of the purpose and usefulness of their ILOs – see figures 1 and 2 below.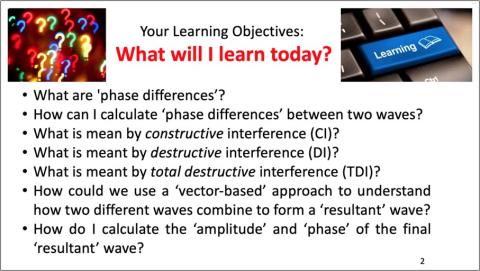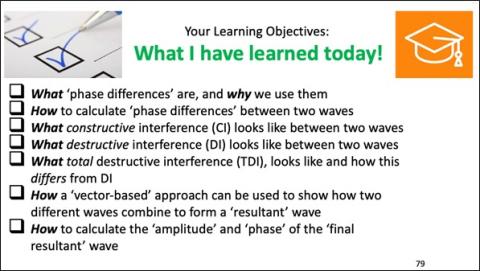 Helpful advice
In the opening lecture slide, use the effectual statement "What will I learn today?" This purposely sets a question that is looking forward, allowing students to consider their current knowledge, and how this new lecture will add further value by exploring new topics, theoretical concepts and calculations.
In the final slide, use the powerful statement "What I have learned today!" This positive phraseology, coupled with a change in tense between the two slides for each of the ILOs, allows students to appreciate that this list clearly outlines what they should now understand and appreciate as new knowledge and skills.
At the end of each lecture, verbally reinforce using the final slide as a checklist, by encouraging students to tick off each ILO once they are confident that they have understood that particular aspect, and are comfortable with the associated theory and calculations. Ticking off each individual ILO also allows students to visualise their progress while identifying areas that they might have potentially missed, or were struggling with, so they can seek further assistance.
Student feedback has been extremely positive, with several learners identifying my focus on their ILOs as one of my module's key strengths.
Interactive ILOs
Recently, I have developed a short self-reflection task, presented at the end of each lecture, to sit alongside my checklist approach. This task allows students to reflect on and rank their ILOs, starting with the ILO that they found the most intellectually challenging.
This interactive task was designed to allow students to openly reflect on why they found those particular aspects of the lecture challenging, and to consider how they plan to improve their understanding of those subjects.
Students can complete this task multiple times, allowing them to self-explore how their perceptions of their understanding of any given ILO changes over time and with additional independent study.
The information I collate from this approach provides me with a clearer indication of which aspects of the module my students find the most challenging. This enables me to deliver targeted support and formative assessments in those specific areas.
My first-year undergraduates benefited from perceiving my lectures' ILOs as educational milestones. My latest approach of asking students to reflect on their ILOs and consider how they plan to tackle the ones that they found the most intellectually challenging aligns closely to the reflective practice endorsed by the UK's Optometry regulator, the General Optical Council.
By exploring these approaches, I can confirm that first-year undergraduates do benefit from specific guidance about the importance of ILOs.
Amit Navin Jinabhai is a senior lecturer in optometry at the University of Manchester.
If you found this interesting and want advice and insight from academics and university staff delivered direct to your inbox each week, sign up for the THE Campus newsletter.