How to maximise student satisfaction with the flipped classroom
What are the pedagogical, technical and social aspects that lecturers should consider to give students the best possible experience of the flipped classroom?

University of Eastern Finland
14 Jun 2022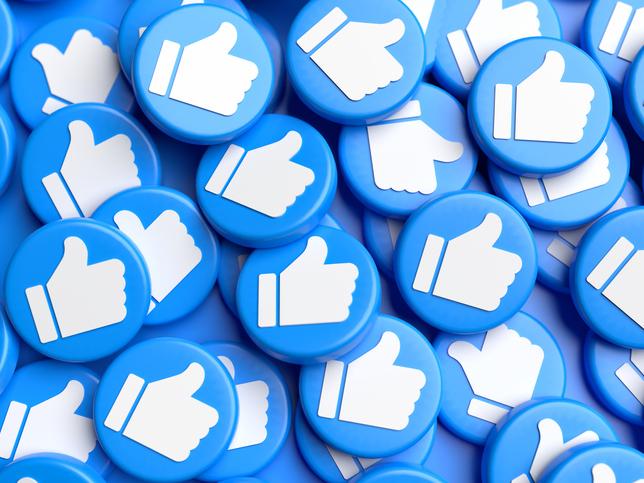 The flipped classroom approach is increasingly popular internationally, and the learning outcomes for this variation on blended teaching, while partly contradictory, have been good. Growing popularity has also led to more research on flipped approaches. The success of the flipped classroom has, however, been studied less from the perspective of student satisfaction. Recent research into key factors in students' satisfaction with the flipped classroom found students are satisfied when they: have systematic guidance on the teaching approach; have comprehensive understanding of both the content being taught and the discipline more generally; and find the learning atmosphere safe. Lecturers also need to pay attention to students' technological skills and their own content teaching skills.
This article draws on the results of a study of more than 400 Finnish higher education students at the University of Eastern Finland (UEF) to outline what is needed for the successful implementation of the flipped approach in higher education.
Insights into flipped approach for lecturers
In traditional university teaching, students attend a lecture where the lecturer gives an oral presentation about a subject. After the lecture, students complete set learning tasks and read study materials at home.
In the flipped classroom, it is the other way round. Before class, students independently go through set materials (such as videos, electronic reading or podcasts) as requested. The deeper learning is then achieved collaboratively in class with the lecturer and fellow students.
Through training hundreds of lecturers in Finland and internationally and through our own teaching, my colleagues at the UEF Ameba Team and I have identified five elements lecturers should consider with the flipped approach (Figure 1): curriculum work, use of technology, pedagogical practices in class, assessment practices, and students' guidance and counselling.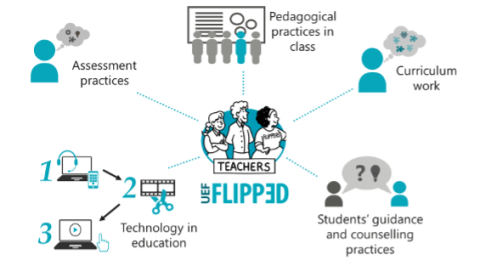 Curriculum
The first perspective is the curriculum; lecturers should consider how course content is taught and then divide it into pre-class and in-class material. First, lecturers need to consider which content students can study autonomously and which requires collaboration with peers. Sequencing of time and content for pre-class materials relative to in-class meetings is an important aspect of flipping. The lecturer should consider this carefully.
Use of technology
The second perspective is the use of technology for both creating materials and in-class teaching. Lecturers should consider: how to record materials (using screen capture software, for example); if it is possible to edit materials if needed; and how to share the material (learning management systems, links or shared cloud drive).
Additionally, lecturers should consider what type of technology is needed at in-class meetings.
Pedagogical practices
Even though technology is often central to the flipped approach, interaction between students and the lecturer remains key to the flipped classroom. The "flipped approach" should be considered an umbrella term for several pedagogical approaches (such as problem-based learning) rather than just one. A rule of thumb is that the lecturer should use student-centred approaches and connect the more theoretical information with practice related to students' future professions.
Be selective about which approach(es) to choose, as implementing several approaches at once may be confusing for students and burdensome for the lecturer.
Additionally, the lecturer should aim to create a safe atmosphere for learning. There is no one way to do this. However, friendliness and sensitivity to students' needs are often central to creating a safe learning environment and can be achieved with flipping. With the flipped approach, students' increased knowledge through the use of pre-class materials enhances their interactions with the lecturer and enables them to ask more and better questions in class meetings. This is key to creating a safe learning atmosphere, because good questions and conversational learning with the lecturer come more naturally for students in flipping.
Assessment practices
Within a flipped approach, the lecturer can start using active formative assessment instead of relying solely on summative evaluation (such as a final exam). Solely traditional evaluation practices do not support deeper learning, and a flipped approach allows the use of more continuous assessment practices. Switching to more formative assessment can, however, pose substantial challenges in learning cultures that have traditionally relied on summative assessment only. Changing assessment practices requires altering the assessment culture and understanding the purpose of the assessment. Is it to test learning or to support learning?
Student guidance
Last, but not least, is student guidance. In the beginning of a course, it is vital to explain the approach in use. Students need information on the teaching method, the study method, and the intended learning outcomes.
Students may also need help with time management and self-regulation. For example, they can be asked to plan a study schedule to complete pre-class tasks in relation to in-class meetings. The teacher can also underline that pre-class materials are not extra work; they are the learning materials. Moreover, a regular study habit is important for student success, and the flipped model creates a clearer picture of this.
Lecturers should also guide students in the use of technology. Short tutorial videos with the possibility of implementing this in learning offers an effective way.
Tips for successful teaching in the post-pandemic era
Although the research data for our study were compiled during the academic year 2016-2017, the findings are highly relevant in our current situation. The Covid-19 pandemic has intensified discussions about the challenges of distance learning and studying remotely, including teachers and students getting tired of working alone. There is a lot of debate around the pros and cons of returning to "normal education". Even though the pandemic had hugely negative effects on societies, we saw the first real step towards blended teaching and learning during the pandemic. A better understanding of flipping and its key factors gained through our study provides teachers with the tools they need to successfully implement contact, distance and hybrid teaching. By taking account of the key factors, teachers are able to support the learning and well-being of students and apply best practice in distance and contact teaching.
My colleagues and I have started referring to flipping as cherry-picking because, rather than sitting in lectures listening to the teacher's monologues, in the flipped classroom approach, students can choose time- and place-independent study, prepare for contact teaching using pre-class materials and technology, and then deepen their knowledge in class.
Erkko Sointu is professor of special education at the University of Eastern Finland.
If you found this interesting and want advice and insight from academics and university staff delivered direct to your inbox each week, sign up for the THE Campus newsletter.