How a flipped classroom model improves learning in online STEM courses
STEM courses can be challenging to master online, but research by Atef Abuhmaid and Tao Tang shows a flipped classroom model improves outcomes. Here they outline the key lessons from their study
The Hashemite University
,
Chengdu University of Information Technology
16 Feb 2021
When learning alone online, students on STEM courses face a big challenge mastering the abstract concepts, mathematical formulas and complex derivation processes their courses require.
But our research shows that a flipped classroom approach, in which students are presented with course materials to digest ahead of their live online classes, improves learning outcomes.
We found that the failure rate in an "Electromagnetic Fields and Waves" course at Chengdu University of Information Technology was reduced from 25.7% to 20.8% by combining live online teaching with a flipped classroom.
Our study into online teaching modes on this course highlights some important lessons:
1) Students highly value their teachers' presence in online learning
Effective communication is one of the most important elements of a successful online course yet, according to a survey we carried out, many students expressed dissatisfaction with the style and frequency of communication with their instructors.
Two-thirds (67.6%) said that they did not have the chance to communicate "often" with teachers in online courses, the study found.
Lecturers need to be more proactive in checking in with students, providing comprehensive, timely feedback and showing students that they care and are there for them.
No matter what teaching style is adopted, instructor presence is a crucial element of successful learning. Teachers need to maintain open and effective online communication channels with students. Social media networks can be an easy and effective way to do this.
2) Think about effective and interesting ways to deliver online content
Students were critical of Q&A-style content delivery and complained about a lack of channels through which to ask questions and gain satisfactory answers.
Students deemed live online, phone or social media channels more effective than Q&A content delivery, which again highlighted the need for a human element in online communication, by which teachers can respond to students' questions and address their concerns in a more personalised way.
Lecturers need to think about engaging and interesting ways to deliver instructional content and explanations such as short recorded videos, infographics or animations. This should be in addition to live online sessions when they can answer students' questions or clarify points of uncertainty.
Why the flipped classroom model works better online
When a flipped classroom model was introduced online, students were able to maintain concentration throughout the course, suggesting that this is more effective than live online classes based on a traditional model in which the teacher is the lecturer and the student is the passive listener.
By asking students to look at class materials and prepare ahead of each online lecture, instructors help them stay focused and improve their attention to what is presented and discussed during the lecture.
Online teaching tools such as learning management systems and digital communication tools such as social media make it easy to deliver learning content before the lecture.
This enables students to familiarise themselves with what is going to be explained and discussed, highlighting tricky sections and getting them ready to learn.
Some students may even be motivated to find out more and investigate the topics independently prior to the lecture.
As the disruption caused by Covid-19 continues, we encourage lecturers, particularly in STEM subjects, to adopt this flipped classroom approach online, which has been shown to result in better student engagement and thus learning outcomes.
Image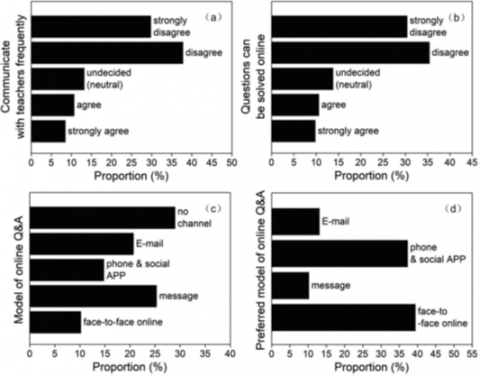 Student survey on communication and Q&A: (a) communicate frequently with teachers, (b) questions were adequately answered online, (c) available modes of online Q&A, (d) preferred modes of online Q&A.
Atef Abuhmaid is associate professor of educational technology at the Hashemite University and Tao Tang is professor in the College of Electronic Engineering at Chengdu University of Information Technology.
This advice is based on the research paper "Efficiency of flipped classroom with online-based teaching under COVID-19".