University of Sydney
World University Rankings 2020
World Reputation Rankings 2019
Sydney, New South Wales, 2006, Australia
The University of Sydney is one of the world's leading, comprehensive research and teaching universities. We offer an exceptional range of disciplines – more than 400 areas of study – and our community includes more than 70,000 students, 8000 permanent and fixed-term staff and 350,000 alumni in more than 170 countries.
Leadership has always been at the core of our values. We were one of the first universities in the world to admit students solely on academic merit, and to open our doors to women on the same basis as men. Our aim is to make lives better not just by producing leaders of society, but through equipping our people with the qualities that allow them to serve all of our communities at every level.
In creating the first university in Australia in 1850, our founders recognised the power of education to inspire positive change. We hold that belief just as strongly today.
Research excellence
Our research is driven by the big picture. From combating the world's deadliest diseases to inventing tiny devices that make a super-sized difference to computing, we excel in innovative collaboration.
Supported by more than 90 research centres, our researchers are finding solutions to the world's greatest challenges – and many others – by changing the way they look at them.
We work with the best companies, including Microsoft, GE and Qantas, to generate products, systems and services that benefit the communities we serve – locally, nationally and globally.
A distinctive education
The world is changing, and university education needs to change as well. We've reimagined the Sydney Undergraduate Experience – the way we teach and the way you'll learn – to prepare you for a future full of possibilities.
We recognise that the future of work will be very different, so it's our ambition that every University of Sydney student will complete their degree with the confidence and ability to think critically, collaborate productively and influence the world.
At the University of Sydney, we have been challenging traditions for more than 160 years. We believe in education for all and leadership that improves lives in all of the communities that we serve.
The University of Sydney was the first university in Australia, and we offer the widest range of courses of any university in the country. We are consistently ranked among the top universities in the world, and are committed to fostering a community where the best minds from around the world can come together. 
 
Study with us
Our flexible undergraduate degrees mean you can find the right study path for you. Offering more than 400 areas of study, you can choose majors and minors outside your primary degree, work on real-world projects, undertake an international experience, access advanced coursework or boost your personal development through online workshops.
We have the largest global student mobility program in Australia, partnering with more than 250 universities in over 40 countries so you can combine study and travel and set yourself up for a global career. 
If you're looking to advance your career, pursue your passion or gain a higher qualification, postgraduate study gives you access to more than 450 courses, and the opportunity to tailor your degree to your needs.
Our postgraduate research degrees will allow you to apply your theory-driven research to the real world alongside other researchers who are experts in their fields.
 
My Course Guide
Search, compare and short-list your preferred courses, and create your personalised course guide.
Campus life
The University of Sydney draws students not only from all over Australia, but from all over the world, so not only are our students learning their coursework, but more importantly, they are learning from each other. Every student has something to offer our community, and everybody's path is unique.
Our students have access to more than 200 clubs and societies, and our student experience has consistently been ranked as the best in Australia. Our graduates go on to be leaders in their chosen fields, and we strive to ensure that our students have every opportunity to live up to their potential from day one.
 
Scholarships
We offer $105 million in scholarships and prizes each year to new and current students. Our diverse scholarship options support you to achieve your education goals.
At the University of Sydney, we are committed to encouraging innovation and excellence across the board, and helping all our academic staff live up to their greatest potential. 
We come from all corners of the globe. We reach across multidisciplinary barriers to find unique solutions to improve and transform the lives of others. We enjoy a true sense of community and belonging, stimulating scholarly exchange and the opportunity to engage in world-class research.
We value open minds, avid curiosity and a readiness to take on the big questions and finding solutions to real world problems. We encourage vigorous debate, and we believe that differing perspectives can make good ideas great.
With more than 3,000 academic staff at the University of Sydney, we aim to foster innovation and collaboration in research across fields and disciplines. We believe that our researchers, in collaboration with each other and students, can make important differences in the wider world, and we are dedicated to providing the best opportunities and facilities to help innovative ideas come to fruition. In Excellence in Research for Australia (ERA) 2018, all 22 broad fields of research undertaken at the University were rated as above or well above world standard.
Explore rankings data for University of Sydney
All ranked institutions have an overall score and 4 pillar scores. However for each pillar, only institutions ranked in the top 500 overall or the top 500 in this pillar have a publicly visible score
Key statistics
20.1

No. of students per staff

(1)

39%

Percentage of International Students

(1)

58 : 42

Student Ratio of Females to Males

(1)

45,111

Number of FTE Students

(1)
Video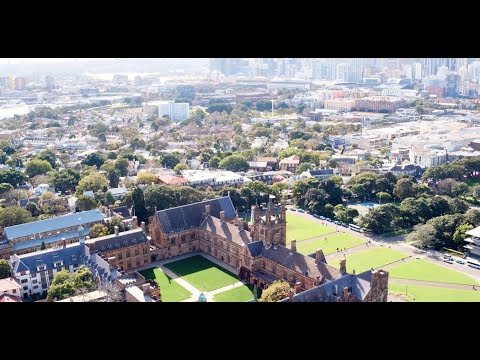 Subjects taught at University of Sydney
Arts & humanities

Life sciences

Physical sciences

Business & economics

Education

Clinical, pre-clinical & health

Computer science

Engineering & technology

Law

Social sciences

Psychology