University of Sheffield
105th
World University Rankings 2024
=42nd
Impact Rankings 2023
126-150th
World Reputation Rankings 2022
Western Bank, Sheffield, South Yorkshire, S10 2TN, United Kingdom
Founded in 1905, the University of Sheffield is a research university with a global reputation for excellence. Ranked 104th in the 2024 QS World University Rankings, it is renowned for the excellence, impact and distinctiveness of its research-led learning and teaching. Offering courses in a wide range of areas including social sciences, engineering, arts and humanities, science and medicine and dentistry, there's an opportunity to develop your passion in the subject area of your choice. 
Representing a truly global community, Sheffield is home to more than 30,000 students from over 150 countries. Welcoming students from across the globe for more than 100 years, international students now make up a third of Sheffield's student population. Sheffield is among the top 50 most international universities in the world (Times Higher Education World University rankings 2023) and prides itself on having a vibrant and multicultural community with a range of support services available to help you succeed. 
The University of Sheffield is a leading research university with a global reputation for excellence and has a strong focus on employability.  A member of the prestigious Russell Group, Sheffield offers a world-class education in a vibrant and welcoming city in the heart of the UK. 
Sheffield has a rich history of ground-breaking research and is proud of what it has achieved as an institution.  Home to some of the world's most esteemed intellectuals in academia, Sheffield boasts six Nobel Prize winners among former staff and students. The University pioneered the first medical use of penicillin in 1930 and more recently researchers developed a lifesaving drug for the treatment of ovarian and breast cancer. 
Sheffield's research-led teaching is empowering the next generation of global citizens.  A degree from Sheffield will be recognised and valued by employers from all over the world and this reputation has resulted in Sheffield being named one of the top 20 most targeted UK universities by top employers (High Fliers Research 2023), demonstrating excellent graduate prospects.  
Whatever subject you choose to study, at Sheffield you'll receive high quality education and support. Get tailored careers advice and leave university with the skills, confidence and experience you need to pursue the future you want.  
Continuing to invest in facilities to create the best learning environment, many of the learning and teaching spaces are interdisciplinary, and there are also state-of-the-art laboratories, industry-standard equipment, as well as music technology spaces, broadcast studios, multimedia newsrooms and a fully-equipped financial trading room. 
One of the best things about the University of Sheffield is the unique combination of academic excellence and an amazing student experience.  Research that is renowned on the global stage - influencing policy, changing lives and helping us understand the world better.  Research partners include: AstraZeneca, Boeing, Boots, GSK, ICI, Rolls Royce, Slazenger, Unilever and many more household names, as well as UK and overseas government agencies and charitable foundations. 
Joining the University of Sheffield is only the beginning of something very exciting. You'll become part of a much bigger, supportive, fun and vibrant community of like-minded people. Sheffield has a top-rated student experience and the Students' Union is regularly voted as the best in the UK (WhatUni Choice Awards 2023), and features over 330 societies and nearly 60 sports clubs. 
Sheffield is a vibrant city which is home to more than half a million people. It's diverse, green and inclusive, with real character. It's the big city vibe that feels like home.  With over 250 parks and woodlands, 4.5 million trees and numerous renewable energy sites, Sheffield is leading the way to a sustainable future - both nationally and globally. 
The University of Sheffield is a member of the Russell Group, a group of 24 leading UK universities known for being world-class, research-focused institutions. As a member of the Russell Group, Sheffield champions the importance of research and believes that people and ideas are key to solving the most prominent global challenges. 
The University's life enhancing research, innovation and education not only transforms the lives of its graduates, but shapes the world we live in. In the most recent UK Research Excellence Framework, 92% of Sheffield's research was assessed as world-leading or internationally excellent. 
The University works on joint research projects with major multinational businesses, international organisations, global charities and governments - giving unparalleled access into the current issues facing society as a whole.  Through over 80 research projects, Sheffield is supporting the United Nations Sustainable Development Goals, which aim to achieve dignity, peace and prosperity for people and the planet, now and in the future. 
The University of Sheffield has four flagship institutes which bring together internationally recognised experts from across different academic disciplines who share a vision to make change happen: Energy Institute, Neuroscience Institute, Healthy Lifespan Institute and Institute for Sustainable Food. 
Established in 2001 as part of a collaboration with Boeing, the University's Advanced Manufacturing Research Centre (AMRC) now has over 120 partners and is seen as a model for collaborative research between universities and industry. 
Explore rankings data for University of Sheffield
All ranked institutions have an overall score and 4 pillar scores. However for each pillar, only institutions ranked in the top 500 overall or the top 500 in this pillar have a publicly visible score
Key statistics
40%

Percentage of International Students

(1)

15.4

No. of students per staff

(1)

53 : 47

Student Ratio of Females to Males

(1)

27,860

Number of FTE Students

(1)
Video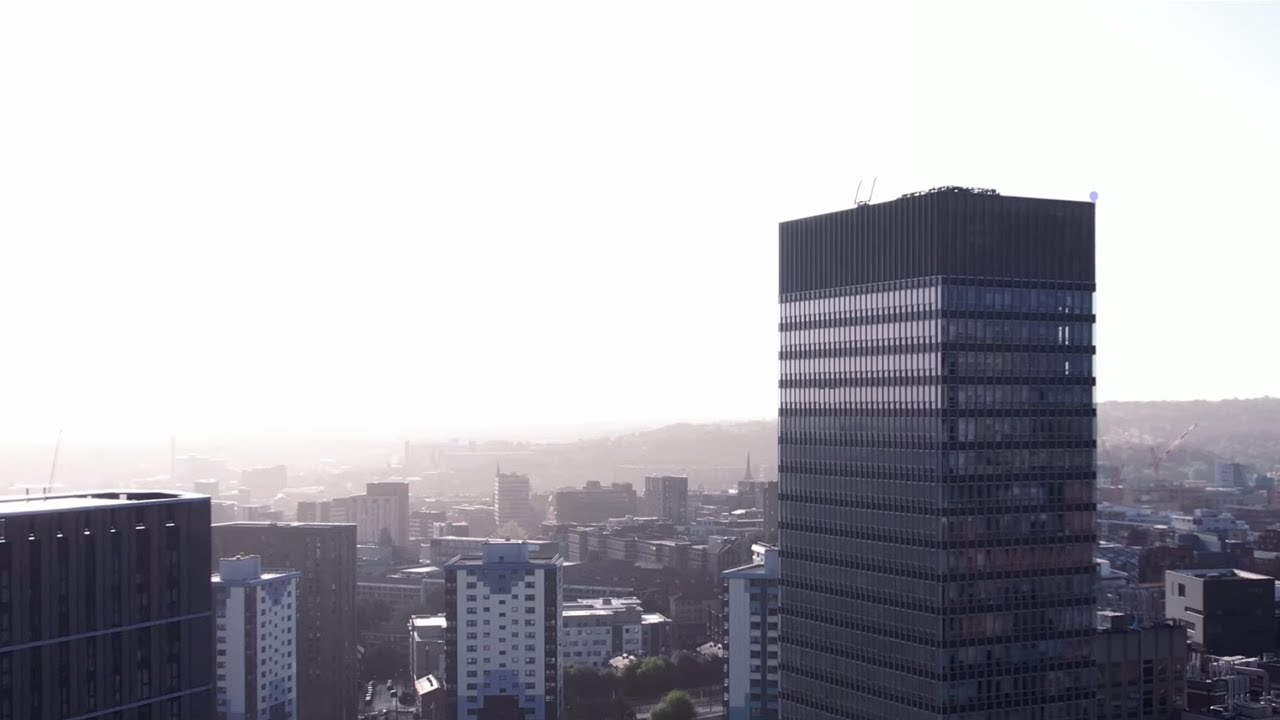 Subjects taught at University of Sheffield
Arts & humanities

History, Philosophy & Theology
Archaeology
Languages, Literature & Linguistics
Architecture

Computer science

Social sciences

Geography
Sociology
Politics & International Studies (incl Development Studies)
Communication & Media Studies

Physical sciences

Mathematics & Statistics
Geology, Environmental, Earth & Marine Sciences
Chemistry
Physics & Astronomy

Engineering & technology

Chemical Engineering
General Engineering
Mechanical & Aerospace Engineering
Electrical & Electronic Engineering
Civil Engineering

Clinical, pre-clinical & health

Other Health
Medicine & Dentistry

Business & economics

Economics & Econometrics
Accounting & Finance
Business & Management

Law

Psychology

Life sciences

Education