University of Birmingham
=116 th
World University Rankings 2019
25 th
European Teaching Rankings 2018
Chancellors Court, Edgbaston, Birmingham, West Midlands, B15 2TT, United Kingdom
A global university at the heart of an ambitious city
Established in 1900 by Queen Victoria, the University of Birmingham is a forward-thinking institution with national eminence and global reach. From our world-leading research and vibrant international student and staff community to the breadth and depth of our international engagement, Birmingham is a global university in every sense.
As a founding member of the Russell Group and one of the world's top 100 universities, we are acknowledged for our commitment to providing outstanding teaching, having been awarded a Gold rating by the Teaching Excellence Framework and producing some of the most employable graduates in the country.
Dubai: A World of Opportunity
The University has recently announced the exciting launch of a new campus in Dubai, becoming the first global top 100 and Russell Group University to establish a campus in Dubai and its rapidly developing international educational hub, opening in September 2018.
A vibrant international community of staff and students
You will join over 34,000 students, of which more than  40% are postgraduate taught and research, and one of the largest international student and staff communities in the UK, with over 6,800 students from over 150 countries and 31% of our staff from overseas. We also boast more than 100,000 online learners and 300,000 alumni across the globe and one of the world's top 100 universities.
The city of Birmingham is a modern and cosmopolitan city that retains pride for its historic, industrial past and is home to the largest financial services and creative sectors outside of London. As the youngest city in Europe, with 40% of the population under the age of 25, Birmingham an exciting place to study, work and live, 48% of our students stay in the region after graduation. 
An outstanding teaching experience
We champion the importance of research-led teaching, independent study and peer-to-peer learning which contributed to an outstanding performance in the Quality Assurance Association (QAA) review.  
Birmingham Heroes
From discovering gravitational waves to fighting antibiotic resistance, and devising personalised cancer therapies to tackling the refugee crisis, learn more about how Birmingham Heroes are tomorrow's Nobel Prize winners.
Visit Quest for stories about our research with commentary and analysis from world leading experts.
Undergraduate Study
At Birmingham we encourage bold, independent thinking and offer the highest quality academic experience to stretch and challenge you. You will be an active part of a leading academic community, studying and working alongside some of the finest academic minds in the world. We offer a range of exciting degree courses, with dedicated academic staff and outstanding facilities to support you in your studies.
Explore and find the right course for you
Postgraduate Study
At Birmingham you will join a stimulating postgraduate community of students and researchers. We have invested £25million in student support and scholarships to enable you to get the most from postgraduate study. Our Graduate School provides the best possible research and education environment – from dedicated postgraduate space in which you can work, to events and training programmes to support your development.
We offer a selection of pre-masters, and pre-doctoral programmes, preparing you for postgraduate study at Birmingham, and some of our programmes also offer Distance Learning options.
Explore Postgraduate taught study at Birmingham.
Explore Postgraduate Research at Birmingham.
Study in Dubai
From 2018 you can choose to study at our Dubai campus where you will have access to a world-class British education, taught by outstanding academics who are experts in their fields and graduate with a University of Birmingham degree. Choose from a range of three and four year undergraduate programmes, as well as post-graduate programmes.
Study in Singapore
A number of Birmingham Business School programmes are available in Singapore, delivered in conjunction with our partners, the Singapore Institute of Management (SIM). The programmes use the same syllabus as taught on the UK equivalent and our world-leading staff travel to Singapore to deliver the content.
Teaching Excellence
We are proud of our excellent teaching at Birmingham. Following the University's recent outstanding performance in the Quality Assurance Association's (QAA) Higher Education Review, our commitment to teaching has been recognised again, and we have been awarded a Gold rating in the 2016/17 Teaching Excellence Framework (TEF). The TEF Panel acknowledged that 'all student outcomes are excellent' at Birmingham.
At Birmingham we invest in good ideas and in good people. We boast sector-leading development programmes, including coaching and mentoring, as well as offering targeted talent and leadership development for academic and professional staff to realise their potential.
Birmingham Fellows
Our sector-leading Birmingham Fellowship programme offers five years of protected time for high-quality research, allowing outstanding, high potential, early-career researchers of all ages to establish themselves as rounded academics who will go on to excel in their academic discipline across research, teaching and wider citizenship. All Fellowships come with a permanent academic post at the University.
Research that matters
Research that takes place at Birmingham impacts on the lives of people regionally, nationally and globally.
We are proud to have produced some of the finest graduates in the country and are delighted to count 11 Nobel Prize winners among our staff and alumni, including prizes in Chemistry and Physics awarded in 2016.
The work of our Nobel Prize winners has tackled global challenges and pioneered new discoveries which have transformed our understanding of the world. These awards highlight the eminence of research at Birmingham, where our academics continue to be at the forefront of ground-breaking discoveries, shaping policy and saving lives across the world.
Click here to find a full list of both professional and academic opportunities.
Explore rankings data for University of Birmingham
All ranked institutions have an overall score and 4 pillar scores. However for each pillar, only institutions ranked in the top 500 overall or the top 500 in this pillar have a publicly visible score
Key statistics
15.1

No. of students per staff

(1)

28,354

Number of FTE Students

(1)

56 : 44

Student Ratio of Females to Males

(1)

28%

Percentage of International Students

(1)
Based on data collected for the (1) 2019 World University Rankings
Video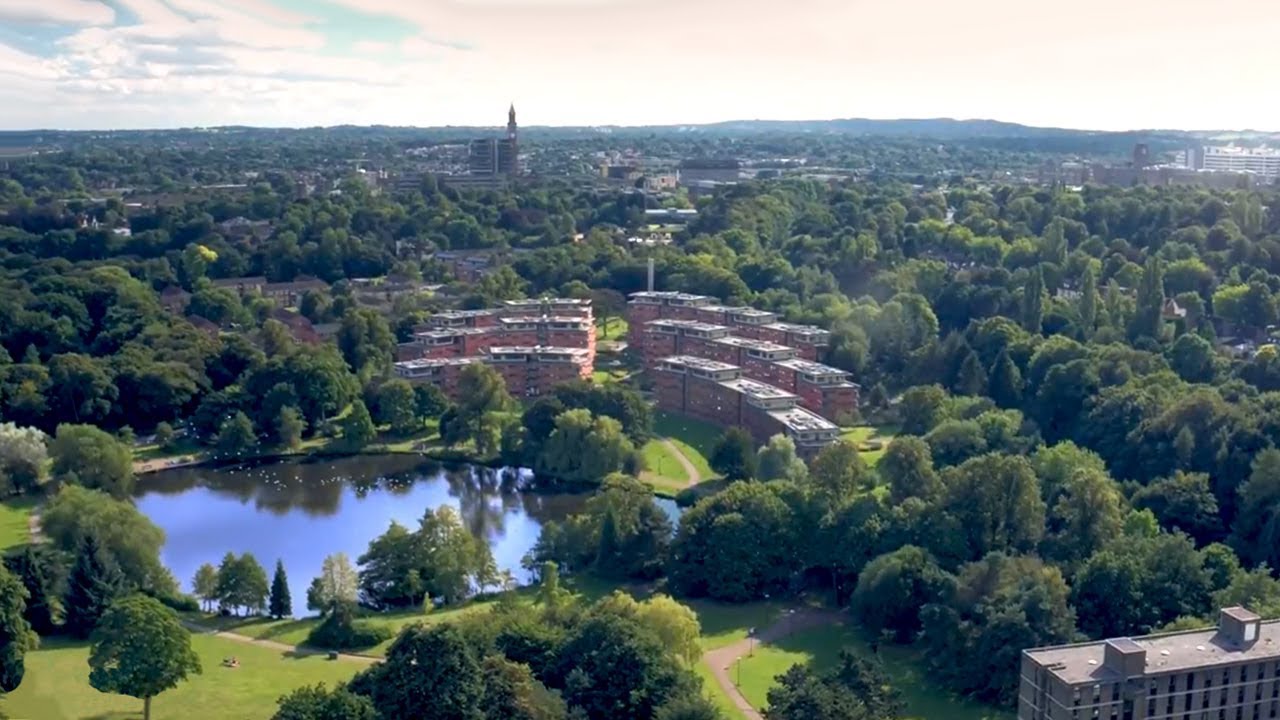 Find a course at University of Birmingham
Arts & humanities

Physical sciences

Life sciences

Social sciences

Engineering & technology

Clinical, pre-clinical & health

Business & economics

Computer science

Law

Psychology

Education