University of Barcelona
=152nd
World University Rankings 2024
101–200th
Impact Rankings 2023
126-150th
World Reputation Rankings 2022
Gr. Via de les Corts Catalanes, 585, Barcelona, 08007, Spain
More about University of Barcelona
The University of Barcelona, founded in 1450, is a comprehensive higher education institution that offers profound academic tradition coupled with frontier scientific knowledge. It is in the city of Barcelona, one of the major cosmopolitan hubs of the Mediterranean and, indeed, in Europe. The University of Barcelona's 16 faculties are spread over six main campuses situated throughout the city, which are completely integrated into the urban life and landscape. And with the majority in central areas, the city effectively becomes the campus of the University. With 16 libraries and 100,000 sq m dedicated to health and sport, the University of Barcelona offers a wide range of services. Currently, nearly 7,000 sq m of developed space are available to the largest university community in Catalonia.
Why choose the UB?
Leaders in research 
We have more than 7,100 scientific publications (Web of Science), 1,029 active research projects, 250 consolidated research groups, 16 UB research institutes, and 700 doctoral theses read in the academic year 2021-2022.
Internationalization
We have more than 3,578 agreements with foreign universities and institutions. Approximately 1,400 mobility destinations at universities around the world.
Living in Barcelona
Barcelona is the best Spanish city to study in and is in the top 35 student cities in the world. We have more than 100,000 sq m of facilities for sports and health: take part in leagues, train outdoors, sign up to directed activities, and much more. You can also participate in different cultural activities and student representation associations.
Libraries and digital services
The UB has 16 libraries with the European seal of excellence (European Foundation for Quality Management) with more than 300,000 loan items available. They offer more than 2.2 million information resources, more than 38,000 electronic journals, and access to 250 specialized databases.
An extensive range of doctoral programmes
You can take your doctoral programme part-time or full-time over three or five years, with a wide range of cross-disciplinary or specific training activities. We offer an industrial doctorate programme that consists of a cooperation agreement between a company and the University while you are working on your thesis.
Explore these featured universities
Explore rankings data for University of Barcelona
All ranked institutions have an overall score and 4 pillar scores. However for each pillar, only institutions ranked in the top 500 overall or the top 500 in this pillar have a publicly visible score
Compare universities on their key stats
Key statistics
64 : 36

Student Ratio of Females to Males

(1)

11%

Percentage of International Students

(1)

15.3

No. of students per staff

(1)

44,365

Number of FTE Students

(1)
Video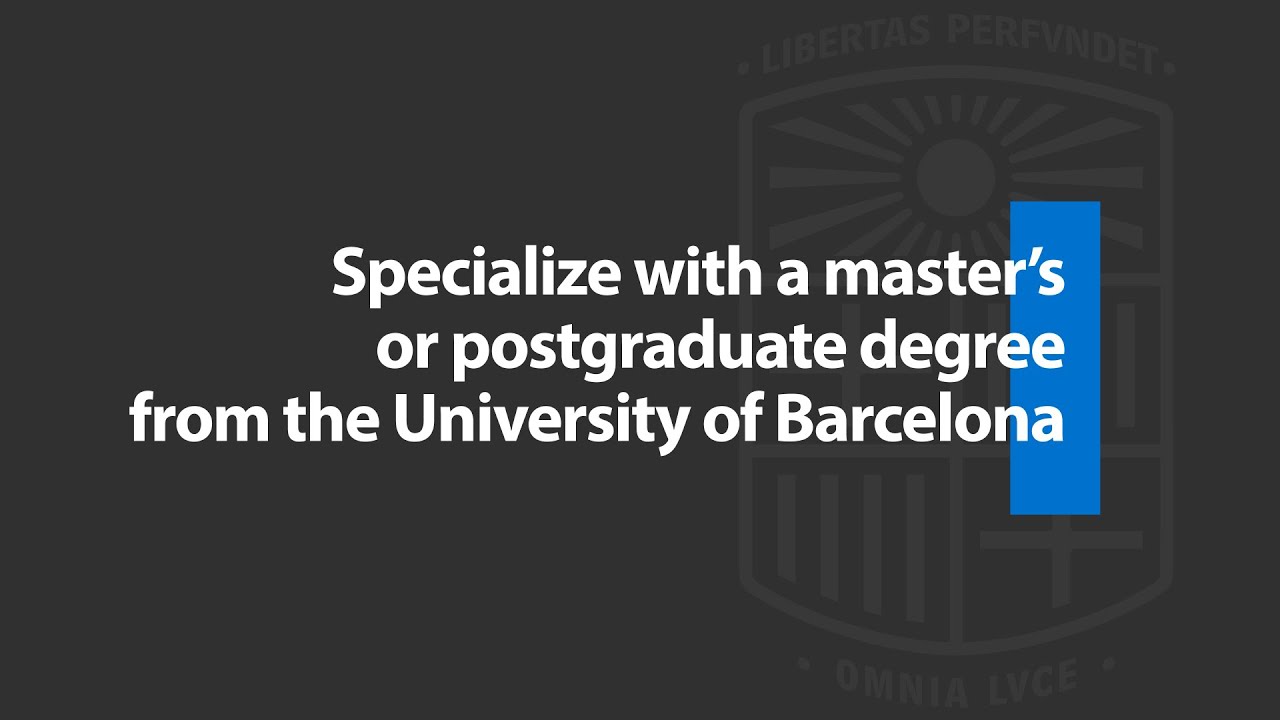 Find a course at University of Barcelona
Physical sciences

Physics & Astronomy
Mathematics & Statistics
Geology, Environmental, Earth & Marine Sciences
Chemistry

Business & economics

Business & Management
Economics & Econometrics
Accounting & Finance

Arts & humanities

Languages, Literature & Linguistics
Art, Performing Arts & Design
Archaeology
History, Philosophy & Theology

Law

Life sciences

Agriculture & Forestry
Sport Science
Biological Sciences

Computer science

Social sciences

Communication & Media Studies
Sociology
Geography
Politics & International Studies (incl Development Studies)

Engineering & technology

Chemical Engineering
General Engineering
Electrical & Electronic Engineering

Education

Psychology

Clinical, pre-clinical & health

Medicine & Dentistry
Other Health