Symbiosis International (Deemed University) SIU
Symbiosis International (Deemed University) (SIU) is a multi-disciplinary, multicultural university offering its students and faculty a vibrant learning ecosystem. Established in 1971 by Prof. Dr. S.B. Mujumdar, it is a 'home away from home' for International students. SIU has 40 Constituents, 10 Departments of Skill and Continuing Education and 12 Research Centres across 6 cities in India. All the campuses epitomize the Symbiosis vision, 'Promoting International Understanding through Quality Education' and are a beehive of international students from all across the globe, being privy to Indian culture and hospitality. The University offers doctoral, postgraduate, undergraduate, diploma and certificate programmes in Law, Management, Computer Studies, Medical & Health Sciences, Media & Communication, Humanities & Social Sciences, Engineering and Architecture & Design.
The university is awarded the Category-I status by University Grants Commission (UGC), and an 'A++' grade by National Assessment And Accreditation Council (NAAC). The university is also ranked 32nd among Universities by National Institutional Ranking Framework (NIRF) 2023, and ranked tenth in the category of 'University & Deemed to be University (Private-Self-Financed)' in Atal Ranking of Institutions on Innovation Achievement (ARIIA) 2021. 
The University has established Symbiosis Medical College for Women, the first residential Medical College exclusively for girls in the State of Maharashtra offering free medical education / free ships to 5 top bright girls every year. The Symbiosis University Hospital & Research Centre attached to this medical college provides free treatment and quality healthcare to the neighbouring villages and the community (https://smcw.edu.in/)
Teach @ SIU
Various programs are designed to engage foreign faculty with Symbiosis for teaching and research. The details of the same can be fetched at https://www.scie.ac.in/contact-us
Research @ SIU
Symbiosis Centre for Research and Innovation promotes and facilitates research among students and faculty and conducts the Ph.D. Programme in addition to various support services related to  Research   projects,  Publications, Conferences,  Intellectual Property.
In its continuous pursuit of giving back to Society through academics and research, the University has established several Research centres across its campuses namely the Symbiosis Centre for Advance and Legal Studies, Symbiosis Centre for Waste Resource Management, ​Symbiosis Centre for Stem Cell Research, Symbiosis Centre for Nanoscience and Nanotechnology, Symbiosis Center for Medical Image Analysis, Symbiosis Centre for Behavioural Studies, Symbiosis Centre for Applied Artificial Intelligence, Symbiosis Centre for Research on International Higher Education, Symbiosis Centre for Climate Change and Sustainability, Symbiosis Centre for Urban Studies (SCUS) and the Symbiosis Centre for Research in Media and Creative Industries (SCRMCI). These Centres are led by researchers of repute in respective disciplines and are being developed as the Centres of Excellence of the future.
Faculty Development @ SIU
The Symbiosis Teaching Learning Resource Centre (STLRC) provides support for developing planning and execution of various Faculty Development Programmes under the verticals of Teaching, Learning, Evaluation, Research in domain specific areas. The centre  is the University's catalyst to inspire and mentor the faculty in their roles as Teachers, Researchers and more so as 'Educational parents'.
Entrepreneurship and Innovation:
Symbiosis Centre for Entrepreneurship & Innovation (SCEI) a Technology Business Incubator (TBI) provides office space, Innovation Lab access and mentoring support to start-ups and potential entrepreneurs.(https://www.scei.org.in/)
Health Promoting University
SIU in its quest of a health promoting university undertakes numerous activities like On-Campus health care centre, Recreation & Wellness Centre providing gymnasium, aerobics, yoga, swimming pool facilities, other outdoor sports facilities and a counsellor at every campus (https://siu.edu.in/hpu.php) .
Community engagement @ SIU
The Symbiosis Community Outreach Programme and Extension (SCOPE) has adopted 23 villages and engages in activities which include Healthcare, Finance & Banking, Computer Literacy, Legal Counsel, Waste Management etc. Family Doctor Clinics (FDCs) and Mobile Medical Unit(MMU) have been commissioned. Students work with NGOs on different projects. (https://siu.edu.in/Health-Facilities.php#scope)
Courses @ SIU
Programmes and Courses offered: https://siu.edu.in/admissions.php#ProOff
LAW
SYMBIOSIS LAW SCHOOL (SLS), PUNE
SYMBIOSIS LAW SCHOOL (SLS), NOIDA
SYMBIOSIS LAW SCHOOL (SLS), HYDERABAD
SYMBIOSIS LAW SCHOOL (SLS), NAGPUR

MANAGEMENT
SYMBIOSIS INSTITUTE OF BUSINESS MANAGEMENT (SIBM) , PUNE
SYMBIOSIS CENTRE FOR MANAGEMENT AND HUMAN RESOURCE DEVELOPMENT (SCMHRD)
SYMBIOSIS INSTITUTE OF INTERNATIONAL BUSINESS (SIIB)
SYMBIOSIS INSTITUTE OF MANAGEMENT STUDIES (SIMS)
SYMBIOSIS INSTITUTE OF DIGITAL AND TELECOM MANAGEMENT (SIDTM)
SYMBIOSIS INSTITUTE OF OPERATIONS MANAGEMENT (SIOM) , NASHIK
SYMBIOSIS INSTITUTE OF BUSINESS MANAGEMENT (SIBM) , BENGALURU
SYMBIOSIS CENTRE FOR MANAGEMENT STUDIES (SCMS) , PUNE
SYMBIOSIS SCHOOL OF BANKING AND FINANCE (SSBF)
SYMBIOSIS CENTRE FOR MANAGEMENT STUDIES (SCMS) , NOIDA
SYMBIOSIS INSTITUTE OF BUSINESS MANAGEMENT (SIBM) , HYDERABAD
SYMBIOSIS INSTITUTE OF BUSINESS MANAGEMENT (SIBM), NAGPUR
SYMBIOSIS INSTITUTE OF BUSINESS MANAGEMENT (SIBM) , NOIDA
SYMBIOSIS CENTRE FOR MANAGEMENT STUDIES (SCMS), NAGPUR
COMPUTER STUDIES
SYMBIOSIS INSTITUTE OF COMPUTER STUDIES AND RESEARCH (SICSR)
SYMBIOSIS CENTRE FOR INFORMATION TECHNOLOGY (SCIT)
HEALTH SCIENCES
SYMBIOSIS INSTITUTE OF HEALTH SCIENCES (SIHS)
SYMBIOSIS COLLEGE OF NURSING (SCON)
SYMBIOSIS SCHOOL OF BIOLOGICAL SCIENCES (SSBS)
SYMBIOSIS SCHOOL OF SPORTS SCIENCES (SSSS)
SYMBIOSIS SCHOOL OF CULINARY ARTS (SSCA)
SYMBIOSIS SCHOOL FOR OPEN AND DISTANCE LEARNING (SSODL)
SYMBIOSIS MEDICAL COLLEGE FOR WOMEN (SMCW) &
SYMBIOSIS UNIVERSITY HOSPITAL AND RESEARCH CENTRE(SUHRC)
MEDIA & COMMUNICATION
SYMBIOSIS INSTITUTE OF MEDIA & COMMUNICATION (SIMC)
SYMBIOSIS CENTRE FOR MEDIA & COMMUNICATION (SCMC)
SYMBIOSIS SCHOOL OF VISUAL ARTS AND PHOTOGRAPHY (SSVAP)
SYMBIOSIS SCHOOL OF ECONOMICS (SSE)
SYMBIOSIS SCHOOL FOR LIBERAL ARTS (SSLA)
SYMBIOSIS SCHOOL OF INTERNATIONAL STUDIES (SSIS)
SYMBIOSIS STATISTICAL INSTITUTE (SSI)
SYMBIOSIS INSTITUTE OF TECHNOLOGY (SIT)
SYMBIOSIS INSTITUTE OF GEOINFORMATICS (SIG)
ARCHITECTURE & DESIGN
SYMBIOSIS INSTITUTE OF DESIGN (SID)
SYMBIOSIS SCHOOL OF PLANNING ARCHITECTURE AND DESIGN (SSPAD)
DEPARTMENTS SKILLS & CONTINUING EDUCATION
ENGLISH LANGUAGE TEACHING INSTITUTE OF SYMBIOSIS (ELTIS)
SYMBIOSIS INSTITUTE OF FOREIGN AND INDIAN LANGUAGES (SIFIL)
SYMBIOSIS CENTRE FOR HEALTH SKILLS (SCHS)
SYMBIOSIS CENTRE FOR YOGA (SCY)
SYMBIOSIS SCHOOL OF OPEN AND DIGITAL LEARNING (SSODL)
SYMBIOSIS CENTRE FOR CORPORATE EDUCATION (SCCE), PUNE
SYMBIOSIS CENTRE FOR CORPORATE EDUCATION (SCCE), NOIDA
SYMBIOSIS CENTRE FOR CORPORATE EDUCATION (SCCE), NAGPUR
SYMBIOSIS CENTRE FOR SKILL DEVELOPMENT (SCSD), NAGPUR
SYMBIOSIS CENTRE FOR CORPORATE EDUCATION (SCCE), HYDERABAD
Explore rankings data for Symbiosis International University
All ranked institutions have an overall score and 4 pillar scores. However for each pillar, only institutions ranked in the top 500 overall or the top 500 in this pillar have a publicly visible score
Key statistics
13.0

No. of students per staff

(1)

6%

Percentage of International Students

(1)

16,305

Number of FTE Students

(1)

54 : 46

Student Ratio of Females to Males

(1)
Video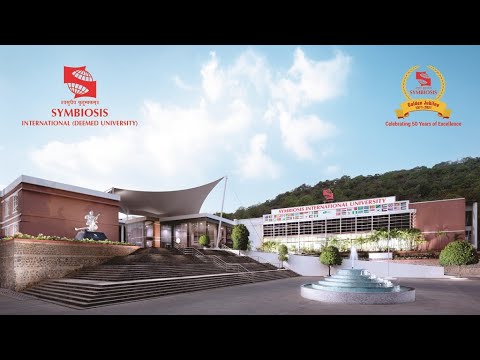 Subjects taught at Symbiosis International University
Computer science

Clinical, pre-clinical & health

Other Health
Medicine & Dentistry

Social sciences

Politics & International Studies (incl Development Studies)
Communication & Media Studies

Life sciences

Biological Sciences
Sport Science

Business & economics

Business & Management
Accounting & Finance
Economics & Econometrics

Arts & humanities

Languages, Literature & Linguistics
Art, Performing Arts & Design
Architecture

Engineering & technology

General Engineering
Mechanical & Aerospace Engineering
Civil Engineering
Electrical & Electronic Engineering

Physical sciences

Geology, Environmental, Earth & Marine Sciences

Law