SOAS University of London
World University Rankings 2020
University Impact Ranking 2019
Impact Rankings: Quality education 2019
Thornhaugh Street, Russell Square, London, WC1H 0XG, United Kingdom
Celebrating more than 100 years of research and teaching excellence, SOAS's world-class scholars are well-placed to provide the analysis and understanding of our rapidly changing world.
Attracting the brightest minds from all over the world to create a community that is diverse, vibrant and multinational. SOAS University of London is a unique institution specialising in the study of Asia, Africa and the Near and Middle East across a broad set of subject disciplines within the arts, humanities and social sciences.
Our vision is of an interconnected world where SOAS plays an important role in addressing the challenges facing the world by:
Helping to build bridges in a complex world
Applying a global lens to the critical issues of our time
Developing graduates who can influence and make an impact throughout their careers
Developing new intellectual and strategic partnerships
Explore the  SOAS blog for our take on topical matters of the world.
Studying here
As a student, you will engage in research that has a tangible effect on the real world by interacting with scholars at the forefront of their respective fields. Our degree programmes will provide you with a deep understanding of global issues, distinctive in regional focus and relevant today. 
Over the course of your study, you will have the opportunity to look at your subject(s) from multiple perspectives, to have your ideas challenged in debate with fellow students and tutors, and overturn any unexamined assumptions
Use of a National Research Library

A student favourite, the SOAS Library is one of the world's most important academic libraries for the study of Asia, Africa and the Middle East and one of only five National Research Libraries in the UK.
Undergraduate Study
Undergraduate degrees at SOAS University of London are designed with the needs of students as the driving factor. Here you will get to design your own intellectual journey – we offer a flexible module structure meaning you can be as specialised or as diverse in your options as you wish. At SOAS, you will get to study complex matters in both breadth and depth, developing your analytical abilities and critical thinking.
Postgraduate Study
Postgraduate degrees at SOAS University of London provide students with a deep understanding of global issues, distinctive in regional focus and relevant today. Here you will get exceptional support to our valued cohort of postgraduate students, both on the research and taught tracks of study.
Online and Distance Learning
SOAS has over 20 years' experience delivering distance learning programmes. Equal in standard to those taught on campus, our online and distance learning degrees offer you the flexibility to fit your studies around your professional and personal commitments, while simultaneously allowing you to build up a global network of professional contacts.
Programmes taught in Singapore
BSc International Management (Japan & Korea)
BA International Management and South East Asian Studies
Find out more
Undergraduate study
Postgraduate study
Online and distance learning study
International Foundation programmes
Study abroad
Summer School
Scholarships and Awards
International students
Open days and online events
Meet us in your country
Academic departments
SOAS University of London specialises in the study of Asia, Africa and the Near and Middle East. With our vast repository of knowledge and expertise on our specialist regions, we are uniquely placed to inform and shape current thinking about the economic, political, cultural, security and religious challenges of our world.
Our programmes are taught by respected academics engaged in fieldwork and research which influences government policy and the lives of individuals across the globe. SOAS scholars grapple with the pressing issues confronting two-thirds of humankind today: democracy, development, economy, finance, public and corporate policy, human rights, migration, identity, legal systems, poverty, religion, and social change.
Anthropology and Sociology
English Studies
History of Art and Archaeology
Music
Development Studies
East Asian Languages & Cultures
Economics
Finance and Management
History, Religions and Philosophies
Development, Environment and Policy
Gender Studies
Global Media and Communications
International Studies and Diplomacy
Languages, Cultures and Linguistics
Law
Politics and International Studies
Explore rankings data for SOAS University of London
All ranked institutions have an overall score and 4 pillar scores. However for each pillar, only institutions ranked in the top 500 overall or the top 500 in this pillar have a publicly visible score
Key statistics
12.1

No. of students per staff

(1)

53%

Percentage of International Students

(1)

65 : 35

Student Ratio of Females to Males

(1)

5,194

Number of FTE Students

(1)
Video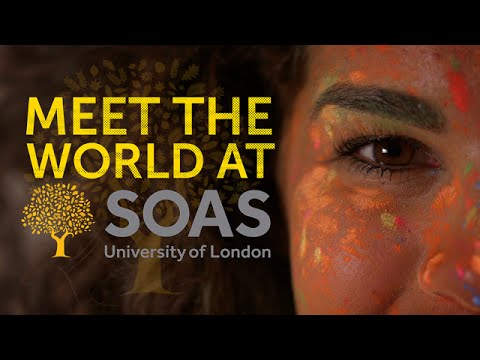 Find a course at SOAS University of London
Arts & humanities

Law

Business & economics

Social sciences