Kuwait University is the state of Kuwait's national university, leading in both higher education and scientific research. It was established in 1966 as the state's first public institution of higher education and research. It had made significant advances since its establishment nearly fifty years ago and has evolved into a multi-faculty institution of higher education comprised of sixteen colleges offering ninety-two undergraduate and eighty-nine graduate programs. 
As it celebrates its semi-centennial anniversary (Golden Jubilee), the university has seen its enrollment grow from about 418 to around 40,764 students, faculty from thirty-one to approx. 1,695, colleges from 4 to 16, administrative and academic support personnel from 200 to more than 6,283. Kuwait University offers a profound learning experience presented by distinguished and culturally diverse faculty, backed by advanced infrastructure, state-of-the-art technologies, and world-class laboratories. 
Kuwait University has a well-defined research grants program effectively engaging the scientific community in pursuing advanced and innovative research that meets the requirements of modern times, responds to national needs and priorities, and benefits science, ​society, and humanity. It also has instituted an annual researcher's rewards system for honoring distinguished researchers of exceptional research accomplishments and innovative patented discoveries
Programs 
Kuwait University is a public university located in Kuwait City; it was established in (1966) with different programs including:  
- College of Graduates Studies. 
- College of Sharia & Islamic Studies. 
- College of Business Administration. 
- College of Allied Health Sciences. 
- College of Engineering and petroleum. 
Library: (Knowledge beyond Education) 
The library administration at Kuwait University is the administrative and technical body responsible for overseeing all university library affairs. 
The library of Kuwait University has vision and message, first the vision is about seeks to be the hub and heart of the intellectual cultural, scientific, and academic life in the university. It also seeks to provide scientific resources in the best possible manner and to provide access to information sources at any time and in any place. 
Second the message is about the library staff directs students and researchers to use information resources and it works to support scientific research in line with the university's mission in learning and scientific research.  
Finally, libraries provide information and offer information services to meet the needs of education and research programs. 
Student Life 
Kuwait University is an institution that takes great pride in its students. It provides them with the best academic and scientific services that focus on achieving education outcomes. The University is committed to preparing young people in a balanced way that benefits both society and the country. To achieve this, it offers various means to facilitate services to its students, including study affairs, housing, social welfare, sports, personal skill refinement, care programs for persons with special needs, and scholarship opportunities for expatriates. 
Kuwait University takes an active role in promoting the potential and talents of its students in all fields. The university actively encourages student involvement in elections through the National Union of Kuwait Students, established in 1964 to represent students in Kuwait. 
Furthermore, the university is dedicated to promoting and highlighting the role of university debates. This is considered one of the most important activities that enhances the confidence and skills of Kuwait University students. It also helps to educate young people and provides them with a range of subjects that nurture their minds and increase the prospects for knowledge. Kuwait University students have participated in many international debates and have achieved advanced positions. 
Kuwait University is committed to addressing local and global challenges, in alignment with United Nations priorities. Their focus is on scientific advancements related to Sustainable Development Goals 2030. The university has identified priority research areas such as alternative and renewable energy sources, water resource management and technology, oil extraction, exploration of heavy oil, environmental pollution in Kuwait, food and water security, and teaching methods and outcomes.  
As a leading research university, KU places great importance on sustainability for the future. They have implemented initiatives that promote sustainable practices and incorporated sustainable design in their facilities.  
Sustainable development is a top priority for Kuwait University as a leading university in the region. The aim is to improve people's lives worldwide while mitigating risks that affect the environment and economic progress. To achieve this goal, the university designed and implemented a new campus in Sabah Al-Salem University City to set an example for educational, social, and developmental environments that prioritize sustainability. 
All buildings in Sabah Al-Salem University City meet the silver classification for Leadership in Energy and Environmental Design (LEED) requirements. The university has installed a central cooling system, which relies on water cooling and consists of three central stations that provide a cooling capacity equivalent to 108000 refrigeration tons. This system is highly energy-efficient, and the solar cells installed on the ceiling of the facilities and colleges provide approximately 3852648 watts per year.  
The building designs prioritize natural lighting to reduce energy consumption. For example, glass ceilings minimize artificial light during the day. Additionally, double facades are used to achieve shading for internal facades of facilities, which reduces waste in cooling loads and thus reduces energy use.  
Waste management at Sabah Al-Salem University City is unique in its approach. Waste is collected, separated, compressed, and transported for recycling. Special facilities are established to separate plastic, paper, biological, and hazardous waste from each other. 
The campus has a central green space known as an oasis and gardens in the northern and southern buildings that provide restrooms and pedestrian paths in a pleasant atmosphere complete with fountains and water features. All the plants in this oasis are irrigated with triple-treated water. 
Kuwait University's Health Cities new initiative aims to enhance community health and safety by implementing sustainable policies, ensuring safe and healthy facilities, promoting scientific research, and improving communication and cooperation among individuals. 
In conclusion, Kuwait University welcomes the United Nations' collaboration as an institution that seeks to spread peace and security, protect human rights, provide aid and relief, and support sustainable development and climate action. 
The Office of the Vice President for Research (OVPR) at Kuwait University oversees three offices: the Research Sector (RS), the Academic Publication Council (APC), and the Center for Gulf & Arabian Peninsula Studies (CGAPS). The RS has realigned its vision and mission to focus on elevating Kuwait University's research profile. Their vision is to become the top research university in the region, contributing to national development. They aim to promote scientific research through grants, collaboration, and innovation. They have four strategic objectives: 
Elevate research productivity.

 
Apply research outcomes to various sectors.

 
Gain a prestigious global research presence.

 
Develop scientific methodologies through partnerships and events.

 
The RS aims to foster a culture of excellence and innovation among faculty members, positioning Kuwait University as a leader in scientific research. 
Kuwait University has partnered with several local and international institutions through cooperation agreements and protocols, aligning their efforts with Kuwait establishment and institute. These agreements aim to connect the university with academic, research, and community levels in the education system. Currently, Kuwait University has over seventy agreements and memoranda of understanding with other universities and educational institutions, creating a unique academic and research environment. 
Kuwait University local and international partners that supported sustainable creative initiatives include: 
Kuwait Foundation of the Advancement of Science (KFAS)

 

The Environment Public Authority

 

Kuwait Oil Company

 

Kuwait Institute for Scientific Research (KISR)

 

The University of Texas at Austin

 

Texas A&M University Engineering Experiment Station

 

The Research Foundation for SUNY, University at Albany

 

Hebei University of Technology

 
National Tsing Hua University Taiwan (NTHU)

 
Explore rankings data for Kuwait University
All ranked institutions have an overall score and 4 pillar scores. However for each pillar, only institutions ranked in the top 500 overall or the top 500 in this pillar have a publicly visible score
Key statistics
14.7

No. of students per staff

(1)

13%

Percentage of International Students

(1)

73 : 27

Student Ratio of Females to Males

(1)

34,147

Number of FTE Students

(1)
Video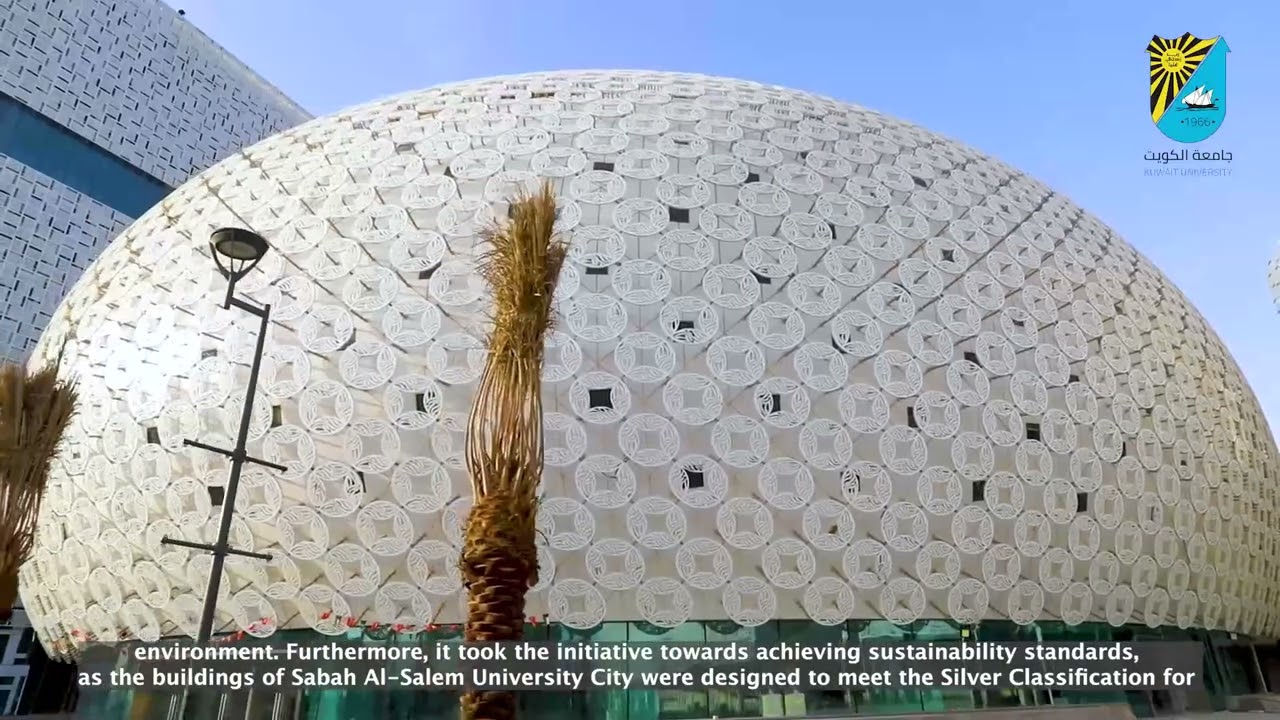 Subjects taught at Kuwait University
Arts & humanities

Architecture
Languages, Literature & Linguistics
History, Philosophy & Theology
Art, Performing Arts & Design

Social sciences

Communication & Media Studies
Geography
Sociology
Politics & International Studies (incl Development Studies)

Business & economics

Business & Management
Economics & Econometrics
Accounting & Finance

Computer science

Physical sciences

Chemistry
Mathematics & Statistics
Physics & Astronomy
Geology, Environmental, Earth & Marine Sciences

Education

Engineering & technology

General Engineering
Mechanical & Aerospace Engineering
Chemical Engineering
Electrical & Electronic Engineering
Civil Engineering

Clinical, pre-clinical & health

Medicine & Dentistry
Other Health

Law

Life sciences

Psychology