Jordan University of Science and Technology
351–400 th
World University Rankings 2019
101–150 th
Young University Rankings 2018
Irbid 22110, Jordan, Jordan
The president office, proudly share Jordan University of Science and Technology (JUST) as a comprehensive, international university with an exponential growth noticed and acknowledged by the many key success and excellence factors.
History
JUST as governmental subsidized university located on the outskirts of Irbid, Jordan, was established in 1986 to serve local and regional educational needs.
The way forward
JUST has always strived to be a leading academic institution and one of the top-ranked higher education institutions regionally and internationally.
JUST witnessed an impressive and unequalled record of accomplishment in education, scientific research, innovation and entrepreneurship, as well as community service and leadership, preparing highly qualified graduates who gained national and international reputation to lead development in Jordan and in neighboring countries.
JUST Strategy
One of JUST's main strategic targets is to foster leadership skills, innovation and entrepreneurship among its students, as well as to build their capacity so that they are equipped with the proper knowledge, skills and tools to proceed with their careers and professions, therefore transforming their mindset and personalities from job seekers to job and opportunity creators.
JUST has embarked on a transformation program with a strong belief in the power of change. This program is essential, of highest priority and a goal that the university will aim to achieve in order to crown the year 2020 with the targeted visionary change.
The program concentrates on four main strategic pillars (so-called JUST 4 I's). The transformation program is related to innovation, industry linkage, interdisciplinary programs and internationalization, hence the name JUST 4 I's 2020.
Key Success Indicators
One of the major recent key success indicators is the establishment of the Nanotechnology institute, which will serve as the nucleus for a national center for research and development in the diverse fields of Nano-science and technology, in addition to the establishment of the Regional Institute of Infectious diseases and Antimicrobial Resistance in collaboration with Purdue University/USA, which makes far-reaching changes in alleviating national, regional, and global threats of infectious diseases, provide rapid and effective regional responses, and strengthen Jordan's health capacities.
Around twenty percent of students are non-Jordanians, a very leading international index.
Fully equipped to provide a diverse range of opportunities for education, research and creativity.
Continued support and enhancements to all facilities.
At the forefront of higher learning in the Arab World also maintaining a high reputation among the Middle Eastern universities.
Strong multi-disciplinary educational system and broad diversity of students.  The university was described as the best scientific institution in the Kingdom by King Abdullah II, and it was ranked as the top university in Jordan for the year 2016 and 2017 consecutively according to Times Higher Education World University Ranking.
Considered today as one of the region's leading universities in teaching and research.
The number of students has increased significantly since the university's establishment. Today JUST has more than 1000 full-time faculty members, with 23,000 undergraduate and 1800 graduate students, in contrast to 2,300 students in the 1986/1987 academic year.
JUST provides a wide range of advanced degree programs at the undergraduate and graduate levels, many of them are not offered by any other Jordanian university.
JUST comprises 12 faculties (Medicine, Engineering, Science & Arts, Pharmacy, Dentistry, Agriculture, Veterinary Medicine, Architecture, Information Technology Applied Sciences, Nursing and Graduate Studies) in addition to the newly established Nanotechnology Institute 45 undergraduate programs and 89 postgraduate programs.
20% of students enrolled at JUST are international students representing 48 countries and comprising the largest diverse student body in Jordan.
King Abdullah University Hospital: An advanced medical facility with state of the art medical equipment and quality medical services to serve the local community with a capacity of 750 beds.
International Accreditation
ABET Accreditation for all Engineering programs
Avicenna, WFME, RCP for the Medical Faculty
WFOT, WCPT for the Applied Medical Sciences Faculty
EAEVE for the Veterinary Medicine Faculty
JUST is recognized locally and on the regional and international level for excellence in teaching, Scientific Research, Graduate employability and Internationalization.
In 2016, JUST campus was ranked first in the Arab world and 66th at the global level in terms of sustainability according to the Green Metric Ranking.
JUST offers unique programs at the national and regional level such as Nuclear engineering, Aeronautical engineering, Veterinary Medicine, and Paramedics.
Personal Invitation
The President of JUST Professor Omar Al-Jarrah cordially invites you to come explore JUST through visiting our campus or through browsing our website to learn about our educational programs and research activities.
Please stay assured that JUST is the place to build a strong strategic move and decision for a brighter future
Explore rankings data for Jordan University of Science and Technology
All ranked institutions have an overall score and 4 pillar scores. However for each pillar, only institutions ranked in the top 500 overall or the top 500 in this pillar have a publicly visible score
Key statistics
19%

Percentage of International Students

(1)

12.1

No. of students per staff

(1)

22,318

Number of FTE Students

(1)

57 : 43

Student Ratio of Females to Males

(1)
Based on data collected for the (1) 2019 World University Rankings
Video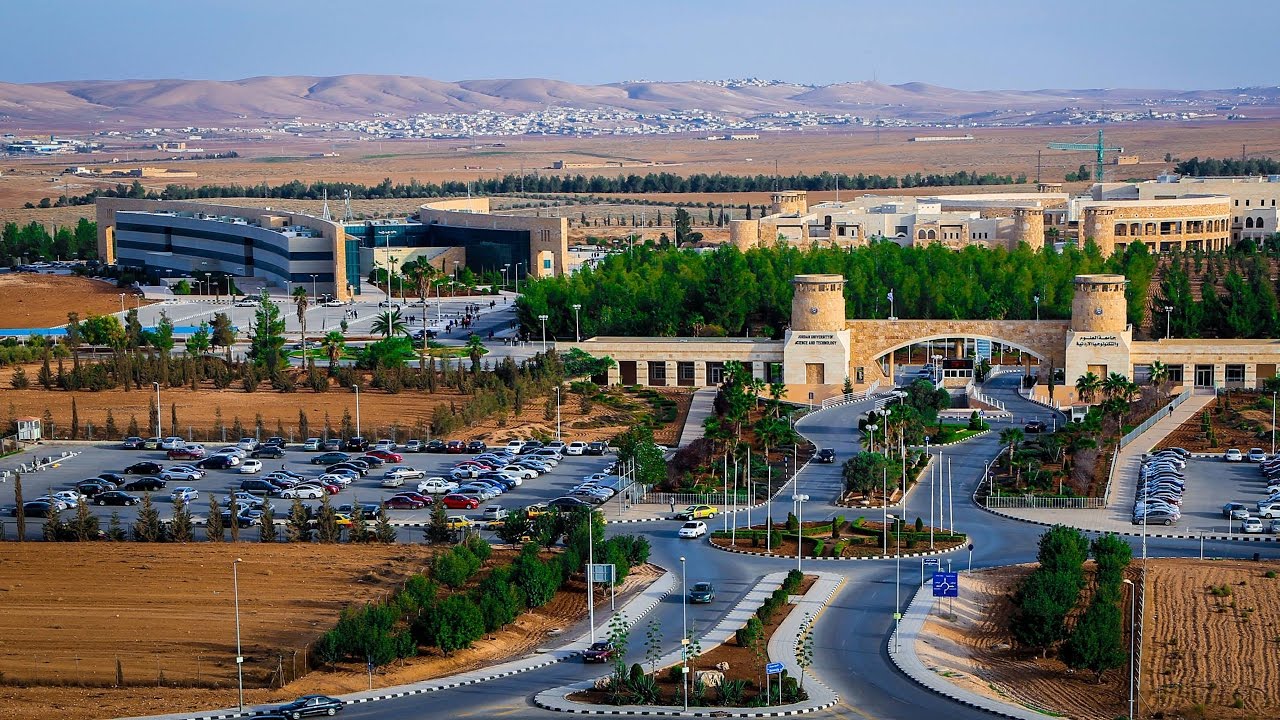 Subjects taught at Jordan University of Science and Technology
Engineering & technology

Life sciences

Computer Science

Arts & humanities

Clinical, pre-clinical & health

Physical sciences