Hasanuddin University
1201+
World University Rankings 2022
401–600th
Impact Rankings 2022
Jl. Perintis Kemerdekaan Km.10, Makassar, Sulawesi Selatan, 90245, Indonesia
Hasanuddin University (UNHAS) is located in Makassar, Indonesia. Makassar is the capital of the South Sulawesi Province. It is the gateway to Eastern Indonesia and the epicenter of West and East Indonesia and between Australia and Asia. UNHAS was established in 1956, and the university is one of the fully autonomous public universities in Indonesia. The university is also one of the most prominent universities in Indonesia's eastern part in terms of the number of students and academic staff, the number of undergraduate and postgraduate programs, facilities, and research and publication outputs.
UNHAS plays an important role as a centre of excellence for Indonesian maritime-based development in the humanities, sciences, technology, arts, and culture as a fully autonomous public university.  Moreover, the university is located in the center of the coral triangle, making the university one of Indonesia's best places or even in the world to study coral reefs and other tropical marine ecosystems.
Campuses and Faculties
UNHAS has two green campuses: Tamalanrea campus and Gowa campus. Tamalanrea campus occupies 220-hectares and has 14 faculties, including Economic and Business, Pharmacy, Law, Cultural Studies, Marine Sciences and Fisheries, Animal Husbandry, Medicine, Agriculture, Forestry, Public Health, Dentistry, Engineering, Mathematics and Natural Sciences, Social and Political Sciences, Nursing, and a graduate school.  Gowa campus, in the Gow regency, occupies 11-hectares and is the new home for the Hasanuddin engineering faculty.
UNHAS has 15 faculties, one postgraduate school, 65 undergraduate study programs, and 63 postgraduate study programs which are taught primarily in Bahasa Indonesia. The university also offers English-taught programs for several undergraduate and postgraduate international programs with social science, economics and business, law, literature, health, engineering, natural science, agriculture, and marine science and fisheries.
World-Class Teaching and Research Facilities
UNHAS has several facilities to support world-class teaching and research activities:
Center of Technology (COT) of UNHAS
Teaching Hospital
Teaching Forest
Maiwa Breeding Center
Marine Field Station
Teaching Aquaculture Pond
Excellent Paddy Hatcheries
Sustainable Development Goals (SDGs)' Center
Center for Microfinance
Center of Rice Seed Research
Center for Attorney
In addition, the university has two support systems in place for students to use: SIKOLA-a Learning Management System of Hasanuddin University and NeoSIA- a Management information System of Hasanuddin University. The university also has the following research and community-service institutions of excellence:
Center for Health Sciences
Center for Energy and Electricity
Center for Democracy, Cultural Conflict, and Humanities
Center for Biotechnology
Center for Population and Gender Studies
Center for Heritage, Biodiversity, and Climate Change
Center for Regional and Spatial Planning and Information
Center for Natural Resources
Center for Living Environments
Center for Disaster Research
Center for Students Community Services
Center for Dissemination and Intellectual Property Rights
Center for Ocean, Coastal, and Small Island Research and Development
Center for Peace, Conflict, and Democratic
Internationalism
UNHAS has had 116 active international partnerships over the last five years with university and research institutes spread among the four continents (Asia, Europe, Australia, and North America). We strive to provide education of the best quality. We continuously establish cooperation through the exchange of student and academic staff, joint research, publications, international conferences, joint general lecture series, student internships, staff capacity building and international cultural programs.
As an effort towards impactful teaching and research development, UNHAS has also expanded its collaboration network by joining international communities such as AUN-QA, ASAHIL, ASEA-UNINET, and YCU consortium. The university will gain more opportunities to engage in global impacts in teaching, research, and community services through this effort. The university has several internationally accredited study programs: 25 study programs accredited by AUN-QA, 4 study programs accredited by ASIIN, 2 study programs accredited by ABEST21, and two study programs accredited by ABET.  
The total number of international students is 1,427 or 5% of the total number of students of UNHAS. They come from 18 countries, including Malaysia, China, Timor Leste, Saudi Arabia, South Africa, The Netherlands, Japan, Cambodia, PNG, South Korea, Sudan, Jordan, Salomon, Bangladesh, Yemen, Australia, and Iraq.
Students have the option to live both on-campus and off-campus. The university's student accommodation is located within the campus area, providing ease of accessibility. As an affordable housing option, student housing is with additional facilities such as sports fields and supermarkets, and can be accessed by public transportation. Student life can also include several popular extracurricular activities, including football, basketball, choir, karate, dance, martial arts, photography, journalism, scientific papers, and English debate.
UNHAS has a Career Development Center (CDC). The CDC offers career services to all current students and recent alumni. The office of CDC assists with all career development phases, from choosing a major to getting an internship, job searching, graduate school application, salary negotiation and more. The CDC also provides career assessments, various training, cover letter writing assistance, mock interviews, and conducts multiple classroom presentations, workshops, and large-scale events.
The CDC also helps employers connect with UNHAS students and alumni by offering various job posting options. Additionally, the Directorate of Alumni and Career Preparation provides access and stays in touch with UNHAS alumni worldwide and helps them connect with both the university and old friends through our global network of alumni groups. The university also has independent alumni organizations that have structures throughout Indonesia and several countries in the world. This organization is not only a forum for building networks for fellow alumni but is also actively involved in social and humanitarian activities.
Admissions
The typical admissions criteria for students includes: have a high school/bachelor/master's degree with a minimum GPA 0f 3.00 out of 4.00 or equivalent; English proficiency; and demonstrate a commitment to their chosen field study. In addition, extra documentation is required for international students: valid passport, student visa, residence permit and a BIPA certificate (a certificate program for non-native speakers of the Indonesian language).
Offered Undergraduate Study Programs
Accounting, Actuarial, Agribusiness, Agriculture Engineering, Agrotechnology, Animal Production Technology, Animal Science, Anthropology, Archeology, Architecture Engineering, Biology, Chemistry, Civil Engineering, Communication Science, Computer Science, Dentist Education, Economic Development, Electrical Engineering, English Language, Environmental Engineering, Fisheries Socio-Economy, Fishery Resources Utilization, Food Crop Production Technology, Food Science and Technology, Forestry, Forestry Engineering, Geological Engineering, Geophysics, Government Science, Historical Science, Indonesian Literature, Industrial Engineering, Informatics Engineering, International Relation, Japanese Literature, Legal Science, Local Language and Literature, Management, Mandarin Language and Chinese Culture, Marine Engineering, Marine Science, Mathematics, Mechanical Engineering, Medical Science, Mining Engineering, Naval Engineering, Naval System Engineering, Nursing Science, Nutritional Science, Pharmacy, Physics, Physiotherapy, Political Science, Psychology, Public Health, Roman Literature, Sociology, State Administration Science, State Administration Law, Statistics, Urban and Regional Planning, Veterinary, and Water Resources Management.
Offered Master Study Programs
Agribusiness, Agricultural Engineering, Agricultural Systems, Agroindustry Engineering, Agrotechnology, Animal Science and Technology, Anthropology, Archeology, Architectural Engineering, Biology, Biomedical Science, Civil Engineering, Chemistry, Communication, Dentistry, Development Economics and Planning, Environmental Engineering, English, Fishery, Food Science and Technology, Forestry, Gender & Development, Geogphysics, Geological Engineering, Governmental Science, History, Indonesian Language, Industrial Engineering, Infrastructure Planning Techniques, Integrated Coastal Resource Management, Legal Science, Linguistics, Management of the Environment, Management Science, Mathematics, Master of Hospital Administration, Master of Management, Master of Regional Finance, Mechanical Engineering, Microbiology, Microfinance, Midwifery Science, Mining Engineering, Naval Engineering, Nursing, Notary, Occupational Health and Safety, Pharmacy, Pest and Plant Disease Science, Physics, Political Science, Public Administration, Public Health, Regional Planning and Development, Sociology, Statistics, Transportation Engineering, Technical Information, Urban and Regional Planning, and Urban Management.
Offered Doctoral Study Programs
Accounting, Agriculture, Animal Science, Anthropology, Architectural Engineering, Chemistry, Civil Engineering, Chemistry, Civil Engineering, Communication, Earth and Environmental Engineering, Economics, Electrical Engineering, English, Fishery, Forestry, Indonesian Language, Legal Science, Linguistics, Management, Mathematics, Mechanical Engineering, Medical Science, Pharmacy, Public Administration, Public Health, and Sociology.
Eligibility
Be a non-Indonesian citizen
Have a high school/bachelor/master degree with a minimum GPA of 3.00 out of 4.00 or equivalent from a reputable university within a developing country
Be proficient in English (Indicated by a certificate of English Proficiencies)
Demonstrate commitment to their chosen field of study
Be willing to purchase health insurance for the rest of their study
Requirements
A copy of the latest academic Certificate and its English translation
A copy of the latest academic transcript and its English translation
A copy of passport
A copy of curriculum vitae (with listed publications for the doctoral applicant only, if any)
A passport-sized photo with a red background
A recommendation letter from the previous university
A recommendation letter from the employer (if any)
A copy of the TOEFL/IELTS/TOEIC certificate or a letter from an earlier university stating that the language of instruction is English
A copy of the Indonesian Language Proficiency certificate (If this is not available, you will need to take an Indonesian Language course at Hasanuddin University)
A copy of the research proposal for a doctoral applicant
A study plan
Insurance
Medical Statement
Further information related to international student admission can be seen at https://foreignstudent.unhas.ac.id
Tuition Fee
The average tuition fees for international students at the undergraduate level vary from USD 1,100 to 1,300, while the average tuition fees for international students at the postgraduate level are USD 1,400 – 1,500 for Master Programs and USD 1,500 – 1,700 for Doctoral Programs.
Scholarship
UNHAS provides scholarships for international students. The scholarship will cover tuition fees, a dormitory on campus, living costs, visa processing, and book fee. Applicants need to cover the personal living cost, airfare ticket (return), study expenses, health insurance, emergency fund, and other expenses
Program Timeline
Registration and Documents Verification: February-June
Announcement of Accepted Applicants: July
Submission of Required Applications by Accepted Applicants: August
Welcome Reception for New Students: The End of August
First Day of Classes: September
Explore rankings data for Hasanuddin University
All ranked institutions have an overall score and 4 pillar scores. However for each pillar, only institutions ranked in the top 500 overall or the top 500 in this pillar have a publicly visible score
Key statistics
15.5

No. of students per staff

(1)

1%

Percentage of International Students

(1)

62 : 38

Student Ratio of Females to Males

(1)

31,558

Number of FTE Students

(1)
Video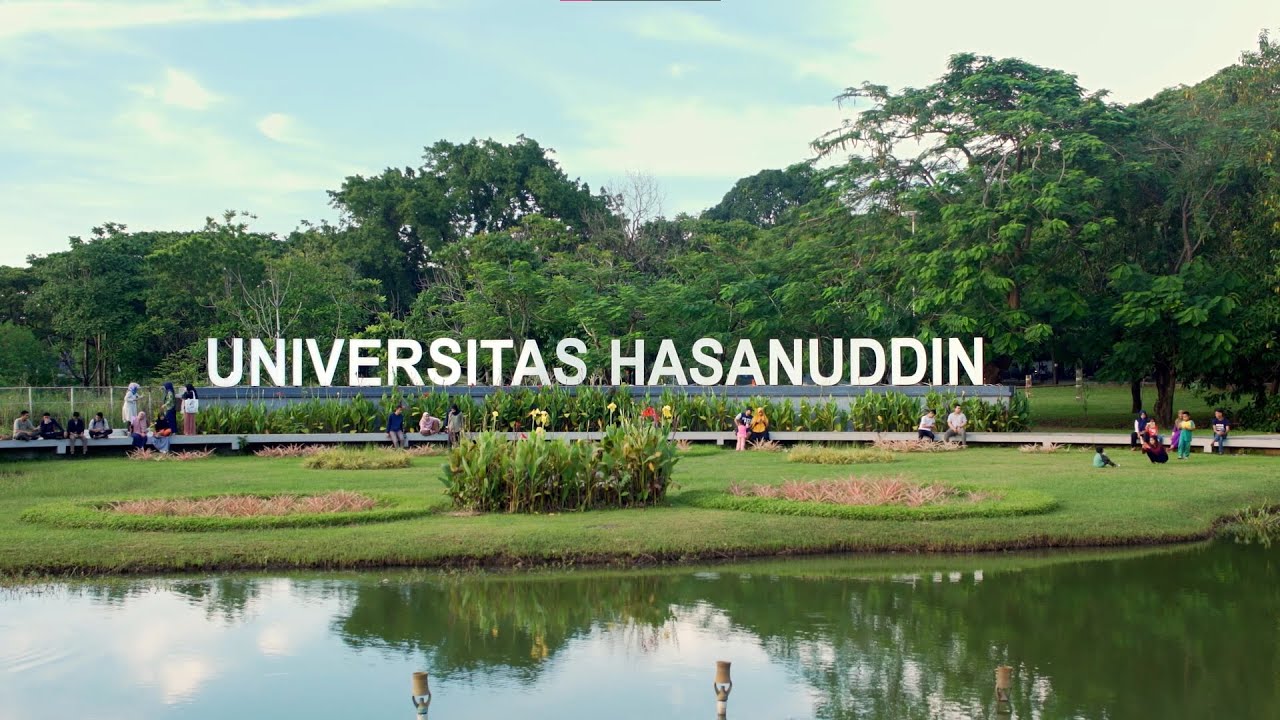 Subjects taught at Hasanuddin University
Clinical, pre-clinical & health

Engineering & technology

Physical sciences

Life sciences