European University Cyprus
Reporter
World University Rankings 2024
601–800th
Impact Rankings 2023
Reporter
Young University Rankings 2023
6, Diogenis Str. Engomi, P.O. Box: 22006, 1516 Nicosia, Cyprus
Emphasizing high-level, student-centered academics, a diverse and inclusive student body and powerful corporate, community and government links, European University Cyprus is a trustworthy and reliable partner in your pursuit of higher education.
Rising in the rankings, EUC has been gaining local, regional and global acknowledgement of its efforts to be a student-focused and innovative institution, with an emphasis on an international orientation, sustainability and industry/community engagement.  
More than 60-year history, enrollment of 8,500+ students from all over the world, European University Cyprus has grown into a leading academic and research institution in the region with Schools of Medicine, Dentistry, Sciences, Business, Law, and Humanities, Social & Education Sciences and a Distance Education Unit.
Dedicated to teaching excellence and academic and scientific research, the university has recorded astonishing growth over the last decade. European University Cyprus is part of Galileo Global Education, Europe's largest education group that provides education to over 170,000 students through its network of 54 institutions around the world.
The annual Times Higher Education University Impact Rankings places European University Cyprus among the world's top 201+ universities in the field of industry, innovation and infrastructure, decent work and economic growth and good health and well-being, recognizing the policies and practices implemented in the fields of teaching, research, entrepreneurship and the transfer of knowledge to society.
The university's world-class Schools and academic programs, taught by faculty of the highest caliber including three Nobel Laureates, attract students from around the globe. Its School of Medical and unique Dentistry program are recognized as the most technologically advanced in the region and offer the most comprehensive studies in Medicine and the Health Sciences. The School of Medicine is accredited through the process of the World Federation of Medical Education (WFME).
Following the many successes of the Medicine program at EUC, the new Frankfurt branch began operation in September 2022 with the same modern and innovative curriculum in this vibrant central-European location. Frankfurt is well-equipped to support the demands of a medical education, and the EUC program and facilities at the Frankfurt branch has been designed to prepare students for a successful career in medicine. With its well-developed healthcare sector, Frankfurt guarantees a first-class medical degree that will open doors to practice medicine globally.
Facilities
The EUC campus is situated in a central location and offers students a dynamic and attractive environment with modern facilities, well-equipped laboratories, student apartments and entertainment venues. The university is located in one of the greenest areas of the capital and offers easy access to all of the cultural, social and practical services that Nicosia has to offer to its growing student population.
The  Start-Up Center powered by Microsoft  is located on campus and forms the evolution of the long standing Microsoft Innovation Center. It serves as a source of funding and support fostering partnerships between entrepreneurs and initiators in the broader region and is open to students, faculty, researchers, IT professionals and investors. It assists tech-entrepreneurs by supporting and refining their ideas, ultimately helping to bring those ideas to the market by providing the necessary networking and resources.  
Cyprus has some impressive statistics: the highest tertiary education percentage in the EU (54,6%), 1st safest small country in the world, 5th best relocation destination in the world and 2nd best climate worldwide with 340 days of sunshine every year. European University Cyprus is located in the capital, Nicosia, which is the heart of political, economic and cultural activity in the country.
Nicosia is one of the most exciting and hospitable cities in which to live and study in Cyprus. Energetic and diverse, Nicosia is home to a number of universities, so it has a large student population and a vibrant student life. Most students live close to the university campus which is located in the modern, up-scale area of Engomi. Nicosia is packed with restaurants, pubs, bars, museums, shops, sports venues and fitness centers. The city's nightclubs are popular student destinations as are the cafes with a distinctly European feel. Nicosia has an active events calendar with concerts, and festivals throughout the year.
Along with a culturally vibrant city atmosphere, full range of student services are available on and around the EUC campus including exhibitions, conferences, job fairs, distinguished speakers, social and cultural events. Extra-curricular activities and student clubs contribute greatly to an active student life and campus culture, offering plenty of opportunity for making lasting memories and friendships. University teams participate in national and international leagues, and our athletes train in some of the best athletic facilities in the country. Our students represent 90 different nationalities creating an international multicultural environment on campus.
Housing
Student accommodation units, Unihalls Trinity, are located only minutes away from campus and are designed to offer students high quality living spaces with peripheral services and amenities at their doorstep. The brand new Unihalls Trinity complex provides housing in smartly planned, modern and elegant studios and one-bedroom flats, all fully furnished with large wardrobes, kitchens, en-suite bathrooms and balconies to enjoy stunning views of the city. The costs of utilities are included in the rent. Purpose-built with student life at its heart, the Unihalls Trinity complex offers students social spaces including a cafeteria and fitness center, and other convenient services including laundry rooms with washing machines and dryers, high speed internet, car parking, bike storage and an arrival package with essential housewares. Close to Unihalls Trinity unit are the U-CITY Residence and the Med-Boutique Residences both located just 300 meters from University campus.
The Housing Office at EUC provides assistance with university housing and off-campus accommodation.
Careers
At European University Cyprus, you will find a well-established, recognized and dynamic university that has a sharp focus on employability. We are proud of our 87% Graduate Employment Rate with graduates finding jobs related to their field of study within six months of graduation.
Career exhibitions, internship placements, faculty mentoring, skills development workshops, on-campus company visits and alumni networks are just some of the ways that students receive support.  The university maintains strong links with industry leaders and dynamic partnerships with employers to inspire students and secure high graduate employment rates. The EUC Career Center provides personalized and proactive career services to enhance students' life experiences, optimize their academic choices and contribute to achieving their professional goals.  With high success rates in internship placement and employment after graduation, the Career Center supports students and graduates in determining their career options—while building their employability—through a range of activities and services. The EUC Career Center maintains strong links with local and regional public and private sector organizations and with its alumni network to increase industry engagement and help connect organizations with their future workforce.
To complement students' academic program, the Career Center plays a major role in employability through a variety of services:
Individualized Career Counselling
Practical Training and Internships
Annual Careers Fair with 100+ Companies and Organizations
Digital Employment Platform—Career Services Manager (CSM)
CV Writing Workshops
Skills-Building Guide and Seminars
Interview Simulations
Entrepreneur/Start-Up Boot Camps
Extensive Alumni Network
EURES Network Partner
Following a rigorous process to assess its working environment and organisational culture, European University Cyprus has become the first university in Cyprus to be certified as "A Great Place to Work®" for its excellent working environment and high-quality human resource management processes.
This certification confirms and acknowledges the modernization of the university, not only as an academic institution and center of excellence, but also as an unparalleled workplace for more than 1000 employees. Improving the working environment and the workplace culture are constant strategic pillars of the University.
European University Cyprus has a reputation for quality education with high graduate employability, and has been recognized for its investment in high-tech innovation and engagement with industry and society. Over the last decade, the university has fostered a culture of modernization that has resulted in levels of growth that have exceeded all expectations, upgrading the scope and quality of university education in Cyprus, and defining a clear international orientation for both the university and the country. European University Cyprus is part of Galileo Global Education, Europe's largest education group that provides education to over 170,000 students through its network of 54 institutions around the world.
QS Top Universities (QS Stars University Ratings), one of the most authoritative international rating organizations, has ranked European University Cyprus as a 'Five Stars' institution for its overall assessment. Additionally, European University Cyprus has received five stars for its performance in the areas of teaching, employability, internationalization, online learning, and inclusiveness, as well as the MD Medicine for the competitiveness and strength of the program.
European University Cyprus' inclusion among the top universities in the world in the Times Higher Education University Impact Rankings marks a particularly significant success, as the university ranks considerably higher than long-established universities globally in key criteria. European University Cyprus is ranked among the 201+ universities in the world in the areas of Innovation, Entrepreneurship and Infrastructure, Decent Work and Economic Growth (evaluating areas such as sustainable growth, the work placement of students and the employability of graduates), and Good Health and Well-being. 
European University Cyprus is a key driver in the Cyprus government's vision to transform the country into a quality education hub in the eastern Mediterranean.
Explore rankings data for European University Cyprus
All ranked institutions have an overall score and 4 pillar scores. However for each pillar, only institutions ranked in the top 500 overall or the top 500 in this pillar have a publicly visible score
Key statistics
5,978

Number of FTE Students

(1)

58 : 42

Student Ratio of Females to Males

(1)

54%

Percentage of International Students

(1)

19.5

No. of students per staff

(1)
Video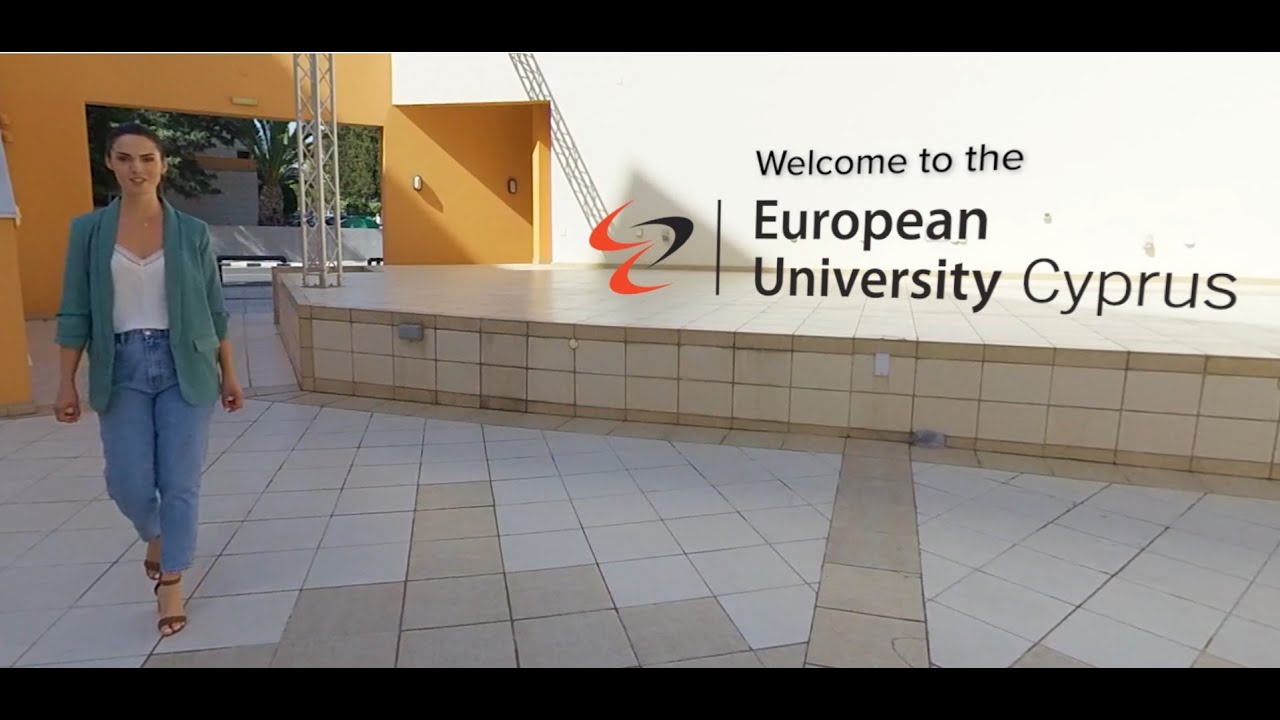 Subjects taught at European University Cyprus
Engineering & technology

General Engineering
Electrical & Electronic Engineering

Arts & humanities

Art, Performing Arts & Design
History, Philosophy & Theology
Languages, Literature & Linguistics
Archaeology

Computer science

Business & economics

Economics & Econometrics
Accounting & Finance
Business & Management

Law

Clinical, pre-clinical & health

Medicine & Dentistry
Other Health

Education

Psychology

Life sciences

Biological Sciences
Sport Science