University of Surrey
Stag Hill, Guildford, Surrey, GU2 7XH, United Kingdom
The University of Surrey is a global community of ideas and people, dedicated to life-changing education and research. With a beautiful and vibrant campus, we provide exceptional teaching and practical learning to inspire and empower our students for personal and professional success. The university is set in the vibrant town of Guildford in the heart of the southeast of England and easily accessible to London. Just a ten-minute stroll from campus, Guildford is alive with bars restaurants and cafes.
At Surrey, we endeavour to prepare students for the world of work and the vast majority of our students undertake Professional Training placements as a part of their degree. We're well known for our focus on graduate employability figures from the Higher Education Statistics Agency (HESA) reveal that 93 per cent of Surrey's 2017 graduates were in work (or further education) six months after they graduated.
Surrey was recognised as an 'outstanding' institution when it received a prestigious Gold award in the first ever Teaching Excellence Framework, which is testament to our passion for inspiring our students and preparing them for a bright future. 
Campus and location
The University of Surrey's beautiful campus offers students the best of both worlds. Our safe, self-contained student community is just ten minutes' walk from Guildford town centre, named the eighth best place to live in the UK in the Halifax Quality of Life Survey 2015.
It takes just 34 minutes to reach London from Guildford station. Whether heading up for a show, a sightseeing tour, a night on the town or a spur-of-the-moment day trip, Guildford is an ideal base for exploring the city.
See what our students think of our campus and take a look around.
Rankings
In recent years, Surrey has established itself as a top-ten university in major national university league table rankings.
Employability
We're proud of our excellent track record for graduate employability. Our Careers Service is available to all Surrey students. Our experts can advise on graduate jobs, further study, graduate schemes and internships.
Global Opportunities
Internationalisation permeates all that we do at Surrey, contributing significantly to our mission to solve global challenges, lead research and innovation, and fuel generations of students with a spirit of curiosity and a desire to improve the world we live in.
We encourage students to take advantage of our international connections and explore the world
International Support
With students from over 120 different countries, we're proud to be one of the most culturally-diverse universities in the UK.  Specialist staff in our International Office are here to help your throughout the application process – from advising on choosing the right course to applying for a visa and preparing for your first few weeks at Surrey.
Research
University of Surrey research is addressing this century's most pressing challenges, fuelling students with a spirit of curiosity and drive to improve the world. In the 2014 Research Exercise Framework (REF), 98 per cent of our research outputs were rated to be world-leading, internationally excellent or internationally recognised in terms of originality, significance and rigour.
Facilities
Surrey won the award for Best University Facilities at the WhatUni Student Choice Awards 2015. We have invested heavily into our facilities including £36 million into our Sports Park and £16 million into the new Library and Learning Centre.
Surrey Sports Park is one of Europe's leading sports venues and the home of Team Surrey. Whether you're a complete beginner or an established player, you'll be welcomed into our friendly sporting community.
The University of Surrey Library and Learning Centre is the academic hub of our campus. We've invested £16 million in the Library over the past five years to create a state-of-the-art learning environment.
The Students' Union lies at the heart of campus life and offers a wide range of activities to help you discover new interests, have fun and make friends.
Learn more on the Students' Union website.
The University's ethos is based upon a belief in our ability to make a difference to the world - to have a positive impact through our free-thinking and hard work.  We are ambitious and have a bold vision of what we want to achieve - shaping ourselves into one of the best universities in the world, which we are achieving through the talents and endeavour of every employee.  Our culture empowers people to achieve this aim and to collectively, and individually, make a real difference.
The University is fortunate to have a wealth of on-site campus facilities, having recently invested in a first-class Learning Resources Centre, state-of-the-art facilities at the Surrey Sports Park, and the new Ivy Arts Centre.  In addition to this you will find plenty of bars, restaurants and cafes on campus in which you can relax or meet informally with colleagues.  With virtually everything you need on site, you may not find a need to leave campus during the day at all!
Off campus, you will find the historic Guildford town centre just a 10 minute walk away, which offers all the amenities of a modern city.  The cobbled High Street, and a network of lanes and alleyways offer excellent shops, restaurants and cafes where you can choose to meet up with friends and take time out.  Also available is a 9 screen cinema, the thriving Yvonne Arnaud Theatre and new G-Live venue, which hosts musicians, comedians, theatre companies and entertainment for children.  If history is your thing, then pay a visit to the local museum, where you can delve into the historical depth of our beautiful town and find out about landmark events or visit the ruined Guildford Castle.
Learn more about working at the University of Surrey
University of Surrey 的排名数据分析
所有上榜的高校都有一个总分和四项指标类别的得分。但只有总分或指标类别排列在前500的高校才会公开得分。
关键统计数据
14,315

Number of FTE Students

(1)
视频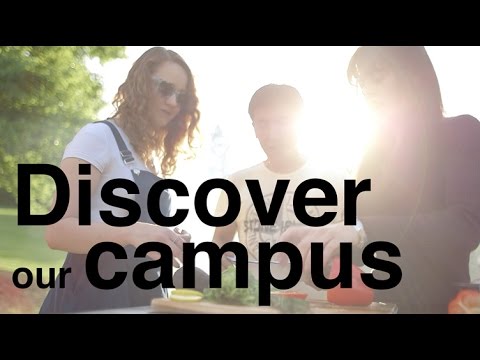 在 University of Surrey 寻找课程
Social sciences

Business & economics

Computer science

Arts & humanities

Physical sciences

Life sciences

Clinical, pre-clinical & health

Engineering & technology

Psychology

Law