Rethinking assessment in line with the changing world of work
Sarah Montano offers insight on redesigning assessment in the digital space to test the skills students will need in their future careers

25 Mar 2021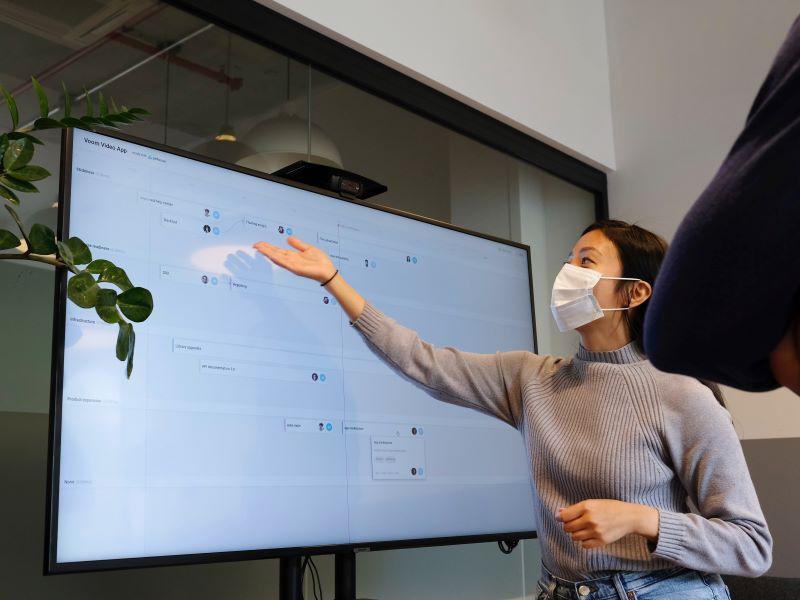 Academics have had to shift to online delivery of our teaching, but students have also had to make a sudden change. Usually, they would be in a class delivering their end-of-module presentations, but this year that was not possible. The case discusses how a retail (or any other subject) presentation can be transformed into a digital authentic assessment that students loved to work on but also was helpfully resilient when the pandemic struck.
Why do this?
I came into academia from a retail industry background and several years ago I was pondering why my in-class presentations were not working for students, not least because, given an average class of 210 students, a key challenge was to get all the presentations delivered in class time. However, the more critical problems were that the standard face to face in class presentation format did not:
allow students to showcase their module learning

meet the needs of future employers

mirror what was happening in the retail sector

support students with accessibility needs or those whose first language was not English

allow students to engage in experiential learning and learn "by doing"

allow an enjoyment of the topic.
Three key factors influenced my decision to move to a digital presentation.
First, I had been working in digital learning and teaching online for a number of years, but my focus was generally on content creation and interactive online sessions. However, this experience led me to think that if there was a better digital way of delivering face-to-face content, then there was a better digital way of students delivering their presentations.
Second, I had been researching graduate employability and knew that employers were seeking graduates with digital skills balanced with the human skill of creativity.
Finally, retail stores – such as the Burberry social retail store in China; and the Samsung Experience Store and the new Amazon Go in London – have been innovating at a gathering pace. The standard presentation was not keeping up with sector developments. Often, we talk about assessments being authentic, and the traditional presentation was not.
These combined factors led me to design an innovative digital assessment that was created and submitted online. Students have to build their own store using computer-aided design (CAD), animation or video, and then submit an MP4 file to our virtual learning environment (VLE).
When we all had to abandon our campuses last year, this was one less thing for my students to worry about, as they were already familiar with digital assessment and there was no need to change the presentation.
How to design, plan and deliver the assessment
So how do you design, plan and deliver a digital assessment? I would list six key considerations.
What skills do your students need to maximise employability? These can be built into the topic; in this case, I wanted students to develop their digital and creative skills.

How does the digital submission reflect authentic industry practice? In this case, stores are becoming more experiential, so what does this mean for retail strategy?

How could students use their creations outside of the module? Is this something that employers would be interested to see? Could it help students answer interview questions?

Technically, what submission and length of presentation will the VLE support? I found that MP4s work best.

What software is available to students and what digital skills do they enter the module with? On my module, most students will be from a non-digital background, so the grading criteria is based around their concept design rather than their use of tech. The students are given recommendations as to which software to use and support in learning how to use it.

Group size? I find that for this presentation, five works well.
How to get students interested
This has been the easiest part and to date there has been no resistance from students. In fact, the opposite has been true – students are keen to get started. By removing the face-to-face element of the presentation, I removed the fear factor of having to stand up in front of the class. This freed students to focus on the design concepts and get imaginative. Importantly, they can work with the university careers team to showcase their design work to potential employers on LinkedIn and other platforms. This means the presentation is not just left in the module but can support job applications. This has been a key part of getting students to engage, as the content they create has clear purpose and impact.
A second key aspect of getting students interested has been allowing them to have fun and enjoy the assessment. As they have an individual theoretical assessment as well, with this group assessment, students can be more playful. So, the opportunity to let their imaginations run is enjoyable and freeing.
Comments from students include:
"We could express our ideas and concepts in a much more appealing way."

"It has given me a new, more visual way to learn other than just reading the textbook or readings."

"I am really satisfied as it really helped me in holistic learning."

"The flexibility you have given to students to put the crazy ideas about retail in the project, that was really interesting."
Sarah Montano is a senior lecturer in marketing and deputy director of education (digital) at University of Birmingham.