If we want non-traditional results, we need non-traditional approaches
We must listen to − and respect − the needs and aspirations of learners as they are, not as we wish them to be, say Gregory Fowler and Kate Smith
University of Maryland Global Campus
,
Rio Salado College
9 Sep 2021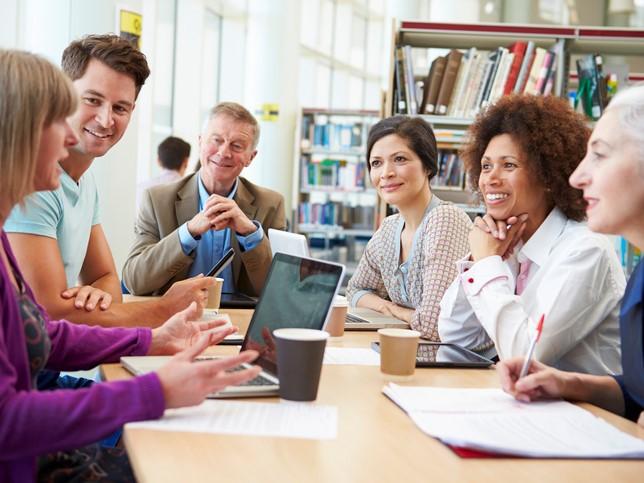 As we begin to emerge out the other side of the pandemic, it has become increasingly clear that a large and growing demographic of adult learners − historically underserved by traditional higher education − was disproportionately affected.
While they strive to complete degrees and credentials while re-entering or navigating the workforce, many find that colleges and universities are ill-equipped to respond to their needs. This ongoing demographic shift comes as no surprise, so why has the sector been so painfully slow to react?
Most institutional bureaucracies intentionally admit, sort and guide learners in large cohorts − but the personalisation that learners often need to thrive is frequently lost in the process. As a result, challenges related to scheduling, finances, access to support and the competing demands of work and family go largely unaddressed, despite learners repeatedly voicing these concerns.
Listening efforts often focus on areas such as recruitment, admissions and alumni giving, which serve the institution as much as, or more than, they serve learners. It's no trivial task to truly understand the psychosocial, emotional and personal challenges that learners face, not to mention how those challenges shape their learning experiences and intellectual development.
But when listening becomes difficult, we must not turn away.
Despite approaching education with a clearer sense of what they hope to gain, adult learners are on average less successful than 18- to 22-year-olds. Fewer than half of adult learners graduate within six years, and those raising children are 10 times less likely to complete a bachelor's degree within five years. Sobering statistics for the sector to face up to, but to serve these learners we must acknowledge − through our actions − that many face complex challenges.
One University of Maryland Global Campus (UMGC) student offers a prime example. She took a full course load and completed her MBA while living in transitional housing, acclimatising to a new, high-pressure job and navigating the pandemic – and all of this while also dealing with the physical after-effects of brain surgery.
Her success is incredibly inspiring. But it is the exception rather than the norm.
If we aspire to non-traditional results, we must embrace non-traditional approaches. This includes abandoning academic practices that are not relevant to these learners and continually devising innovative ways to use technology and different learning methods to build a sense of community and provide the structural support and resources that match learners' individual realities.
Cordero Holmes offers another example. A Rio Salado College student from a traditionally underserved and marginalised community, Cordero did not believe education was for him until he discovered college while incarcerated.
A father of four now navigating re-entry, work and education, Cordero overcame the odds and earned a 4.0 GPA, became a student senator and was named to Phi Theta Kappa Honor Society. He offers evidence that, with the proper support, we can inspire hope, help our most vulnerable learners challenge the status quo and overcome historic disparities.
This is a worthwhile and necessary goal. Some 40 per cent of today's college students are over the age of 25, more than a quarter are raising children and 64 per cent work while studying. At UMGC and Rio Salado, where we respectively serve as presidents, those numbers are significantly higher.
Whether it's by adjusting course schedules or amending curricula to address pain points for learners, more institutions are removing systemic barriers. And the institutions, including ours, that comprise the Presidents Forum recently codified these changes in a Learners First framework.
In addition, UMGC offers access to tutoring and writing services directly from the online classroom and is currently aligning course templates with standards established by Quality Matters. Weekly checklists and action items help students plan and manage their time more effectively, and the credit evaluation process is being streamlined while the institution explores innovative learning opportunities, such as micro-internships, that offer relevant work experience.
In 2010, Rio Salado broke with the traditional academic calendar, offering learners 48 start dates per year for asynchronous online courses and embedded academic supports such as a 24/7 instructional help desk, online tutoring, counselling and success coaches. During the onboarding process, students are also recruited for co-curricular activities and online student groups that support belonging and community building.
Too often, the needs of the emerging majority have been viewed as deficits instead of the lived experience of learners and an opportunity to serve them in new ways. In response, we must amplify the voices and viewpoints of these populations and involve them in our most consequential conversations.
It's critical that we become more agile and develop greater empathy. These are crucial skill sets that academia needs if we're to listen to learners and partner with them to create personalised journeys that align with education and career goals.
For higher education to fulfil its democratic promise in the years to come, we must come to view serving these ultra-diverse demographics − who are fast becoming our number one constituency − as core to the purpose of higher education. The first step in that journey is listening to, and respecting, the needs and aspirations of learners as they are, not as we wish them to be.
Gregory Fowler is president of University of Maryland Global Campus.
Kate Smith is president of Rio Salado College in Tempe, Arizona.