Don't keep your distance learners at a distance
Tailored communication, supervision and technology can give distance-learning postgraduate researchers the same sense of belonging as their on-campus counterparts. Here, Richard Thomas offers ways to close the gap

20 Nov 2023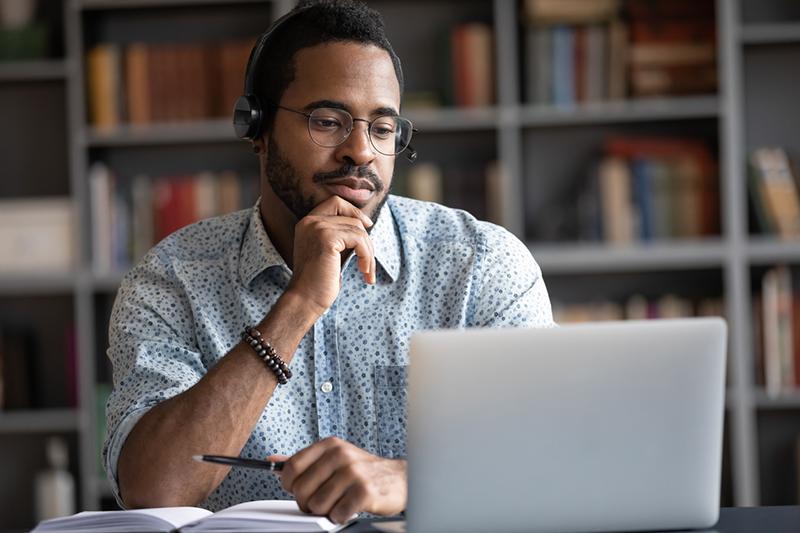 A recent Times Higher Education article found that some distance-learning postgraduate researchers felt that they were "invisible" to their host universities. The piece was based on findings from a survey of 521 current and former postgraduate researchers in 42 countries. Some institutions, it said, left their distance learners to their own devices and didn't offer them the suite of support that their campus-based peers received.
At the University of Leicester, however, this certainly isn't the case.
We have been delivering distance-learning programmes for a quarter of a century; 14 per cent of our postgraduate research (PGR) community are distance learners, most of whom are situated within the College of Social Sciences, Arts and Humanities.
Distance-learning PhDs offer a flexible way to study for research degrees, allowing researchers to gain qualifications (MPhil, PhD, DSocSci and so on) wherever they are in the world, and at the same time fulfil their other professional or personal commitments. Researching part time offers maximum flexibility, with the ancillary benefit of a much smaller environmental footprint.
Our approach at Leicester stems from the fact that PGRs receive the same support whether they undertake their research degrees through distance learning or are based on campus. Our programme approval process requires a business case that demonstrates all mandatory training, annual reviews and examination can be delivered virtually and are of equivalent quality to campus-based learning.
How to support remote postgraduate researchers
So what have we learned from our experience?
Well, first off, each of Leicester's PGRs has at least two supervisors to help them plan and manage their research. They might also have an external third supervisor, with specific academic or industry expertise to help support the delivery of the programme of research.
Regular contact with the supervisory team is key (the mainstreaming of digital tools during the Covid-19 pandemic further enabled this). Undertaking postgraduate research can be a lonely experience – more so if you are undertaking studies by distance – therefore cultivating and maintaining a sense of belonging is critical. Get that right and you're more than halfway there.
Email groups and virtual platforms bolster communication and help immerse distance-learning PGRs into the wider research culture of the university. Hybrid research seminars and dedicated PGR events can enable distance-learning PGRs to mix online with academic staff and peers, which adds to the sense of community belonging.
Communication should be backed up with easy-to-access digital training materials, study guides and multimedia resources to help PGRs develop their research skills. We do this through a virtual learning environment portal. This provides access to an extensive mix of asynchronous virtual training modules and recorded face-to-face events, with synchronous activities offered in both hybrid and dedicated online formats. Last year, more than 50 per cent of the training developed by our researcher development team was online.
The core skills covered in training include:
Requirements of the postgraduate research degree and expectations for the thesis

Finding and reviewing academic literature

Formulating and refining research questions

Researching ethics and integrity

Academic writing and research communication

Research methods and tools.
Like most universities, we have an extensive e-library of resources to help support our distance learning researchers – ours contains more than a million electronic resources.
Holistic support that goes beyond training
The support shouldn't just focus on research training and delivery; well-being and career planning are key elements too. Distance-learning PGRs receive access to our well-being support services. Furthermore, our careers and employability service and doctoral college have also developed a tool to enable PGRs, including those who are distance learning, to reflect on their subject-specific and transferable skills and plan for the next steps in their careers – recognising that the routes beyond a postgraduate degree are diverse.
But, as with all elements of an integrated distance-learning offer, PGRs should not be left to navigate these resources on their own. Frequent and regular supervision meetings with each PGR help make sure each of them has an annual plan for their research and their professional development.
But don't take my word for it; it's the experiences of our distance learners that really count. Which is why I was delighted to see Jim Howe leave a glowing review of his learning from afar (from New Brunswick, Canada, to be precise) on LinkedIn this summer. Jim signed up for a PhD entitled "Atomic space: a history and analysis of U.S. policy for the development of nuclear space propulsion and power technologies" to help him progress his career, and his company's expertise, in generating nuclear electric power.
He said: "What made this educational journey especially fulfilling was the terrific distance-learning program offered by the university and the outstanding guidance provided by my thesis supervisors, Dr Andrew Futter and Dr Bleddyn Bowen, both of whom are world-renowned experts in their disciplines. Both steered the research in the right direction, offered a host of improvements and bucked up my efforts at just the right times. I'm forever in their debt."
Sos it's safe to say, Jim felt pretty visible…
Richard Thomas is professor of archaeology, deputy pro vice-chancellor for research and enterprise, and dean of the Doctoral College at the University of Leicester.
If you would like advice and insight from academics and university staff delivered direct to your inbox each week, sign up for the Campus newsletter.