Semmelweis University in Budapest, has been a leading medical higher education institution, healthcare provider, and center of research excellence in Hungary and Central Europe for over 250 years. Its mission based on the integrity of education, research and development, and patient care has made it a regional center of excellence in the field of health sciences. The University offers academic programs that provide extensive and solid theoretical knowledge as well as competitive practical skills in medicine, dentistry, pharmaceutical and health sciences, and conductive education. The diplomas issued at the University are officially recognized in the European Union and in many other countries around the world. 
Education
With its six faculties and a Doctoral School, the University covers all aspects of medical and health sciences education. The university runs programs in 3 languages: in addition to Hungarian, students have been able to pursue their studies in German since 1983 and in English since 1989. Today, students from around the globe come to Semmelweis University to acquire hands-on, competitive knowledge from distinguished professors on graduate and postgraduate levels an environment equipped with state-of-the-art technology. Semmelweis University boasts a truly international community: students come from 110 different countries, and the international student body accounts for a third of the more than 13,000 students studying at the university's six faculties.
Health care
Semmelweis University is one of the largest health care service provider in Hungary. The University's hospitals and clinics cover the health care needs of approximately 5% of the Hungarian population also catering for patients in critical condition. University clinics are places of practical education, but they also operate according to the highest level of progressivity, thus, during clinical practices, students may encounter such rare cases that they would not have the opportunity to deal with elsewhere.
The university is proud to have graduated some of the world's top-tier physicians, researchers and scientists. Notable people at the university include, Ignác Semmelweis, also known as the "saviour of mothers" and Nobel laureate Albert Szent-Györgyi.
Research excellence
Research, development and innovation are fundamental and integral parts of the University's activities responding to the world's greatest challenges in the field of medicine. Traditional areas of research such as cardiology, oncology, neurosciences molecular and translational medicine along with pharmaceutical research are supported and complemented by innovative disciplines like artificial intelligence, translational biotechnology, big data and regenerative medicine using and cutting-edge technology.
Education and students are at the heart of Semmelweis University's mission. The University emphasizes a translational approach to education by building a strong foundation of both theoretical and practical knowledge. The most important objective is to educate health professionals who will be able to provide patients with the best services in medicine, dentistry, pharmaceutical and health sciences. Practical education is at the core of Semmelweis University's programs which takes place in small groups, facilitating the acquisition of knowledge and skills while creating a close relationship between students and teachers. Semmelweis University is one of Hungary's largest health care providers; its four clinical centers accommodate nearly 40 departments where patient care, education and research go hand in hand. Students of the University benefit from this academic structure in numerous ways.
Programs to study
Scholarships
Stipendium Hungaricum is the most prestigious higher education scholarship program of the Hungarian Government. Its mission is to attract the best foreign students from all around the world who can develop personal and professional ties with Hungary while enjoying high quality education in the heart of Europe. Apart from tuition-free education, the program also provides scholarship holders with a monthly stipend, health insurance, and housing support. (The program is based on bilateral educational cooperation agreements.)
The Hungarian Diaspora Scholarship was established by the Hungarian Government for those who live in the Hungarian diaspora outside Europe and wish to study at a Hungarian higher education institution to develop their personal, professional and cultural relations to Hungary. Applications can be submitted to a number of Hungarian and foreign language study programs launched within the framework of the Hungarian Diaspora Scholarship.
Vibrant, international community, an unforgettable experience
There is a colorful and bustling life on and off campus with a wide range of recreational and extracurricular opportunities, as well as an abundance of student services, ranging from student unions to 24/7 libraries, sports facilities, cultural events and extensive alumni services. Student services offer much more than academic support; they provide a safe and student-friendly environment, and strengthen Semmelweis University's inclusive, supportive and multicultural community. Budapest, a vibrant metropolis, is one of the most beautiful capitals in Europe with a colorful cultural and sports life. The premises of Semmelweis University are located near the city center, and are easily accessible by excellent public transport.
Talent support
Semmelweis University pays special attention to the recognition, support, and academic training of talented students. Organized talent support programs are realized in colleges for advanced studies.
International campus programs
Semmelweis University was among the first European higher educational institutions that introduced binational programs. The University currently has international campus programs located in Germany, Switzerland, Slovakia, Romania and Serbia that allow students, mainly from foreign countries, to study at the partner institution abroad following the Semmelweis curriculum.
Building on its scientific activities and achievements, as well as on its extensive international and industry collaborations, Semmelweis University is a regional center of excellence for science and innovation in the field of life sciences.
The diversity and broad spectrum of the University's RDI activities are represented by more than 300 research groups, including national and international research grants, a broad range of research fields and intensive scientific publication activity.
Areas of research expertise include cardiology, oncology, brain research, neurosciences, molecular and translational medicine, with an up-and-coming focus on artificial intelligence, imaging, bionics, big data, translational biotechnology, and regenerative medicine.
In order to ensure the seamless and efficient operation of RDI activities across diverse fields and sectors, Semmelweis University has set up a support system. It helps our researchers increase their focus on science and innovation by providing professional support for clinical trial design, access to biobanks containing tissue samples, assistance in intellectual property protection, ethical clearance and research funding. The Clinical Research Coordinating Center harmonizes background activities related to clinical trials; the Center for Translational Medicine helps increase the quality and quantity of clinical trials by channeling the generated knowledge directly into PhD training and patient care; the Laboratory Animal Science Coordination Center provides researchers with assistance in animal testing in line with modern ethical and professional standards and requirements; the RDI Business Development Center coordinates the marketing of RDI products and services created at the University.
Explore rankings data for Semmelweis University
All ranked institutions have an overall score and 4 pillar scores. However for each pillar, only institutions ranked in the top 500 overall or the top 500 in this pillar have a publicly visible score
Key statistics
37%

Percentage of International Students

(1)

12.8

No. of students per staff

(1)

9,966

Number of FTE Students

(1)

69 : 31

Student Ratio of Females to Males

(1)
Video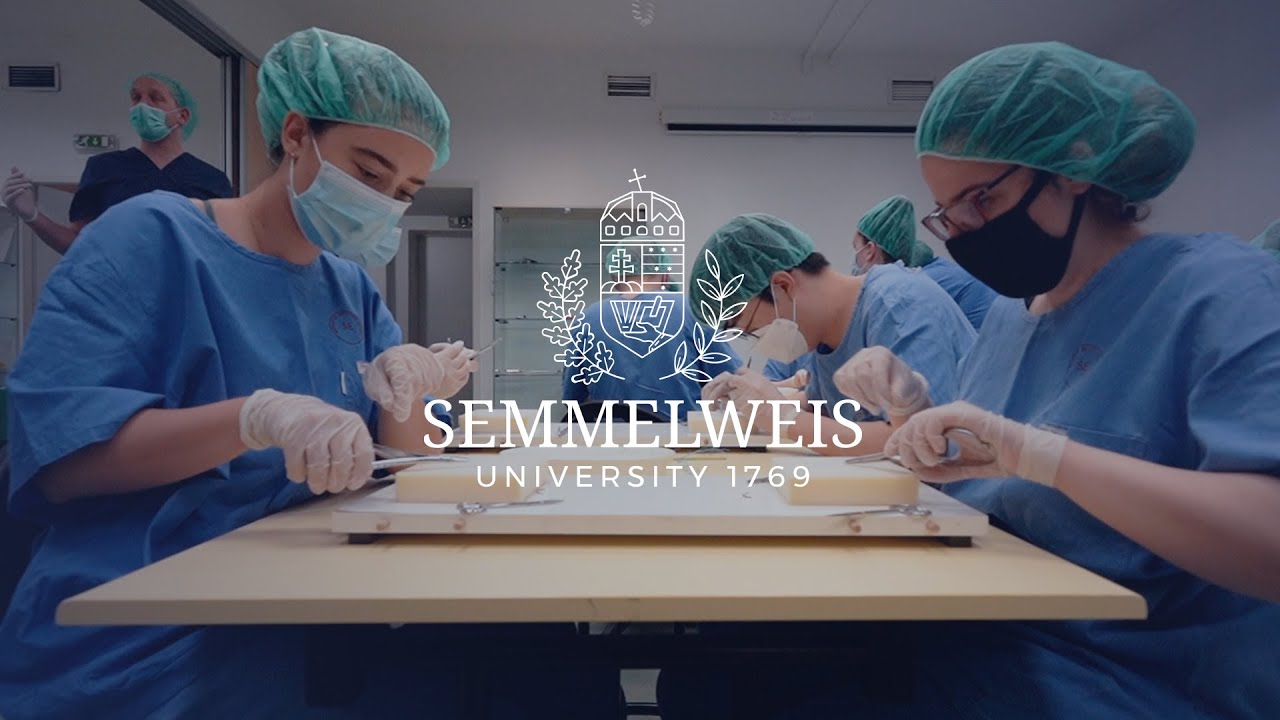 Subjects taught at Semmelweis University
Life sciences

Education

Clinical, pre-clinical & health

Other Health
Medicine & Dentistry

Social sciences