National University of Science and Technology (MISiS)
World University Rankings 2020
University Impact Ranking 2019
Impact Rankings: Good health and well-being for people 2019
Leninskiy prospekt 4, Moscow, 119049, Russian Federation
NUST MISIS today is a top-notch scientific and educational centre attracting the best graduates, scientists and lecturers. The University focuses on integrating science, education and innovations, as well as establishing a creative environment for unlocking the potential of every student.
NUST MISIS is located in the center of Moscow and has a great infrastructure. The University has over 30 world-class scientific labs and 3 engineering centres, which employ the most prominent scientists of the world. NUST MISIS successfully carries out joint projects with the largest Russian and foreign companies.
NUST MISIS is strengthening its leadership positions in a number of areas, including material sciences, metallurgy and mining, as well as strongly reinforcing its presence in bio materials, nanotechnologies and IT.
The University participates in four large-scale science projects of the MegaScience level: Horizon 2020, MoEDAL, LCHb, and SHiP. NUST MISIS tops the list of Project 5-100 universities in terms of the number of engineering and materials science publications in the first quartile journals, according to SNIP.
NUST MISIS is one of the leading technological universities in Russia. According to the world's leading educational rankings, NUST MISIS is in the TOP-30 of the best universities in the world in mining, in the TOP-100 in metallurgy and in the TOP-200 in materials science.
NUST MISIS comprises 9 colleges, 6 branches (4 in Russia and 2 abroad). The total number of NUST MISIS students prevails 17 000, 24% of them are international learners from 75 countries around the globe.
NUST MISIS partners with over 1600 companies. Over 1200 of them provide students with internships and practical works. University business partners are the leading Russian and international companies, state bodies. NUST MISIS organizes around 100 career events annually and offers unique grant and scholarship programs implemented jointly with key partners: Metalloinvest, OMK, SUEK, IBS, TMK, Giredmet, Rigaku, Evrochim, Norilsk Nickel, Rosatom, TVEL, etc.
With its current Occupational Navigation Programme for attracting talented graduates and students from all over Russia, near- and far-abroad countries, NUST MISIS has rolled out the most successful enrolment campaign, which made it the 4th best technical university in Russia in terms of enrolment quality. Students' extra-curricular activities in various fields were marked with high state awards.
We have kept the best traditions of Russian engineering education, a high level of our training is recognized by the world's leading educational rankings, we are chosen in Russia and abroad.
The university offers 9 English-medium MSc (S.T.E.M.) programs, two of which are internationally accredited to ASIIN: Multicomponent nanostructured coatings, Nanofilms and Quantum physics for advanced materials engineering. A list of Master programs available in Russian is here.
Please note that our Bachelor and most PhD programs are taught in Russian. So in order to take courses at the Bachelor's level, you need to take a preparatory course in Russian (lasts for about 10 months) and then continue your studying in Russian. More information about the preparatory course and how to apply is here.
However, this year NUST MISIS launched English-taught postgraduate programmes in two areas: "Physics and Astronomy" and "Materials Technology". Every international postgraduate student admitted to one of these programs will be given the opportunity to participate in a competition for a researcher-engineer position at one of the University`s leading laboratories.
NUST MISIS offers enrollment to postgraduate academic staff programs for training and carrying out researches under the guidance of the University's key scientists. Such researches will be based on world-class modern laboratories and engineering centers.
NUST MISIS offers stipends for international students entering English-medium MSc (S.T.E.M.) Programs who are getting admitted via the prestigious Russian Governmental Scholarship program (https://russia.study/en) and those students who cover their tuition out of their own funds. More information on scholarships is available here.
NUST MISIS also offers international Summer School dedicated to Materials Science.
All foreign students are provided with a room on the campus.
NUST MISIS dormitories are the pride of the university. You can find everything you need for productive learning and comfortable rest there: high-speed Internet, computer classes and a reading room. The developed infrastructure of campuses comprises a swimming pool, a sports complex, a hairdresser, a laundry, a cafe and a canteen. And, of course, a fun student life.
International Master's students live in NUST MISIS Commune House, which is not just a dormitory, but also a constructivist era monument of architecture.
In 2017, a large-scale project called "Cross-cultural collider" started working at the NUST MISIS Commune House. The mission of this interdisciplinary project is to stimulate the development of creativity and innovation and the goal is to create a creative environment that could maximize the abilities of students and university staff. Large-scale popular science events take place here, and young scientists and entrepreneurs exchange new knowledge and technologies with colleagues from Russia and other countries.
NUST MISIS International Friendship Club helps foreign students to adapt to life in Russia, make new friends, improve their language skills and successfully prepare for the exams. Every semester, the International Friendship Club offers first-year foreign students free additional classes in physics, chemistry, mathematical analysis, engineering graphics. Classes are conducted by foreign senior students who show excellent academic performance in the subject.
17 000 students from 75 countries of the world study at NUST MISIS and you can become one of them!
Dear Colleague,
Thank you for your interest in NUST MISIS.
We strive to create a creative, academic, international atmosphere at our university, and we will be happy to welcome to our team of scientists, researchers, experts, and bright members of society who are able to work together to solve the most important scientific and technological problems for the benefit of all mankind.
If you want to participate in an open international grant competition designed to support young scientists with international background, invited to postdoctoral positions, check this link.
If you want to join the professional team of the university, send your CV to the email address job@misis.ru.
NUST MISIS guarantees its employees a creative atmosphere, friendly staff, opportunities for professional and career growth.
Join us!
Explore rankings data for National University of Science and Technology (MISiS)
All ranked institutions have an overall score and 4 pillar scores. However for each pillar, only institutions ranked in the top 500 overall or the top 500 in this pillar have a publicly visible score
Key statistics
11.3

No. of students per staff

(1)

26%

Percentage of International Students

(1)

41 : 59

Student Ratio of Females to Males

(1)

7,090

Number of FTE Students

(1)
Video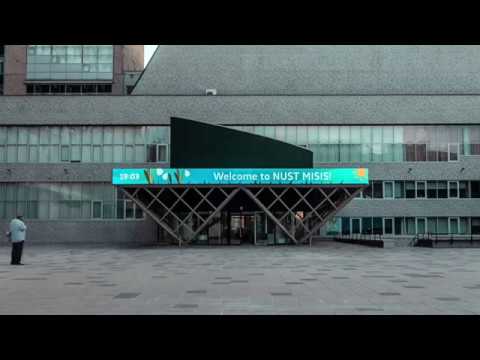 Subjects taught at National University of Science and Technology (MISiS)
Physical sciences

Engineering & technology

Business & economics

Computer science

Arts & humanities

Social sciences