Royal Holloway, University of London
2019 European Teaching Rankings
Egham Hill, Egham, Surrey, TW20 0EX, United Kingdom
Royal Holloway, University of London (RHUL) originated out of the merger of two pioneering colleges that offered higher education to women. Royal Holloway College and Bedford College, founded by Victorian philanthropist Thomas Holloway and social reformer Elizabeth Jesser Reid, became part of the University of London in 1900 and were the first institutions in the UK to award degrees to women. The university, which is home to more than 9,000 students, is situated in 135 acres of parkland in Egham, Surrey, less than 20 miles from central London.
Its campus is considered one of the most beautiful in the world and is based on the design of the Château Chambord, one of the largest and most distinctive châteaux in the Loire Valley.
The distinctive Founder's Building on campus – built around two quadrangles and comprising a gilded chapel and picture gallery with works by world-class artists – has featured as a backdrop in several film and TV productions including Downton Abbey, Inspector Morse and Midsomer Murders. The university boasts a recent multi-million pound estate investment programme and a new drama complex, the Caryl Churchill Theatre. It also has a central London base at Bedford Square in Bloomsbury. RHUL cites the development of treatments and therapies for rare diseases, the rapid decline of bees and protecting the UK's national infrastructure from cyber-attack as among its research priorities. It also lays claim to world-class experts in the arts, humanities and sciences, with many Royal Holloway academics acting as advisors to policy-makers and governments on a wide range of issues. The university's alumni include novelist George Eliot, suffragette Emily Wilding Davison, actor Lenny Henry, and singer-songwriter KT Tunstall.
Among the expert academics teaching at RHUL is Sir Andrew Motion, the former Poet Laureate, who was appointed Professor of Creative Writing in 1999.
The International Study Centre at Royal Holloway offers international students on-campus preparation for their undergraduate degree programmes and future careers.

Whatever your ambition is for the future, Royal Holloway International Study Centre will help you achieve it. From assisting you when choosing your degree programme to advising on employable skills and career options, the door is always open to offer you support.
The International Study Centre introduces you to the style of teaching that you will continue with when you progress onto your degree. You will experience small group and individual tutorials, seminar style classes and larger group lectures.

As a student at the International Study Centre, you will be part of the Royal Holloway community from the day you start your programme. In addition to the range of benefits available for International Foundation Year students, you will have access to a full range of College facilities, including IT services, the Library and the Students' Union.

We provide language support and academic tuition for international students who do not quite reach the requirements of Royal Holloway. Our mission is to make sure international students are prepared to progress on to Royal Holloway degree programmes of their choice.

International Foundation Year
A three-term programme which will provide you with the academic and English language skills required to succeed at undergraduate level. It is the ideal pathway to integrating with direct-entry students when you progress to your degree
Choose from three pathways, with module routes tailored to your chosen degree:
• Arts and Social Sciences
• Management and Economics
• Sciences

For those who do not quite meet the English language entry requirements for the International Foundation Year, the English Language Preparation Programme provides additional English language tuition prior to starting the International Foundation Year programme.
Royal Holloway, University of London 的排名数据分析
所有上榜的高校都有一个总分和四项指标类别的得分。但只有总分或指标类别排列在前500的高校才会公开得分。
关键统计数据
9,503

Number of FTE Students

(1)
视频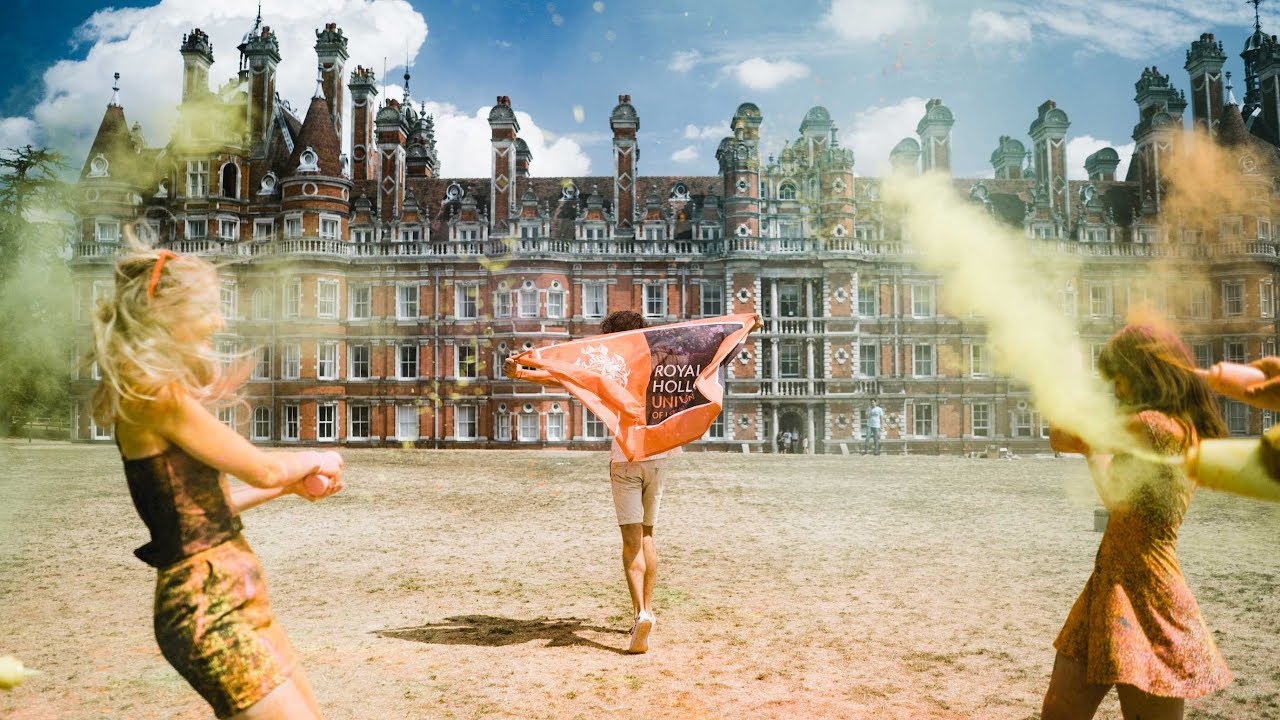 在 Royal Holloway, University of London 寻找课程
Computer science

Physical sciences

Business & economics

Arts & humanities

Life sciences

Engineering & technology

Social sciences

Law

Psychology

Clinical, pre-clinical & health