As KAUST has no undergraduate programs, the university is not presently eligible for the THE World University Rankings. Nevertheless, THE has simulated KAUST's potential ranking by using their usual algorithm and the current KAUST internal data.  
As part of the analysis performed by THE, KAUST would perform exceptionally within the THE World University Rankings if it met the undergraduate criteria. The simulation predicts that KAUST would be a top 100 ranked institution based upon the 2019 rankings results.
Given that the THE metrics are weighted in favour of research productivity per staff member, citation impact, and research investment, KAUST's strength in performance falls in line with other top 100 institutions.
World-class research on the shores of the Red Sea​
KAUST advances science and technology through distinctive and collaborative research integrated with graduate education. Located on the Red Sea coast in Saudi Arabia, the University conducts curiosity-driven and goal-oriented research to address global challenges related to food, water, energy and the environment.
Established in 2009, KAUST is a catalyst for innovation, economic development and social prosperity in Saudi Arabia and the world. With over 100 nationalities working and living at KAUST, the University brings together people and ideas from all over the world.
Visit kaust.edu.sa for more information.
KAUST VALUES
At KAUST, we attract people from Saudi Arabia and around the world who want to create impact beyond their own achievements. Irrespective of their national origins, the people of KAUST are global citizens who uphold values of achievement, passion, inspiration, citizenship, diversity, integrity, and openness.
Global DNA
This is reflected in:
(a) our diverse and international university community of faculty, students, and staff
(b) strategic and sustained collaborations with key institutions across the world
(c) commitment to contribute to the welfare of society by placing special emphasis on areas of strategic importance to the world.
Unparalleled facilities, equipment and expertise
We provide our people and our research partners the opportunity to conduct experimental research in an empowering environment with exceptional facilities, equipment, and support staff. Our ability to sustain these exceptional facilities over the long term is an important competitive advantage over other institutions.
A collaborative learning environment
We encourage our students to think beyond the laboratory to consider how their ideas can change the world. Through the spirit of discovery, we promote collaboration, excellence, curiosity, integrity, and a passion for doing things that matter.
Innovation for public benefit
We contribute to the cultivation of a knowledge and innovation-driven economy. Our Research and Technology Park is physically and organizationally integrated within the University to facilitate corporate interactions, innovation, knowledge transfer and economic development. Leveraging ideas from around the world, KAUST is positioned to accelerate both early-stage and market-ready technologies.
We enjoy a work-play-live environment
We are more than a premier university; we are also a city. On the shores of the Red Sea, our services and amenities offer an exceptional quality of life, from schools to recreation to healthcare. We are a community where more than 100 nationalities learn, live, and thrive together.
KAUST is an international graduate-level science and technology research university. Home to world-class faculty, scientists, engineers and students from around the globe, the campus's research centers focus on finding solutions to problems in areas related to food, water, energy and the environment.
Students have the opportunity to access state-of-the-art labs and our pre-eminent faculty, while obtaining a diverse graduate study experience.
How to apply to KAUST
Admissions website
Application requirements​
KAUST requires a minimum TOEFL score of 79 on the IBT (Internet Based Test) or 6.0 on the IELTS (International English Language Testing System). The KAUST admissions code is 4107. Only official TOEFL or IELTS scores will be accepted. TOEFL or IELTS scores for tests administered by an educational institution for admission to that particular institution are not acceptable.
A TOEFL or IELTS score is not required if the applicant received a degree from an accredited institution in the United States, Canada, the United Kingdom, Ireland, Australia, or New Zealand.
KAUST does not require the GRE exam for admission. However, we strongly encourage students to take the GRE general test. A high quantitative score on the GRE will enhance a student's application. Official test results should be sent directly from ETS. The KAUST admissions code is 4139.
Contact the Office of Admissions:
Graduate Affairs
Engineering Building (Building 9), Suite 4328
4700 King Abdullah University of Science and Technology
Thuwal 23955-6900​
Kingdom of Saudi Arabia
admissions@kaust.edu.sa
关键统计数据
1,019

Number of FTE Students

(1)
视频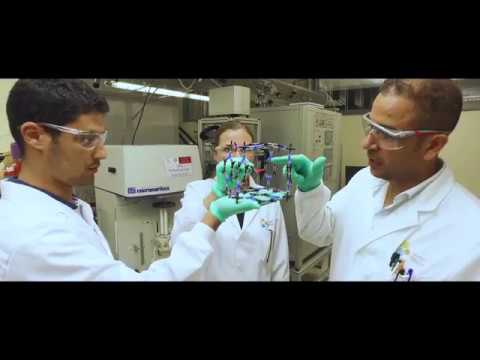 King Abdullah University of Science and Technology (KAUST) 的授予学科
Engineering & technology

Life sciences

Physical sciences

Computer science