Get your research out there: 7 strategies for high-impact science communication
From news angles to dealing with trolls, here are seven areas to consider when sharing your findings with the media and wider public
Research management
Sponsored by
Elsevier helps researchers and healthcare professionals advance science and improve health outcomes for the benefit of society.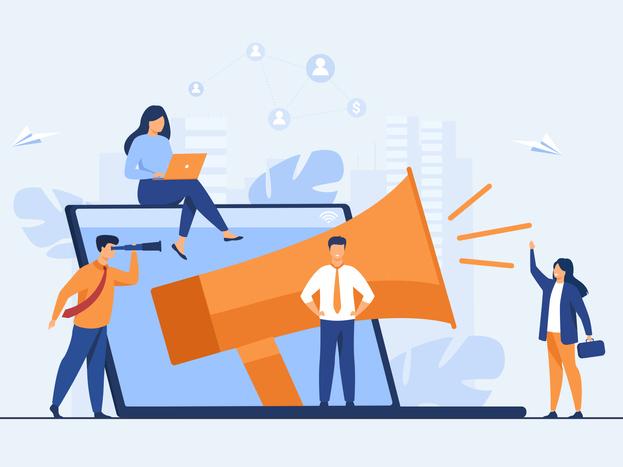 Sharing your new insights with the media increases the potential for your work to generate impact such as informing public policy or altering peoples' perceptions. Having worked with many media outlets on numerous occasions over my 14-year academic career, I have found these top seven strategies the most helpful for achieving high-impact science communication.
1. Know what research is of broad interest and what is not
Most research isn't all that interesting to the general public, even if it is incredibly important. The media call it "worthy but boring". Newsworthy science is timely (current affairs), unusual or counterintuitive, funny, has a human interest, and/or morphs well into listicles (that is, list format, like this article). Good examples can be found in sci-comm podcasts such as Science Vs (with Wendy Zukerman) and The Science Show (with Robyn Williams) and articles in The Conversation.
2. Work with your university's media department
Get media training. This way you'll feel more comfortable and confident when dealing with journalists. Your media team will also help you to create a media strategy and a media release. Plan ahead – well ahead – of publication. This will give you enough time to ensure that your words are not taken out of context, and to make sure that your preferred quotes are in the media release and the main findings reported.
3. Create an excellent hook
Everyone's attention is being pulled in numerous directions every minute of the day, so it's important to craft your message carefully and simply. When writing non-scientific articles for mainstream media outlets, such as The Conversation, keep it short and sweet, use an active voice, and draw in the audience by answering these two questions: Why now? Who cares?
You also need to write like a journalist. The most interesting bit goes at the start, with all the background and context down the bottom. Scientific papers are flipped the other way around: context first, interesting bit at the end.
4. Have good visuals and audio to support your story
Nearly every media piece is accompanied by images and/or video, so make sure you've got some. Let's face it: generic head shots are boring. Your images need to catch attention and help tell the story. Think about the background, and remember that most people will read the article on a screen the size of their hand.
Take photos and videos when you're in the field or off campus, and make sure they're interesting and add value to the story. Look at the images below: a picture tells a thousand words, as they say. Short video clips are also handy, but make sure to film in landscape, not portrait, orientation.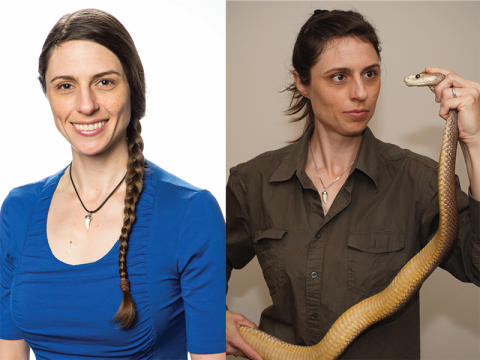 5. Make a media splash
Time your posts (Twitter, The Conversation, Facebook, Instagram, etc) with the publication of your cool paper to create a media buzz, which can help your work gain traction and attention. Ask the journal for the expected date of publication. The media don't like "old" news and hate to be beaten to a story. Working with your media team to pre-pitch to respected media outlets can guarantee a good run.
Oh, and know your audience. Each platform wants different things (for example, radio wants colourful language, TV wants excellent visuals); and each requires targeting to its specific audience (Facebook = general public; Twitter = academics, government and journalists).
6. Prepare for a snowball of media requests
For very popular papers, you may need to clear your whole day to accommodate the media coverage. I learned this the hard way after publishing a paper about the "Ringo Starr of the parrot world". Well, who wouldn't go crazy for a bird that drums! The story went off, and I got little else done besides media interviews around the world (see below) for three days. It might be worth asking a co-author to take some of the interview load.
Always prepare for your interviews – don't wing it! Try to anticipate questions and prepare bullet points for answers. The media also don't want you to read your responses verbatim – you need to sound genuine. Importantly, distil your complicated research by having non-jargon word replacements on hand, such as "speed" instead of "velocity". Prepare easy-to-understand analogies ahead of time, too: 'This would be the equivalent of a human eating a watermelon whole."
Image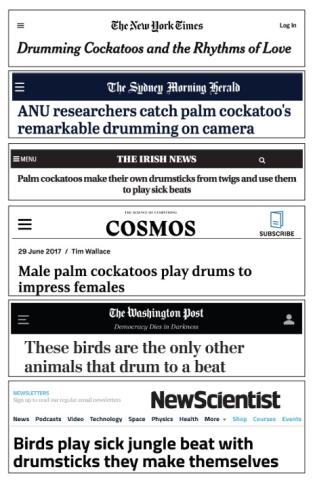 7. Protect yourself from cyberbullies on social media
To safeguard yourself from cyberbullies on social media, control your privacy settings and report abuse. If you experience cyber abuse (for example, trolls), consider stepping away from the screens for a while, and/or make your account private for three to five days, as this unwanted attention usually drops away in that time. You can also mute particular words on your social media accounts in anticipation of abuse, block or mute (two very different things) specific rude people, and I highly recommend that you either turn off comments or don't read them. This can be very hard to do, but comments rarely add value other than providing a platform for offensive, abusive and often downright crazy opinions.
Successfully communicating your research to a wide audience doesn't just happen. It takes planning, preparation, patience and teamwork. And don't forget to enjoy the ride!
Christina Zdenek is a postdoctoral research fellow in the School of Biological Sciences at the University of Queensland. She has just completed a science communication residency with Australia's national broadcaster, ABC News.
Research management
Sponsored by
Elsevier helps researchers and healthcare professionals advance science and improve health outcomes for the benefit of society.