Get started with virtual reality for learning and teaching
Free, accessible resources are readily available for educators who want to add virtual reality to their teaching tools. Start small, be realistic and persist, says Siân Shaw
When I speak at conferences, many academics tell me they are enthusiastic about creating virtual reality (VR) experiences but have no idea where to start. So they do not take the first steps. Lack of funding, technical skills, time and support frequently prevent academics stepping into the world of virtual reality.
That's a shame because VR has helped Anglia Ruskin University develop innovative placements for student nurses when opportunities are in short supply. We created a virtual simulated placement called Hilda's Home. Filmed in 360-degree video, Hilda's care was storyboarded around activities of daily living. This included eating and drinking in the kitchen, sleeping and dressing in the bedroom and grooming/personal hygiene in the bathroom. We also used Microsoft's mixed-reality HoloLens linked to Microsoft Teams to transport students directly into Hilda's home to meet her.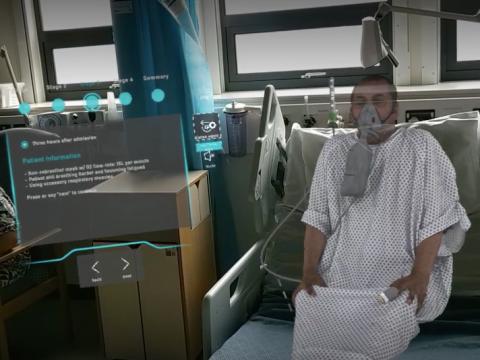 You can start right now without any funding, technical skills or support. Start small – little acorns can grow into mighty oak trees. Start with what you have and you will get where you want to go. Use what is free and easily accessible and be prepared to sacrifice a little of your own time and energy.
Here are key tips to get started using VR in teaching and learning.
Start with what is free and has already been made
Check YouTube for virtual-reality scenarios: for example, A Walk through Dementia from Alzheimer's Research UK, Lions 360° from National Geographic and 360° VR Spacewalk Experience from the BBC. With your iPhone and some cardboard or cheap plastic reusable lenses, you are on your way. You simply open the video in YouTube on your mobile phone, slot the phone into the cardboard Google lenses and for less the £10 you enter the world of full 360-degree video.
Use 360-degree

 

photographs
To make it simple, start with a 360-degree photo rather than a video. You can buy a 360-degree camera from £120 upwards. If you have an iPhone, you can use the panorama mode in the camera app. The panorama mode can take photographs inside as well as outside; a museum or art gallery may be an interesting location. There are plenty of videos on YouTube to show you how to do this. You can add hotspots to your photos and create tours using easy-to-use software such as CloudPano or thinglink.
Create videos using your smartphone
If you want to create your own 360-degree videos, you can do it on your smartphone. You need to use the Google Street View app, available for iOS and Android.
Be realistic and think about how you can use your own VR resources to teach
If you want to use VR in your teaching, you need to be realistic about what is achievable. In the Faculty of Health, Education, Medicine and Social Care, the student cohorts are huge – our September 2022 intake of student nurses is 850. There is no way that using virtual reality in a way that requires students to use expensive individual headsets will work.
However, filming 360-degree virtual reality scenarios that can be easily embedded in our learning management system (LMS), Canvas, works. You can upload the 360-degree films you record to YouTube and embed them from there using an embed code.
It may work for your LMS as well. Hundreds of students can access the scenarios simultaneously, and we add a layer of pedagogic resources around the 360-degree scenarios we have created. You may be fortunate enough to work at a university that has a media platform which accepts 360-degree videos; Anglia Ruskin has just invested in YuJa, which enables us to do just that.
Storyboard your films
I prefer to use authentic environments and do not venture into the world of computer graphic images. I do not have the knowledge, funds or time. Storyboarding scenarios and filming real people and environments is far quicker and more realistic. Plan what you are going to record and write out and draw the scene(s) you wish to create. Think about what resources you need to place within the environment, and how you are going to set it up. Consider using drama students from your university if you need actors (budding performers need experience as well).
Find funding
At some point you will need finance. A 360-degree camera may set you back £500. My advice is to look around your university for small pots of funding available. Anglia Ruskin University has a teaching and learning fund where academics can bid for funding of up to £3,000 per project; this is source I have used often. Once you get started and demonstrate what you can do, the money will become more readily available.
Fly high
Developing cutting-edge work and pushing boundaries with new technologies such as HoloLens requires the development of networks of experts to learn from and help you. This takes time and patience. Get involved with projects run by your university's IT and learning and teaching departments. You need to believe something is possible to make it so.
You also need to be prepared for lots and lots of pushback and rejection. Spend time with cheerleaders, the people who will and can help and support you. Other universities are unlikely to tell you all their secrets about how they achieved what they did. Just like with scientific developments, educational innovators want to keep their secrets. You need to be a detective, persistently pursuing solutions if you want to be at the cutting edge, and you will need energy and resilience.
Siân Shaw is associate professor of digital innovation in nursing and director of learning, teaching and assessment at Anglia Ruskin University.
The ARU Virtual Placement Team was shortlisted for Technological or Digital Innovation of the Year in the Times Higher Education Awards 2022. You can find the full list of winners here.
If you found this interesting and want advice and insight from academics and university staff delivered direct to your inbox each week, sign up for the THE Campus newsletter.