Get serious about humour in your online classroom
Humour can be a great way to grab and hold students' attention. Abha Ahuja and Trang Nguyen outline ways to introduce more laughter into online classes
15 Mar 2021
Holding students' attention and building classroom community is challenging at the best of times. Digital instruction, with its lack of shared physical space and ensuing social distance, makes engagement and connection all the more challenging. It's time to make humour an integral part of your classroom toolkit: humour sparks students' interest, encourages participation by easing anxiety and creates a warm class atmosphere. Humour allows students and teachers to express themselves more informally, making them feel closer. This sense of closeness is needed now more than ever.
How can instructors more intentionally incorporate humour in their classes? The good news is that you need not be a stand-up or particularly quick on your feet. First, let's establish some ground rules.
1) Keep learning goals in focus: Frequent tangential discussions can get tiresome, so keep the laughs relevant to the subject at hand. Incorporate humour into your teaching materials and activities.
2) Exclude exclusion: Humour that relies on sexist, racist or other "ist" caricatures is outdated and unacceptable. Do not use humour that makes any students feel uncomfortable or othered.
3) Read the classroom: If you don't see a positive reaction to your humour, don't take it personally. Re-evaluate and try something different.
Now, for some specific tips. We have been teaching in virtual classrooms via videoconferencing since long before the pandemic, but the tips and techniques we share can work well in face-to-face as well as virtual classrooms.
1) Curate course-related multimedia content: Conduct a keyword web search for images and videos to identify humorous resources from your discipline. Teacher Facebook groups and YouTube channels can yield high-quality content. Create your own library of videos, songs, memes and cartoons. Plan for how you might share the materials. Share a clip before class by email as a hook to get students excited about a topic. Or play it halfway through a session when students are drifting off to quickly recapture their attention. Appreciating humour requires students to connect the material to new situations, so using funny examples also improves comprehension and retention.
Image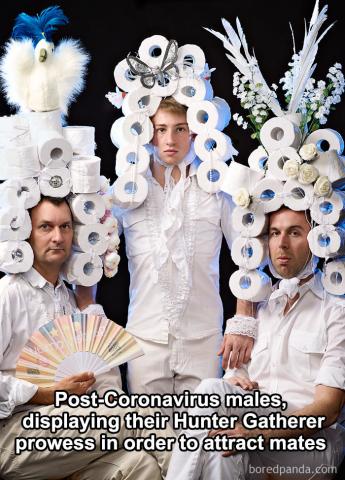 A web-sourced meme illustrating the concept of sexual selection
2) Think outside the box to liven up class sessions: Switch roles with a student, asking them to play the professor's part and lead the discussion while you play-act a student. Your students will smile and see you as approachable. Another role-playing approach is to assume a character, such as reciting a poem or speech in its author's voice or taking a stakeholder's perspective, say, a local politician or entrepreneur. Other approaches with potential for laughs include using props or non-verbal communication such as charades to illustrate abstract concepts. One chemistry instructor is known to reach for her coffee mugs to explain molecular interactions. Get creative and bring some fresh air to your routine class meetings.
3) Involve students in funny business: Tasking students with creating and sharing original content allows them to reinforce course concepts and creates opportunities for meaningful interactions. In an online biology classroom, students participated in a Halloween costume contest that required them to dress and perform as model animal species. For an assignment in the same course, students had to make an original meme that illustrated core course concepts. Grading criteria included accuracy, creativity and relevance to course content. In this manner, humour is no longer a one-way street but a communication tool for a more fruitful and enjoyable class experience.
Image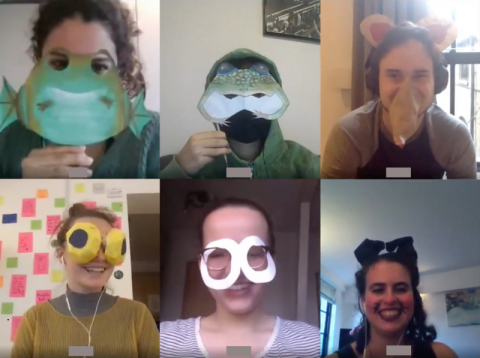 Students in DIY costumes as frogs, mice and fruit flies
Humour is key to attention, retention and connection. As the course progresses, the chances are students will remember moments of mirth more vividly than your lecture slides. As you adapt to digital instruction, it is important to include fun more purposefully. All jokes aside, it's time to save a place for humour in your online classroom.
Abha Ahuja is an associate professor of natural sciences, Trang Nguyen is a research assistant and student at Minerva Schools at Keck Graduate Institute.