Using online coaching to support student well-being
Helen Duff explains how a human approach to providing support online, in the form of coaching sessions, can have a powerful impact on student well-being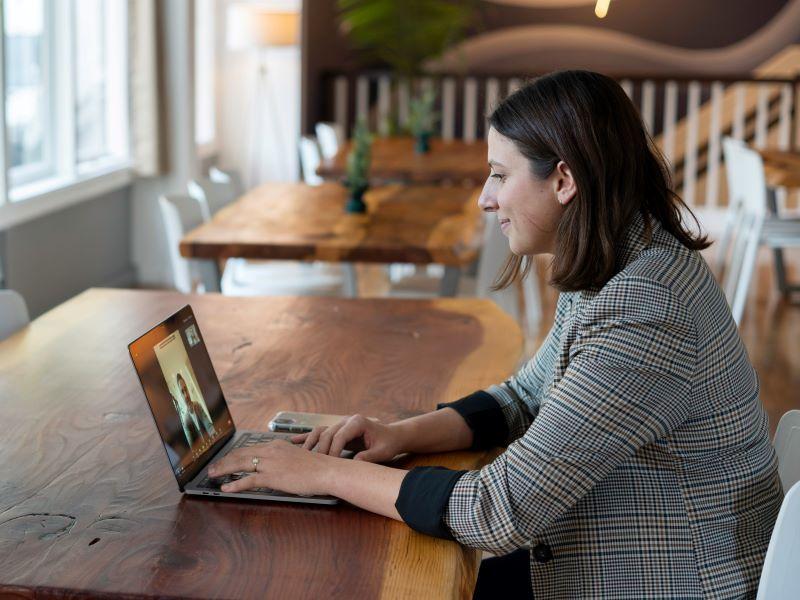 How are you, really?
Many of us will experience well-being challenges at various points in our lives, and this is especially true for students. The links between mental health and well-being and student engagement, progression, retention and achievement are well documented, and for many the pandemic has added to these challenges. It is therefore important that student health and well-being are promoted throughout university life and that a holistic approach is adopted. This means not only providing the right support at the right time but also focusing on prevention and building resilience.
So, how should education providers do this from a distance?
With education providers having to ensure that more resources are available online, it's vital that these include access to well-being and mental-health support. Regardless of their study mode, our students have access to the mental-health community Togetherall and our online well-being portal.
However, incorporating a more human, personalised element into these digital spaces is also important. So, success coaches work proactively and in collaboration with colleagues to help provide more direct, bespoke support. Clear, consistent contact using a range of communication methods is key. Regular contact helps students feel a sense of community, which is particularly important for online learners who are more likely to feel isolated due to the lack of face-to-face classroom interactions.
A student-centred approach
Student-centred coaching initiatives take students on a journey of self-awareness, helping to build confidence, motivation and resilience.
All students have an assigned coach, a point of contact who is there to support them from enrolment to graduation. Motivational interviewing techniques, widely used by care professionals, are used during one-to-one coaching sessions, helping students take responsibility, reflect on their strengths, come up with reasonable goals, and review the benefits of any changes. These coaching-style conversations aid students in overcoming challenges and barriers in relations to their studies or any aspect of their lives.
Using discussions with one-to-one coaches, personalised action plans are created to ensure these ongoing conversations with the students are best suited to their unique needs.
Everybody is different, so keeping these interactions tailored to the individual is key. Some might require weekly calls, and some might be more comfortable with less frequent interaction, but it's important to make sure this is student driven and at a level they're comfortable with.
Scalable coaching
The coaching programme helps identify and support students most in need, but one key challenge was upscaling this one-to-one support to more students. Our solution was to create a series of coaching masterclasses for groups of students. These involve interactive coaching webinars, in which students actively participate over Zoom. They cover a range of topics designed to promote student well-being, including planning and managing study time, preparing to enter university, and motivation, resilience and self-belief.
In feedback, 94 per cent of students were very satisfied with the coaching sessions, while the remaining 6 per cent were satisfied. Students claimed that one of the best aspects of the coaching sessions was simply having someone listening to them. That's why when laying on resources like this it's important to make them interactive.
Key lessons for effective coaching to promote student well-being
When reaching out to students, use a variety of communication channels, have regular check-in points, and deliver positive messages.
Promoting student well-being isn't just about reaching out when they're struggling; it's also about recognising and celebrating successes, which helps foster motivation and self-belief.
It's important to build staff and students' digital skills to ensure they are comfortable using the institution's outreach channels. While making resources available online, institutions need to ensure students aren't excluded through digital poverty; universities cannot assume all students have adequate access to chosen technologies or that they know how to use them.
Make sure support is personalised rather than simply treating a group of students as one block. Regular contact with a named person with whom students can build a relationship is what makes them feel supported and satisfied.
In addition to understanding coaching techniques, staff providing student support need to know their institution well, so they can direct students towards further help and support when necessary. They might, for example, signpost a student towards academic skills tutors if they're struggling with an aspect of learning or to well-being officers if they're struggling with digital skills and anxiety.
Providing effective student support is far more complex than just putting resources online and expecting students to find them. It's about helping them on a skills-based journey using regular communication and tailored action.
But, in the end, perhaps the most important question is: "How are you, really?"
Helen Duff is a student success team leader at Arden University.