To see or not to see: managing the complex issue of Zoom cameras
Many students opt to keep cameras turned off in online classes, which makes building authentic connections more difficult. Celia Ann Evans shares strategies for encouraging the use of cameras without making it a requirement

14 May 2021
1
Seeing others' faces and expressions is a key component of human communication, thus in the context of an online learning community, it helps build connection and enhance inclusion, benefitting both teachers and learners. 
When biology instructors Frank Castelli and Mark Sarvary found themselves teaching to a sea of blank boxes on a screen in 2020, they set out to understand why and find solutions. 
The result was their paper "Why students do not turn on their video cameras during online classes and an equitable and inclusive plan to encourage them to do so", which offers practical suggestions for any teacher seeking support for the same common challenge. 
Why are cameras off? 
A massive 90 per cent of the 276 students surveyed in the paper reported turning their cameras off at some stage during synchronous online meetings. 
The main reasons listed were: 
Concerns about appearance (41 per cent)

Worries about other people being seen in the background (26 per cent) 

Weak internet connection (22 per cent) 

Other reasons – with comments (19 per cent) 
Discomfort about physical location being seen in the background (17 per cent) 

Not wanting to distract classmates (17 per cent) or the instructor (12 per cent) 
Of those who reported "other", 52 per cent commented that having the camera off was the "norm". 
Concerns about appearance, people being seen in the background, weak internet connection and not wanting the physical background to be visible to others were more commonly reported by under-represented minority (URM) students. These findings highlight the inequalities for students learning remotely.  
Recommendations for getting cameras turned on and creating online engagement 
Students should neither be required to turn on cameras, nor be made to feel shame if they choose not to. But instructors should work to establish cameras on as the "norm" in the class.
Beginning online learning sessions with icebreakers and energisers that have a visual component and are more fun with cameras turned on will get many students visible at the start of class.
Communicating the hope that students will keep cameras on, using humour and providing reasons can help to increase camera use. Castelli provides his teaching team with a slide for the start of each lecture with a different humorous meme and a message encouraging cameras on, including some rationale. This alteration of a popular Bernie Sanders image is one of their examples. 
Image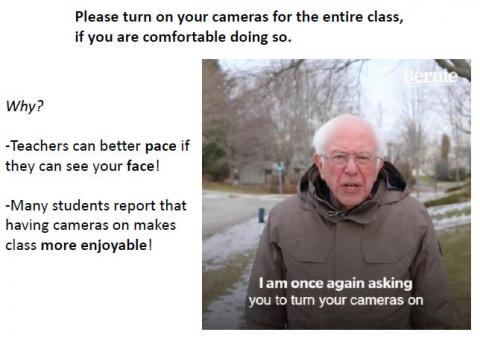 Schedule breaks to allow students five or 10 minutes, depending on class length, to disengage. 
Share data to show students the real and negative correlation between multitasking and learning. 
Insert regular active-learning techniques, every five to 10 minutes, that keep students engaged and promote inclusion. Have students annotate, reflect for a moment and share or chat privately with a partner about a topic using the classic "think-pair-share" model. Express the expectation that the pair or team will share their collective outcomes verbally or in writing in a poll, Google Doc or the chat. 
Add information and "netiquette" to the course syllabus, including suggestions for preparing oneself and a location when taking an online class.
You could include a section on "How to add privacy to your Zoom calls", providing information on virtual backgrounds, preparing for class and tips for Zoom. These suggestions can help alleviate anxiety for students who don't have places to feel comfortable or private when they are in class. 
What can we take from this, moving forward? 
With the return to mostly face-to-face teaching, we need to consider what is worth keeping from this unplanned experiment.  
Maintaining the compassion generated by the very different experiences of our students, highlighted in the online environment, is critical.
Research highlights the importance of social norms and points to the continued need to actively work to construct norms that promote inclusion and learning.
Creating a welcoming and inclusive space should become a greater focus in all learning environments. A remote option for student check-ins with teaching staff, or group meetings, may be a convenient and efficient option.
Recorded lectures offer a valuable time-flexible resource that students can watch or revisit when they wish. Supplementing options for in-class engagement with online chats and discussion boards can be used in many ways and promote inclusion for shy or anxious students. 
This is just a small snapshot. By taking the best elements of remote teaching and what we have learned about students' concerns and needs, and using them to complement in-person instruction, we have the potential to improve higher education for all students. 
Celia Ann Evans is associate director for engineering learning initiatives at Cornell College of Engineering, Cornell University. 
The data referenced in her feature was taken from the research paper "Why students do not turn on their video cameras during online classes and an equitable and inclusive plan to encourage them to do so" by Frank Castelli and Mark Sarvary.