Prepare for student sustainability demands to go through the roof
Students will be the driving force behind universities finally being held accountable and made to practise what they preach on climate change, says Andreas Kaplan

19 Oct 2021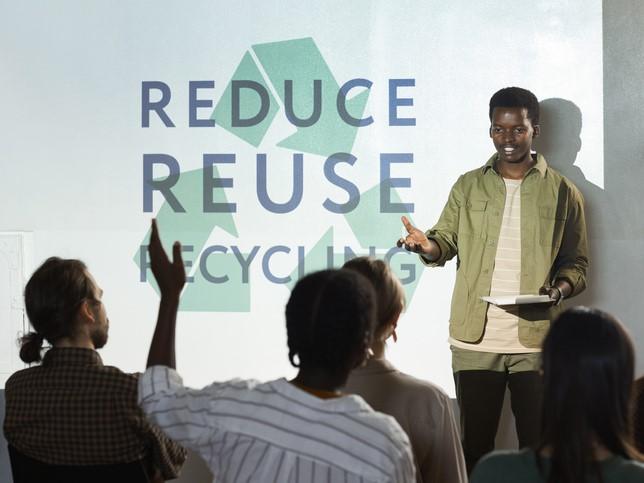 There is no doubt that universities, business schools and other higher education institutions are finally placing sustainability higher on their agendas. And, just as encouragingly, if there was concern that the Covid-19 pandemic would cause people to lose sight of the urgency of climate change and the need for environmental action, that worry can be put to rest. More than ever, sustainability is at the front of people's minds.
In the higher education sector, we know just how important that is. We have successfully developed courses and programmes around sustainability and now there is an ongoing focus on teaching students how to act sustainably.
But, in the future, teaching sustainability will no longer be enough on its own, because sustainability has slowly but surely become a key factor in determining a university's reputation and appeal.
Beyond course content, universities will finally be held accountable and asked to practise what they preach. But what does this mean for the institutions? It's clear that students and other key stakeholders such as governments want universities to be truly sustainable themselves. This means implementing ethical and sustainable initiatives and developing eco-friendlier campuses.
Students are truly the driving force behind this change, and once you start going green, the great thing is that it is impossible to go backward, as students will continuously challenge their universities to go "even greener". Likewise, students will demand that their campus and student societies engage in sustainable behaviour and will recognise if they feel like they are being supported and encouraged by their institutions in relation to sustainability.
How to make real change
Universities are big consumers and emitters. However, they also have the autonomy to make decisions on sustainability and are increasingly doing so, individually and collectively.
There are many ways to make real, tangible change. For example, the establishment of a green office − an entity funded by the institution and managed by students and staff together, to connect, inform and support the university and its stakeholders to act sustainably in all dimensions and operations − can make a real difference.
Of course, some parts of truly walking the sustainability talk will be easier than others. While introducing recycling on campus is a relatively simple endeavour, offering more sustainable lunch options – perhaps by removing beef or meat altogether from menus − will most likely result in complaints and discontent in some quarters. But it is exactly at these moments that the university administration must take a strong stand and make the right choice − at stake are credibility and accountability.
Students are also challenging not only their professors, but their deans and president. They will are scrutinising how their university's top management behaves in terms of sustainability. Staff at universities need to be aware that students are watching them and they need to lead by example.
Universities must consider whether there is a member of the university's board of directors in charge of sustainability, for example. Is sustainability part of the institution's master plan and of its official mission? Are you providing a sustainability report monitoring progress and clearly stating where you want to go and what you want to achieve in the future?
Leading by example can also mean taking small steps. For example, while on campus, I made the decision to change to degradable and recyclable coffee pods rather than non-degradable aluminium capsules. I can proudly say that my personal lifestyle has become more sustainable over recent years (with lots of room for improvement, of course).
Institutional and global change
Several sustainability initiatives and activities have been launched and implemented over the past couple of years at ESCP Business School, which I could follow and guide in my role as Paris dean and former Berlin rector.
We've launched two academic programmes entirely dedicated to sustainability: the MSc in international sustainability management and the MSc in sustainability entrepreneurship and innovation (delivered iteratively across Berlin and Paris). We've also established several corporate and academic chairs in sustainability and the circular economy, as well as our annual ESCP SDG conference, held in the heart of Berlin next to the Brandenburg Gate. 
Beyond the higher education sector, in 2020, European Union leaders agreed to raise Europe's emission reduction target to 55 per cent by 2030. This is only one of the European Green Deal initiatives set by the European Commission with the overarching aim of making Europe climate neutral by 2050.
It's clear that such an ambitious objective puts Europe in place to lead the world's green transition. As a result, many jobs will be created in the sector with increasing demand for students to be educated in sustainability and fighting climate change.
For those already in the workforce, upskilling and reskilling will be required to reap the benefits of this ecological transition. And it will often be the higher education sector that is expected to provide the expertise and training to support the EU in launching this new growth strategy.
In short, only by acting to understand and reduce their own climate impacts can universities be credible climate leaders. Their role as platforms for climate change research, new business creation and support, as well as sustainable institutional practices, makes them global exemplars on climate action. In this, universities are essential to all our futures and must act accordingly.
Andreas Kaplan is dean of ESCP Business School (Paris) and the author of Higher Education at the Crossroads of Disruption: The University of the 21st Century.