Lessons from gamification to enhance students' capacity for learning
Oran Devilly and May Lim share lessons from using gaming techniques to help students develop the learning traits needed to benefit from online teaching
13 May 2021
With the growth of online and self-directed learning comes a greater need to help students develop learning traits such as effective approaches to learning, grit and growth mindset.
We applied the principles of gamification to an online platform to help students develop better ways to learn. Here, we share what we have done and lessons learned to further improve learning.
AdventureLEARN was designed to encourage students to focus on developing traits and skills that may support them in their learning journey. Specifically, four traits were targeted:
approaches to learning

promotion of well-being

grit and resilience
Interaction with the platform was optional, non-credit bearing and not tied to any specific module, so gamification was employed to encourage students to engage with the platform and its content based on their own desire for self-improvement.
AdventureLEARN infuses extrinsic and intrinsic motivators into its design.
Creating awareness to promote change
Building awareness is the first step to promote change. Students begin by completing a reflective questionnaire that measures the four target traits. This gives them insight into where they are in relation to each trait, such as their level of grit, and the results are used to create their AdventureLEARN island.
Image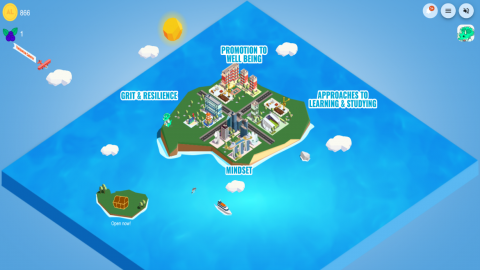 Visualisation of intangible concepts
Visualisation of growth is an element of gamification we used. The AdventureLEARN island itself is separated into four quadrants representing the targeted traits of each individual student. The more developed any quadrant of their island is, the more advanced the student is in that trait. Students' continued engagement with learning content will subsequently cause the island to grow, giving students an overall game objective of maximizing the growth of every part of their island. So, the island represents the student, its growth represents their growth, and the act of improvement is the core gameplay mechanism, forming the basis of our intrinsic motivator.
Personalised recommendations as no two learners are the same
Students have different learning traits. To aid our core gameplay mechanic of improvement, resources within the platform have been carefully curated. Each student's list of recommendations is personalised and automatically selected based on their responses to the initial questionnaire.
Extrinsic motivators
Extrinsic motivation can help students overcome the inertia of getting started and encourage continued participation. In AdventureLEARN, students earn rewards in the form of coins for completing learning content and answering quiz questions that assess their understanding. These coins can be used to redeem tangible rewards in the form of vouchers.
Timely reminder
Understanding when students typically find time to catch up with university work or emails is helpful. We could see many students used the platform in the evening. So timing nudges or reminder emails sent at a time when students are most likely to respond or take action can be effective.
Students' experience
Student feedback indicated that finding time to use the platform was a major challenge. It is difficult for students to find time and headspace to focus on self-development work outside a busy competing curriculum with assessments, deadlines and gradings. Students who did use the platform, however, noted that content was relatable to their freshman year experiences, helped them understand themselves better and develop themselves as learners. Students appreciated that the platform went beyond academic skills and focused on well-being as well.
Considerations for gamification enhancement
For AdventureLEARN, students suggested enhancements such as varied incentives, an embedded learning journal, leader boards, social interactions, infused games, more elements of gamification and additional content in specific areas they found most useful to supporting their learning approaches.
Combining students' feedback and our experience designing, developing, deploying and maintaining the platform over an academic year, the following recommendations for designing such a platform were conceived:
Events: Group or individual events to encourage students to work together, or timed events to have students engage with specific time-sensitive content at appropriate moments in the term or year, such as a reflection on study approaches around the mid-term break.
Leaderboards and social elements: Adding the ability to like or comment on content, recommend content to peers, or other forms of interaction such as leader boards or being able to view others' progress.
Badges: Badges can represent more meaningful achievements than points do, recognising specific and desirable actions that can be validated by the platform to ensure the authenticity of the award.
Meaningful rewards: Offering students choices of rewards in exchange for virtual coins beyond vouchers, for example, priority room booking for student study groups in the university or donation to a good cause are great options.
User analytics: Analytics allow us to understand our students better and form another layer of feedback to guide targeted amendments to the platform, but can also be used by students to better their understanding of their own learning habits and interactions with the platform.
Human interaction: Linking learning content on a digital platform to taught modules would integrate the platform with students' classroom activities. This would allow for dedicated time and potential course credit for students using the platform.
Application of learning: Beyond assessment of understanding, providing students with avenues to apply what they have learned is recommended. This could be achieved through follow-ups with academic advisors, group events where teams participate in activities to gain rewards, or even individual assessment of work at a module level.
These suggestions all take into consideration the importance of time, relevance and engagement to the students' experience of the platform. All feedback helps inform decisions about relevance and where to focus additional content as well as the nature of the content given students' time constraints.
While gamification is appreciated by students who use the platform and additional elements of gamification can be added to encourage use and engagement, communication is key to ensure students are aware of the potential benefits of the platform and don't see it as a distraction they simply don't have time for.
Our research has found that even with this early version of the platform, students who have used AdventureLEARN have shown improvements in approaches to learning. Further exploration and communication of such benefits to students may enlighten those who perceive the word "game" as something separate from learning.
Oran Devilly is a senior lecturer and May Lim is an associate professor, both at the Singapore Institute of Technology.