How to change the default settings that exclude women in sub-Saharan Africa from higher education
Angeline Murimirwa outlines the steps necessary to support young women from marginalised communities in sub-Saharan Africa into and through higher education

CAMFED (Campaign for Female Education)
4 Mar 2022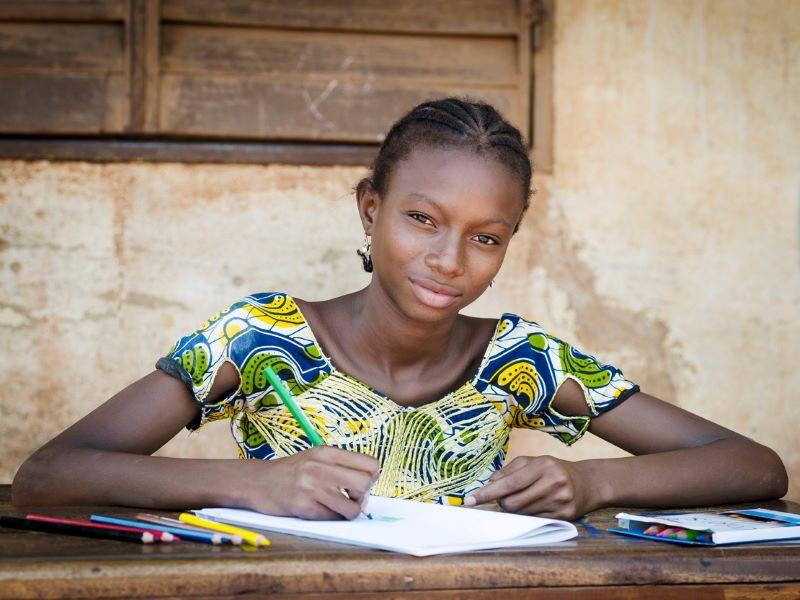 My life is testament to the transformative power of education. Growing up in a resource-poor community in rural Zimbabwe, I almost missed my chance to go to school. Now I lead the organisation that supported my education, CAMFED, and I am a founding member of the CAMFED Association – the network of 178,000 women across Africa educated through the organisation's programme and dedicated to turning the tide of poverty for the next generation. We are a powerful movement of female changemakers, showing what is possible when you unlock women's leadership potential.
What needs to be done to ensure girls can access and succeed in higher education?
Higher education is a vital stepping stone to securing women's economic independence and agency, yet just 8 per cent of women in sub-Saharan Africa are enrolled in tertiary education, decreasing to 1 per cent in countries like Malawi, according to Unesco Institute for Statistics data. How do we change the default settings that exclude so many women from this opportunity, and better pave the way for girls to access and succeed in higher education?
Our experience provides insights into what works for some of the most marginalised girls in rural Africa. Take Enelesi, from Malawi. Enelesi grew up in a community like mine and was set to drop out of school; she is now an associate lecturer at Malawi University of Science and Technology. Her journey embodies not only the challenges vulnerable girls face but also the opportunities we have to rewrite the story.
Securing girls' right to secondary education
In a context where secondary school is out of reach for too many girls, higher education becomes an impossible dream — with girls lacking the resources and qualifications, but also the aspiration to pursue further education.
Girls need targeted material, financial and social support to meet their diverse challenges, so they can stay in school, succeed academically, and qualify for higher education in the first place. Enelesi's parents struggled to afford food and school-going costs, and she would often go to school tired and hungry, which affected her academic performance. CAMFED stepped in, providing her with school supplies and paying her fees. She also benefitted from support from a trained guidance and counselling "Teacher Mentor".
Promoting pathways to higher education
As girls complete secondary school, we need to help them identify and apply for tertiary opportunities, and provide career guidance, so they can set and achieve their goals. We must challenge gendered aspirations for girls, encouraging more women into STEM subjects. Relatable female role models are critical to helping girls to see what they can achieve. This can be through structured outreach by women who have completed higher education and launched successful business careers. Enelesi remembers the valuable encouragement she received from her Teacher Mentor and CAMFED women graduates. Now, Enelesi herself regularly visits local secondary schools, sharing her story and successes.
We also need to raise awareness of the benefits of higher education – including the financial benefits that will accrue over the long term as women earn higher incomes – because, for low-income families struggling to support themselves, the "opportunity cost" may seem too great. Many girls feel immense pressure to earn money and support their families as soon as they complete secondary school. Recognising this, our association members run a transition programme through which peer mentors offer girls advice and practical support on their next steps, including support to manage family expectations.
Supporting young women to thrive in higher education
The need to support themselves financially at university makes young women vulnerable to exploitation, particularly through transactional relationships. They need access to financial resources to help meet the costs of higher education, including through loan and bursary programmes. Practical support with connectivity and access to technology to enable participation and learning is particularly critical as online and distance learning becomes more necessary and widespread. Training and capital for entrepreneurship can provide women with a safe form of income generation to support themselves alongside tertiary study; this is something we provide to school graduates through our Transition Programme. 
Many women from rural communities will struggle to cope with the "culture shock" of university life, as well as complicated feelings about the situation they have left behind at home. Enelesi notes that, at first, she felt isolated at university, among others from wealthier backgrounds who did not share her experience.
Higher education institutions should make sure guidance and counselling services are available and actively promoted. They can also facilitate peer support networks, finding ways to connect students in similar situations, to build community and help provide coping strategies and motivation. Our association members at tertiary institutions form a ready network of peers, encouraging each other, and orienting new students into university life.
From higher education to employment
Finally, graduates must secure – and be seen to secure – better jobs and economic security than they would otherwise have achieved. Institutions need to make sure that courses are relevant to industry needs and that graduates are effectively supported to secure employment, for example through work placements and careers services.
Through her own dedication and the ongoing support Enelesi received at university, she graduated with a degree in Earth sciences and was one of only three students to be awarded a distinction, subsequently securing her a position as associate lecturer. Her dream is to run an engineering company, helping to strengthen Malawi's earthquake mitigation measures and ultimately save lives.
Enelesi's story shows that change is possible. The right support at the right time increases the number of girls completing school and university and sets in motion a virtuous cycle – as we increase the number of visible female role models and promote tertiary education as a viable pathway for all, this will shift the default settings of aspiration for girls, with more accessing and succeeding in higher education. They will become a new generation of leaders and innovators, using their lived experience to make the world a better place for all of us.
As we say in CAMFED, "Pamoja tunaweza" – Together we can!
Angeline Murimirwa is executive director – Africa of the Campaign for Female Education (CAMFED) and a 2020 Yidan Prize for Education Development Laureate.
If you found this interesting and want advice and insight from academics and university staff delivered direct to your inbox each week, sign up for the THE Campus newsletter.