Four tips for increasing student engagement and self-efficacy using online platforms
A guide to increasing student interaction and motivation by using four well-known online platforms in your teaching, by Archimedes David Guerra

Hong Kong Baptist University
29 Mar 2022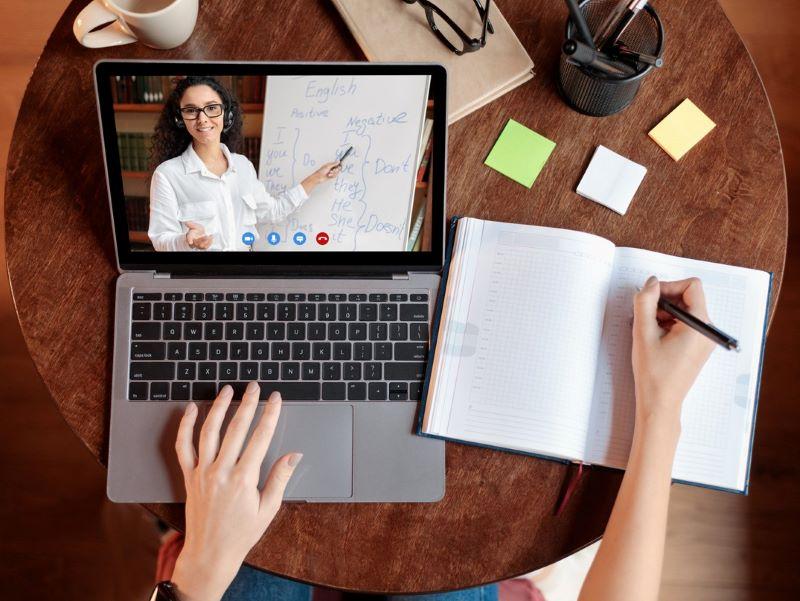 While learning communities around the world have adapted to online teaching models, remote learning too often comes at the cost of students' engagement and motivation.
More than seven years of teaching in Hong Kong helped me determine the best strategies and tools for making remote learning work for students, who have experienced numerous interruptions in their learning because of the pandemic. My key takeaway is that it should never be "either/or" – in-person learning can benefit from online learning strategies, just as remote learning should be informed by in-person approaches.
Blended learning: the best of both worlds
Traditionally, the online and in-person paradigms in the classroom have been seen as contradictory. Even now many educators restrict the use of mobile phones during in-person class instruction. Today's realities, however, force us to rethink the dynamics of these paradigms. Mobile devices have become an intrinsic part of the daily lives of our students, so why not use them as tools to help them learn more effectively?
With this in mind, I developed a teaching strategy known as BLESS (Blended Learning for the Engagement and Self-efficacy of Students), which received recognition at the 2021 International Contest on Blended Teaching and Learning. It aims to foster student engagement through meaningful and more frequent interactions among students and teachers, online and offline, as well as build their confidence in attaining high levels of academic achievement.
I find the following tools effective in helping students become more engaged and confident in their academic capabilities.
1. Bite-sized educational videos in Edpuzzle
Since the rise of YouTube, videos have become a widely available resource for anyone interested in learning particular topics. However, compared with one-off, one-click videos, hosting short-form learning videos on Edpuzzle gives students a chance to interact with the content and receive instant feedback, while providing educators with invaluable learning analytics.
With Edpuzzle I am able to embed questions, both multiple-choice and open-ended, at any point in a video, a feature that serves as a convenient and accessible tool to gauge students' comprehension and help them play a more active role in their learning, compared with standard videos on other platforms. The platform also provides useful metrics to measure students' levels of engagement with the videos, which is helpful to determine how to refine learning content to better suit the needs and preferences of students.
2. Using Padlet to enhance student creativity and engagement
The ability to put a face to a name is often lost online, with many students losing their sense of individuality. Padlet allows users to create collaborative virtual bulletin boards that can be accessed in real time. While teaching a course on social venture planning, I had students use Padlet to post ideas for new social ventures. Impressed with the app's customisation features, the students were inspired to carefully design a bulletin board that best suited their ideas. 
Throughout the course, students and I easily posted feedback and comments on each other's boards. The app elicited seamless peer-to-peer engagement, and students were able to use Padlet boards and the feedback they received to prepare well thought out business plans for new social enterprises.
3. Encouraging friendly competition on Kahoot! 
Kahoot! is a game-based learning platform that allows users to create custom quizzes. The quiz format of the app allows students to answer multiple-choice questions against the clock and provides summarised results of students' scores in real time. A major advantage of the app is that it gives students of all types, even those who usually hesitate to participate in discussions, a convenient means to take part in a learning activity by allowing them to demonstrate their knowledge and receive feedback with the click of a button.  
Kahoot! has proven really helpful in cultivating a lively classroom environment, which is especially important during transitions from one lesson to the next. The app allows students to experience healthy competition, motivating them to do well in front of their peers by revealing only the top three to five scorers. 
4. Back to the 'basics' – don't overlook the power of Google Docs and Zoom
Although the aforementioned web apps offer free versions, certain features can only be accessed by paying a fee. These two apps are almost universally available and are the ones I continue to use on a daily basis.
Google Docs and Google Slides: these are my primary tools for collaborative learning activities in a variety of learning modes. During in-person and offline classes, I use these apps for synchronous group activities. For example, I often ask students to answer open-ended questions or solve quantitative problems using Google Slides, and then present their solutions in class. As students work on these problems, I monitor their progress using the classroom computer and provide them with real-time feedback. Naturally, Google Docs is useful for collating ideas from different members of a group in real time.
Zoom: even if you are transitioning back to 100 per cent in-person classes, it is worth continuing to take advantage of certain Zoom functions. Many of my students, for example, still depend on Zoom video recordings to prepare for critical course assessments such as midterms and finals. Since these lecture video recordings can be lengthy, try to make them more interesting and informative by including handwritten annotations, notes, and explanations on the screen using a tablet. This approach can be especially effective in discussing technical concepts such as statistics and data analysis.
Archimedes David Guerra is a lecturer at Hong Kong Baptist University School of Business and a recipient of the 2021 International Contest on Blended Teaching and Learning prize. 
If you found this interesting and want advice and insight from academics and university staff delivered direct to your inbox each week, sign up for the THE Campus newsletter.