Engineering schools are riddled with issues – reinvention is required
From increasing diversity to embracing flexibility, engineering schools must enter a period of self-reflection if they are to remain viable

10 Aug 2022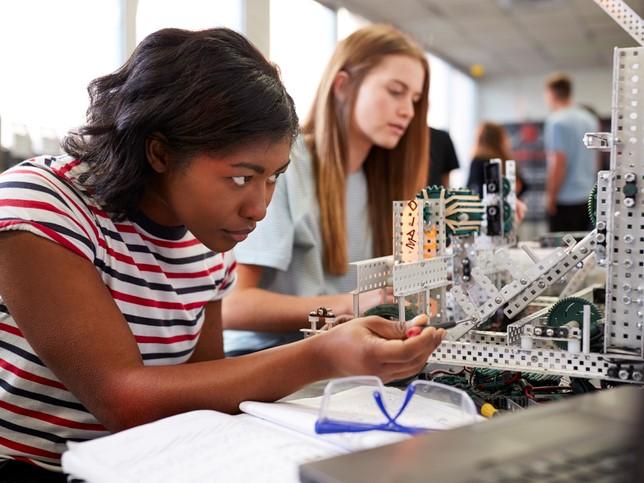 Long before the pandemic began, US colleges and universities were already standing at the edge of a demographic cliff. Nearly three million fewer students have enrolled in higher education over the past decade. At the nation's engineering schools, however, business has been booming. The number of bachelor's, master's and doctorate degrees awarded more than doubled over the past two decades.
It would seem like a great time to be the "E" in STEM, but past performance doesn't guarantee future results. Engineering schools, like many other academic disciplines, face a growing number of challenges of their own. The pipeline of prospective students is showing new cracks, and repairing it might be beyond the skill set of even the best engineers.
A precipitous decline in enrolment of international students portends a potentially ominous trendline in engineering enrolments. From 2011 to 2016, most of the growth of graduate engineering programmes was fuelled by increases in foreign students. Students from India, China and other countries earned more than half of the doctoral degrees awarded in 2019 in engineering and computer sciences.
But international applications to schools of engineering fell dramatically across the board in 2021, and international enrolment in such programmes in the US is on the decline because of the pandemic and changes to visa rules. Engineering programmes cannot rely solely on international student enrolment to buttress their graduate programmes.
To ensure their continued viability and competitiveness, engineering schools must not only repair the existing pipeline to STEM education and career success but also build new ones. Amid enrolment declines and increasing scepticism about higher education in general, a growing number of colleges are looking long and hard at their degree programmes — what they should offer, how they should offer it and what a degree should look like. This internal self-evaluation is essential for all engineering programmes to determine their viability and look for opportunities in strengthening or adding new programmes to match workforce needs. Forward-thinking schools of engineering should take part in this self-scouting exercise.
First and foremost, increasing the diversity of the STEM talent pipeline is imperative. The numbers are stark: in 2020, according to the American Society for Engineering Education, only 23 per cent of those who earned bachelor's degrees in engineering were women and just 15.5 per cent were under-represented minorities. Clearly that's not good enough. Engineering schools must work with a greater sense of urgency to eliminate barriers that have for too long kept women, people of colour and other historically excluded students out of engineering.
Of course, there are a huge number of confounding factors – from ineffective college advising to unequal access in Advanced Placement courses in mathematics and computer science – that engineering programmes can't solve. But these schools can work with local high schools and community colleges to uncover and recruit the sort of diverse talent that is too often overlooked and help ensure they are prepared for the rigours of engineering coursework.
When I was director of admissions at the University of Miami College of Engineering, we created a series of community college transfer partnerships to deepen our reach at public colleges across Florida and create a pathway to a four-year engineering degree for a more diverse group of students.
Along those same lines, admissions leaders on STEM programmes can conduct more holistic reviews of their applicants to consider the passion and aptitude of prospective students alongside their grades and test scores. Once students matriculate, schools of engineering must support them academically, financially and socially. An on-the-ball career services office will make sure all engineering students know what they can do after they graduate – and how exactly to get there.
In addition to a stronger focus on diversity, equity and inclusion, institutions must also begin to welcome students from a more diverse range of academic backgrounds, not just those who studied engineering as undergraduates. For example, a student with an undergraduate business degree might be a strong candidate for a master's in industrial engineering if an engineering school builds prerequisite courses into its graduate programme.
For many programmes, it might be time to re-evaluate their core curriculum and course requirements to differentiate between the value of their master's and doctoral programmes. Engineering degrees are distinct, and the educational pathways and prerequisites that lead to these degrees should look and feel different as well.
By looking beyond the confines of their own silos, engineering schools and other programmes can help their students gain valuable skills and competencies in other fields. Dual-degree engineering and MBA programmes, for instance, can produce data-savvy engineers who bring technical problem-solving skills into the corporate world, where data analytics, data management and data security are first-order issues. Similarly, collaboration with architecture schools can prepare engineers for careers in construction management.
Engineering programmes should also embrace flexibility. Already, a growing number of programmes – some inspired by Georgia Tech's one-year online master's in computer science – are investing in affordable online degree programmes that can better meet the needs of working adults and their employers. Engineering programmes at private research universities like Stanford, MIT and Carnegie Mellon are building stackable short-term credentials that are more attractive to potential master's students who remain employed during their studies.
Finally, it's not enough for engineering programmes to produce graduates with strong technical competencies and skills. New engineering graduates must enter the field with a greater sense of empathy for the uniquely human challenges that we encounter at work, such as cultural diversity, communication, teamwork and conflict management. These are the skills that companies increasingly want but are not always at the core of the traditional engineering curriculum.
For institutions of higher education, change doesn't always come easily or fast, especially when it comes to long-ingrained practices in admissions and programme design. But at the end of the day engineers are problem-solvers. Perhaps schools of engineering might be uniquely poised to solve some of higher education's pressing issues of accessibility, diversity and career outcomes.
David Poole is associate vice-president of enrolment management solutions for EngineeringCAS at Liaison International.
If you found this interesting and want advice and insight from academics and university staff delivered direct to your inbox each week, sign up for the THE Campus newsletter.