Is blended learning just a pipe dream for Indian HE?
It's unlikely we are ready for a seismic shift while simultaneously trying to improve the quality of university education in general, say Gunjan Rajput and Swapnarag Swain
Rishihood University
,
International Management Institute Kolkata
3 Aug 2021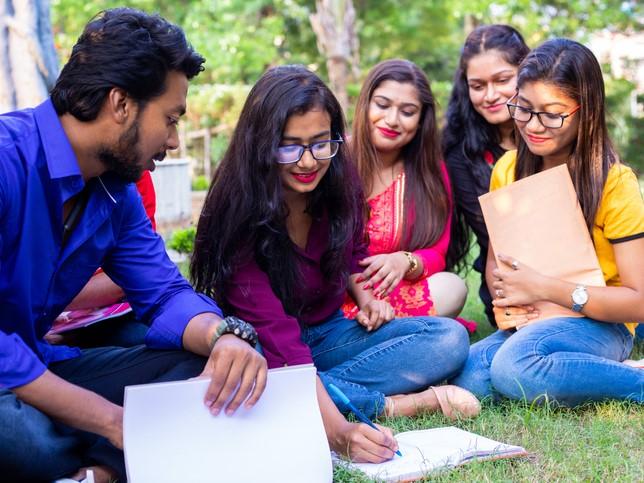 As we all know by now, the Covid-19 pandemic has forced online education on to teachers and students alike all over the globe. On a positive note, learning online does theoretically make it possible for students with limited flexibility and resources to obtain world-class education through a single internet connection.
This has encouraged India's University Grants Commission to propose some new ideas around implementing a blended learning approach, including a suggestion that up to 40 per cent of teaching take place online. But online education delivery can suffer huge limitations, especially in the context of a developing nation such as India. Hence, before rushing headlong into such a "new normal", we should assess this system and its potential consequences.
Since the 1980s, outcome-based education has slowly gained prominence, and major countries in Asia, Europe, North America and Australasia have researched and successfully implemented this approach in their higher education systems.
In India, although we are establishing outcome-based learning, our education system is struggling to match international standards − evident from recent international rankings for higher education institutions across the globe.
Given that our present HE system is struggling to attain global excellence, are we really ready for such a big shift – moving much more heavily towards online while simultaneously trying to improve the quality of university education in general? Let's consider some of the challenges facing online education in India.
Although India stands second globally in terms of sheer number of internet users, our internet penetration rate stood at 45 per cent in 2021, which is much lower than most developed countries and the other BRICS (Brazil, Russia, India, China and South Africa) nations.
In addition, more than 65 per cent of the Indian population lives in rural areas, but internet density in those areas is significantly lower than urban regions, which suggests the existence of a large digital divide between urban and rural India – a divide that presents a major challenge to ensuring equal access to online education. In our view, any education system that does not provide scope for equal access cannot be rated as efficient.
Furthermore, the average revenue per user of wireless telecoms services stands at just Rs102 (£0.99) per month, indicating that the socio-economic status and low financial capacity of an average Indian household seems likely to deepen the challenge of providing seamless access to online classes.
A further negative harbinger stems from the fact that during the pandemic there has been a significant fall in the number of applications, and a rise in dropout rates, across Indian higher education – and particularly profound effects can be seen in the case of professional and technical education. High dropout rates at this particular time can potentially be attributed to the fact that, while the average family size in India is 4.8 people, only 42 per cent of mobile phone users use smartphones, thus limiting access to online classes for the children in bigger families.
Non-economic issues also present themselves. A holistic approach to learning and development is pervasive in most developed higher education systems worldwide, focusing not only on learners' ability to comprehend, synthesise and create, but giving equal importance to the development of emotional and social quotients. This is often achieved through curricula that emphasise a multidimensional approach, involving learners in various activities inside and outside the classroom.
While online classes can deliver the classroom component, doubts persist over its suitability for those elements usually delivered outside the classroom that can be crucial for students' psychosocial development.
Student mental health is another big concern. India has long been categorised as one of the most depressed countries in the world, with one in six children and teenagers aged from 10 to 19 reportedly suffering from depression. What would be the impact of online classes on students' mental health?
Research conducted by the University of Michigan found that when students feel they have caring friends and teachers around, they are more engaged. Meanwhile, the ill effects of a teacher's absence and other issues with online learning have been identified and discussed for years.
All these issues raise serious doubts about the effectiveness of online teaching and learning in India, where today, except for a few of the top-class institutions, most universities are struggling with the mediocre quality of their digital infrastructure.
The proposed blended learning system will certainly open the market for edtech companies in India, but we and/or they cannot ignore the different learning styles of many of our students.
We might shout about the fact that by 2050 India is set to have the largest working-age population in the world. But surely that means that, while getting involved in futuristic tie-ups with big technology giants is all well and good (for a certain minority, at least), we must prepare by creating well-built digital infrastructure and a generation with sound emotional well-being and education.
Now is the time for us to rethink and revisit the real meaning of learning and its outcomes. Only once we've done that can we decide whether blended learning in India is just a lofty dream or a potential reality.
Gunjan Rajput is director of the Rashtram School of Public Leadership at Rishihood University, India.
Swapnarag Swain is an assistant professor of marketing at the International Management Institute Kolkata, India.