Source: Alamy
An eminent sociologist has claimed that high-quality scholarship does not depend on "obedience" to "technical" rules on referencing after a PhD student accused him of plagiarising from websites, including Wikipedia, in his latest book.
Zygmunt Bauman, emeritus professor of sociology at the University of Leeds, was responding to claims that he fails to clearly indicate that several passages in his 2013 book Does the Richness of the Few Benefit Us All? are exact or near-exact quotations from the online encyclopedia and other web sources.
His accuser, Peter Walsh, a University of Cambridge PhD student, said the websites are at times mentioned in passing as sources, but Professor Bauman does not make clear, through quotation marks or indented text, that he is directly reproducing material. He said this fulfilled the definition of plagiarism in the Harvard Guide to Using Sources.
Mr Walsh also flags up several instances in which the 88-year-old academic, after whom a sociology institute is named at Leeds, appears to reproduce mistakes in the allegedly plagiarised sources.
"He appears to have found [online] evidence to support his claims and stopped there.
"He hasn't shown any desire to check the facts, statistics and quotes in his sources, and that is fairly elementary," Mr Walsh explained.
Mr Walsh said he was a "huge admirer" of Professor Bauman, who has published nearly 30 books since the year 2000, and had only stumbled upon the alleged plagiarism after following up a reference in the book to the 1998 Human Development Report.
"These reports are published every year [by the United Nations Development Programme]. I wondered why he was referring to such an old one, especially as his argument is that economic inequality has been getting worse in recent years," he added.
Mr Walsh said a Google search revealed that he appeared to have "lazily plagiarised" a 2012 interview transcript from Asia Times Online, which also refers to the 1998 report, and in the process had reproduced mistakes. These included an erroneous reference to where the statistics were quoted in the UN report.
"After that, I noticed a number of casual references to Wikipedia, and was rather surprised that an 'old-school' intellectual would be so reliant upon it. I then thought it worthwhile to delve a little deeper," he continued.
Mr Walsh admitted that it was "risky" to speak out against such a renowned figure, with "a number of allies built up over an exceptional career".
"There has been a real need to proceed with caution, and I've taken advice from as many people as I could," he explained.
But he said that Professor Bauman's reputation made it especially important that "violations of the most elementary of scholarly standards" were exposed "if the reputation of academic sociology is something worth fighting for".
Shown the allegations by Times Higher Education, Professor Bauman said that in 60 years of publishing he had "never once failed to acknowledge the authorship of the ideas or concepts that I deployed, or that inspired the ones I coined".
"All the same, while admiring the pedantry of the authors of the Harvard Guide to Using Sources, and acknowledging their gallant defence of the private ownership of knowledge, I failed in those 60-odd years to spot the influence of the obedience to technical procedural rules of quotations on the quality (reliability, effectiveness and above all social importance) of scholarship: the two issues that Mr Walsh obviously confuses," he said.
"As his co-worker in the service of knowledge, I can only pity him."
Mr Walsh retorted that there was "nothing pedantic about asking authors to indicate when they are using the words of other authors". He said Leeds' own guide on plagiarism contained similar prescriptions.
Professor Bauman's publisher, Polity, declined to comment on whether it had checked Professor Bauman's manuscript for plagiarism.
A senior Cambridge academic, who asked to not be named, agreed that Professor Bauman had "a strong prima facie case to answer". He knew of several graduate students who had been failed because their theses had been found to contain unacknowledged passages. He suggested that Professor Bauman's apparent indifference was the result of "generational differences".
Earlier this year, Lewis Wolpert, emeritus professor in cell and developmental biology at University College London, apologised for including unattributed material, including from Wikipedia, in two recent books. He said that after downloading the passages he had forgotten he had not written them.
Mr Walsh noted Wikipedia's own warning against using it for academic projects because "anyone…can edit an article, deleting accurate…or adding false information".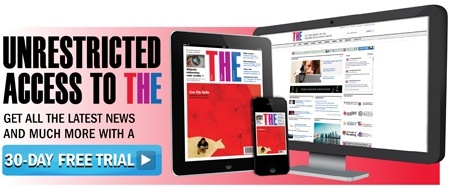 Register to continue
Why register?
Registration is free and only takes a moment
Once registered, you can read 3 articles a month
Sign up for our newsletter
Register
Subscribe
Or subscribe for unlimited access to:
Unlimited access to news, views, insights & reviews
Digital editions
Digital access to THE's university and college rankings analysis
Subscribe
Already registered or a current subscriber? Login