Source: Rex
Women are less successful than men in securing research council grant funding, according to new data (see graphs, below).
The analysis by Research Councils UK suggests that female scientists lag behind men in terms of grant success rates at almost every stage of their careers.
The biggest difference in the likelihood of success comes for scientists aged 50-59 applying for large grants, where women are roughly half as likely to get funded as men.
RCUK said that the differences in the number of grant holders by gender is "broadly consistent" with data on the age distribution of academic staff.
But critics called this another piece of evidence that shows that people are prone to undervalue women and said that the analysis does not go far enough to reveal what could be at play.
It is believed to be the first time that research council success rates have been broken down by gender. The data, released on 11 March, combine all grants awarded by research councils since 2010‑11.
Commenting on the findings, Dame Athene Donald, professor of experimental physics at the University of Cambridge, said: "Unless you think that women are appointed out of charity, [the difference in success rates] makes no sense at all."
She added: "I do not believe that universities are appointing women who are less good than men, so there has to be something about the way the proposals are being presented or considered that has that effect."
Dorothy Bishop, professor of developmental neuropsychology at the University of Oxford, said: "In virtually all disciplines whatever the starting point of the percentage of women [in academic roles], they do just seem to disappear, particularly after the postdoc stage."
The data show that men are slightly more likely to be successful at securing standard grants of less than £1 million at a younger age than women. For example, aged 30-39, male scientists have just a small lead over female scientists in terms of obtaining these grants, with success rates of about and 25 per cent, respectively. But by the age of 40-49, men's success rate has increased to about 30 per cent. It takes women 20 years more to reach a similar level.
For grants of more than £1 million, women are less successful than men at all ages. Applications from women for these grants drop away almost entirely after the age of 59. By contrast, men aged 60-69 have a more than 40 per cent chance of securing funding, rising to 50 per cent by 70‑79.
Dame Athene called the figures on large grants "troubling" but added that older women may have had an unsupportive working environment throughout their careers.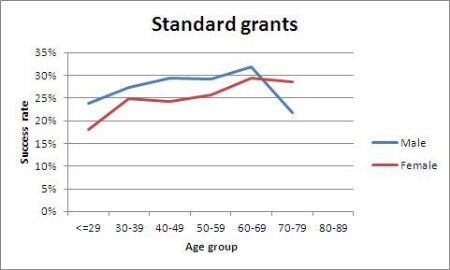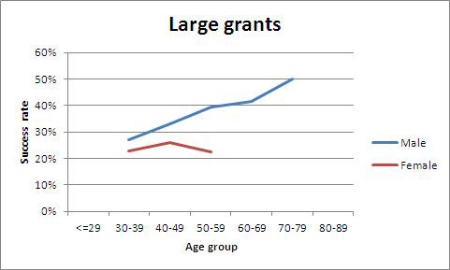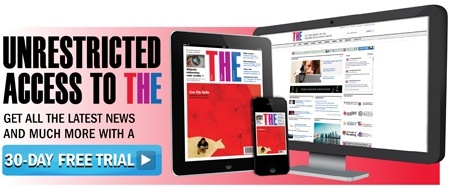 Register to continue
Why register?
Registration is free and only takes a moment
Once registered, you can read 3 articles a month
Sign up for our newsletter
Register
Subscribe
Or subscribe for unlimited access to:
Unlimited access to news, views, insights & reviews
Digital editions
Digital access to THE's university and college rankings analysis
Subscribe
Already registered or a current subscriber? Login