Source: Getty
The wheel of fortune turns round incessantly, the Chinese philosopher Confucius said. He might have been describing the fortunes of the foreign- language institutes named for him, which operate at universities worldwide, underwritten by the Chinese government.
The most recent controversy over the Confucius Institutes has flared up in Canada, where one university is shutting down the programme on its campus because of a human rights complaint and two more have declined to serve as hosts.
McMaster University in Hamilton, near Toronto, will close its Confucius Institute when the current term ends this summer, citing the institute's requirement that its instructors have no affiliation to organisations that the Chinese government has banned, including the spiritual movement Falun Gong.
In the past few years, too, the University of Manitoba and the University of British Columbia have turned down proposals for Confucius Institutes to open on their campuses.
The Confucius Institutes are under the control of Hanban, a branch of China's Ministry of Education. They supply money, teachers and Chinese- language instruction to universities.
The network has grown from one campus in Seoul in 2004 to more than 400 today, including 11 in Canada, 70 in the US and 11 in the UK. According to reports in the Chinese media on 11 March, the head of the Confucius Institutes, Xu Lin, has said the institute plans to expand to 500 branches worldwide by 2020.
Opposition to the programme has grown almost as dramatically. In addition to claims that it has restrictive hiring practices, critics have accused the Confucius Institutes of spreading propaganda about, among other things, issues such as the legitimacy of the Taiwanese state and the origins of the Korean War.
McMaster officials said the decision to close their university's Confucius Institute was the result of a complaint against the university brought before the Ontario Human Rights Commission in 2012 by a former instructor in the programme, Sonia Zhao. She said her contract with the Confucius Institute forced her to conceal her adherence to Falun Gong and to avoid discussing certain topics with her students.
Zhao, a Chinese citizen, has since been granted refugee status in Canada.
The institute began operations at McMaster in 2008, providing an extracurricular programme of study on which some 140 students are currently enrolled.
Andrea Farquhar, the university's assistant vice-president of public and government affairs, says that Zhao's complaint "was an important issue for us because of the kinds of expectations we have about human rights here".
She adds that attempts were made to negotiate a solution but none could be reached.
"It's not about the academic work that was being done or the quality of the teaching or the students' ability to get a lot out of the courses," Farquhar says. "This is about the hiring process."
Security details
Farquhar says she was not aware of any other complaints about the institute. Elsewhere, however, critics both inside the academy and beyond have registered their concerns.
Richard Fadden, the director of the Canadian Security Intelligence Service - the Canadian equivalent of the UK's MI5 - has gone on record with the Canadian government's concerns over the institutes.
Interviewed on CBC television in 2010, Mr Fadden said that China's lobbyists were "funding Confucius Institutes in most of the campuses across Canada", that the institutes were "managed by people operating out of the embassy or consulates - nobody knows that the Chinese authorities are involved" and that they had "organised demonstrations to deal with what are called the five poisons: Taiwan, Falun Gong and others".
June Teufel Dreyer, a professor of political science at the University of Miami who previously taught at the University of British Columbia, says that Confucius Institutes have distorted history, by, for example, inviting speakers to universities in Australia "to shill for the government and talk about how happy all the Tibetans were". Meanwhile, she says, there were "all these self-immolations happening" by Tibetans protesting Chinese control of the country.
Confucius Institute instructional material, some of it recently removed from the organisation's website, has included suggestions that the US drew China into the Korean conflict by bombing Chinese villages near the border with Korea.
And an Israeli court ruled in 2009 that Tel Aviv University's decision the previous year to shut down an art exhibition depicting Chinese government oppression of the Falun Gong stemmed from the university's fear that it would lose funding for its Confucius Institute from Beijing.
"It's always assumed that [university] students are capable of distinguishing propaganda from objective analysis. I'm not sure that's true," Dreyer says. "Some of them can. Others do not."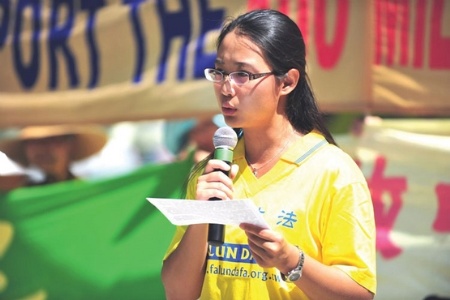 Money matters
At a time of stretched financial resources and when governments are jockeying for position with the economic powerhouse that China has become - in the case of Canada, as a market for oil and other natural resources - the Confucius Institutes bring funding and connections.
Dreyer, who was a member of the American congressional US-China Economic and Security Review Commission, calls this "an almost embarrassing rush to China".
Farquhar, however, says that money "was not the deciding factor" in allowing a Confucius Institute at McMaster. "There are academic or other reasons that we would look at these kinds of opportunities. But there's obviously also a contribution that comes with it. There's support coming from both partners."
Other kinds of collaborations with outside organisations "allow the university to go through its procedures and its hiring procedures, and to act fairly independently when it chooses who will teach and what will be taught", says Terry Russell, acting director of Asian studies at the University of Manitoba, who opposed the opening of a Confucius Institute on that campus.
"That fits fairly well with our North American conception of what academic freedom means," he continues. "With the Confucius Institutes, they don't allow us to do that. They would simply be bringing their show on campus, and they do the hiring of the instructors, according to their principles, and set their own agenda.
"They have no particular interest in what we would consider critical enquiry or academic freedom."
Plugging the funding gap
Russell argues that the funding is, in fact, a major reason for universities agreeing to team up with the Chinese government.
"It's not a huge amount of money, but for some [universities] it could be the difference between having a Chinese studies programme and not having [one]," he says.
Canadian universities in particular, he says, "are still Eurocentric. People who want to promote an Asian agenda don't have much to work with. Then the Confucius Institute comes along and offers a prepackaged programme and they can present it to the administration and say, 'This is going to cost us next to nothing. Let's give it a try.'"
But worries about hidden agendas, Russell says, are escalating.
"Certainly in Canada in general, there's a lot of concern over human rights issues and internet hacking and various things that are connected with China in negative ways.
"The problem is, when it comes to universities, the Confucius Institutes do provide funding in places where sometimes the universities can't or don't want to provide their own monies. Plus our federal government has a goal of selling Canadian resources [to China]."
Critics have unsuccessfully opposed the opening of Confucius Institutes at the universities of Melbourne, Chicago and Stockholm, and successfully at the University of Pennsylvania. But many top-ranked institutions have agreed to host the programme, among them Stanford University and the London School of Economics.
Ultimately, Russell believes, there will always be institutions willing to take Chinese money.
China, he argues, is seen "as a kind of sugar daddy". "As much as Canadians are concerned about Chinese problems with human rights and political agendas," Russell says, "university administrators still see it as a pragmatic way of getting more funding."
Register to continue
Why register?
Registration is free and only takes a moment
Once registered, you can read 3 articles a month
Sign up for our newsletter
Register
Subscribe
Or subscribe for unlimited access to:
Unlimited access to news, views, insights & reviews
Digital editions
Digital access to THE's university and college rankings analysis
Subscribe
Already registered or a current subscriber? Login