"Visionary" vice-chancellors are pushing universities to expand overseas in ways that are not properly thought through and lack an "analytical" rationale, according to a consultant who has interviewed a number of senior university leaders.
The comments by Mark Jeynes, head of the education practice at the strategy consultants OC&C, follow a year of costly failed international ventures for some UK universities.
Mr Jeynes was speaking after interviewing vice-chancellors, deans and pro vice-chancellors for a piece of research into university internationalisation.
"A number of the institutions we spoke to acknowledged that they had been opportunistic in their pursuit of an international strategy," he told attendees of Higher Education: Going Global, a conference held by EducationInvestor magazine in London on 6 March.
Some institutions had "a particularly visionary vice-chancellor leading the charge" to expand, he said, but they "hadn't really thought through properly, in an analytical way, why they were potentially launching overseas".
"It was quite apparent when we were talking to leadership teams that in many cases there were very few people with what I would call a professional and commercial background," he said.
There were a number of "capabilities" that universities "need to think about" if they are to "successfully pursue an international strategy", Mr Jeynes said.
Institutions need to have a "dynamic and data-driven approach to strategic decision making" and "an understanding of acceptable risks and compromises", he argued.
Mr Jeynes conducted the interviews for the joint OC&C/Google research report Britain's Higher Education Empire, published last December. Although he did not name any specific institutions, the past year has been a miserable one for some UK universities' overseas projects.
In April 2013 it emerged that the University of East London was to shut its Cyprus campus, which had a projected cost of £1.3 million, after recruiting just 17 students in six months. Later in the year, it also emerged that UEL had scrapped its Global Examinations Board after just one year of operation, leaving a "forecast liability" of £600,000.
In November, it was revealed that the collapse of a deal to set up a branch campus in Thailand would cost the University of Central Lancashire as much as £3.2 million.
Stephen Hillier, vice-principal international at the University of Edinburgh, also spoke at the conference. He described Edinburgh's global strategy, but emphasised that the university had no plans to establish a campus overseas.
"We do not do overseas campuses and it's a very risky business," he said.
The conference also heard from Harry Walker, head of services and education at Google.
Drawing on data from the search engine, he said: "There aren't a huge amount of institutions doing a really fantastic job in terms of online marketing in the UK yet."
There were more examples of US universities using Google services to "capture" prospective students who searched for generic terms such as "online MBA", he said.
If a Google user browsed a university website, then searched for a generic term, it was possible for the university's website to be "the first thing they see" in the search results, he explained. "Higher education institutions should be using this as a tactic," he said.
david.matthews@tsleducation.com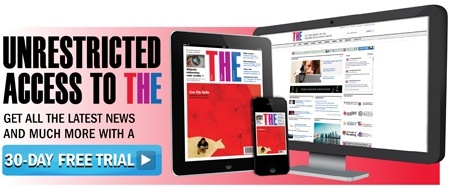 Register to continue
Why register?
Registration is free and only takes a moment
Once registered, you can read 3 articles a month
Sign up for our newsletter
Register
Subscribe
Or subscribe for unlimited access to:
Unlimited access to news, views, insights & reviews
Digital editions
Digital access to THE's university and college rankings analysis
Subscribe
Already registered or a current subscriber? Login