Making unconditional offers does not significantly improve a university's ability to recruit students, analysis suggests, despite a four-fold increase in the number made for this academic year.
Institutions in England, Wales and Northern Ireland made 12,115 unconditional offers to 18-year-olds for entry in 2014, according to the End of Cycle report from Ucas, in what appears to be another sign of growing competition among providers. Only 2,985 unconditional offers were made in this age group for 2013 entry, and that was 15 per cent up on the previous year.
However, analysis by the admissions service suggests that institutions which hoped to improve their intake this way may be disappointed. In 2014, 49 per cent of unconditional offers were selected as a firm choice, and 23 per cent were picked as an insurance option.
Ucas says it would not be productive to directly compare this to the selection rate of conditional offers, stating that unconditional offers "may be directed towards only certain kinds of applicants".
But with use of unconditional offers increasingly concentrated among a small number of providers – between five and 10 institutions are thought to be responsible for the overall rise – Ucas was able to analyse the performance of new entrants to this part of the market.
The report says that 17.3 per cent of all offers made by providers who were making 100 or more unconditional offers for the first time were selected as a school leaver's firm choice in 2014. While this was an increase from 2013, when 16.2 per cent of all offers made by these institutions were made a firm choice, Ucas says the result was "not unusually high compared with recent cycles and remains below the equivalent rate for providers who have never made a substantial number of unconditional offers".
Likewise, for universities making a substantial number of unconditional offers for the first time, the proportion of all offers which were selected as an insurance choice rose to 21.5 per cent, up from 20.9 per cent, but Ucas says this was "not unexpected compared to the long-term trend". A similar pattern was observed when Ucas analysed whether making unconditional offers led to more offers being taken up at the end of the cycle.
Supporting Professionalism in Admissions, a group that works with admissions staff, carried out a survey of students and advisers last year which found that only 6 per cent would pick an institution over their preferred university if they received an unconditional offer from it.
Janet Graham, the director of SPA, said: "Students are a lot smarter than they are given credit for. They want to make sure they are going to the place where they will get the best value for money and the best education that suits them."
The University of Birmingham makes hundreds of unconditional offers each year, after a pilot in 2013 attracted about 300 high-achieving students. Other institutions making such offers in 2014 included the universities of Nottingham and Leicester.
Unconditional offers represented 1.4 per cent of all offers in 2014.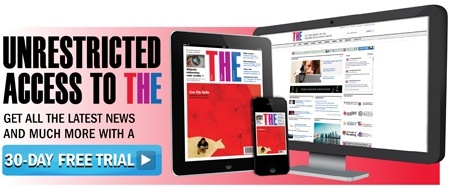 Register to continue
Why register?
Registration is free and only takes a moment
Once registered, you can read 3 articles a month
Sign up for our newsletter
Register
Subscribe
Or subscribe for unlimited access to:
Unlimited access to news, views, insights & reviews
Digital editions
Digital access to THE's university and college rankings analysis
Subscribe
Already registered or a current subscriber? Login