Source: Getty
Tuition fees at German universities are entering their death throes. The last of the 16 Länder (or states) still levying them will soon phase out fees: Bavaria this summer and Lower Saxony in spring 2014.
When they have gone, German students will no longer have to consider "streaking" past political leaders to express their opposition to government policy. They might otherwise have been tempted, to judge from the German reaction to news that Alki David, a film producer and founder of the social network Battlecam, recently promised to pay the fees of any UK student who ran naked past Nick Clegg, the deputy prime minister. The gimmick caught the attention of UniSpiegel, a quarterly publication for students under the aegis of the German news weekly Der Spiegel, which reported on it with much amusement in its most recent issue.
But while Germans may share with the English an appreciation of absurd political theatre, the two nations are poles apart when it comes to tuition fees.
Everyone is aware that, under the UK's coalition government, the cap on fees at English universities has tripled to £9,000 a year, catapulting the cost of tertiary education in the country way ahead in the European league tables.
At German universities, however, tuition fees, which have been allowed by law only since 2005, have remained steadfastly low at €1,000 a year (£845). Now, the country is abandoning them altogether. The Länder that introduced them have, in recent years, dropped them. In future, first-time students will pay only a significantly lower "semester fee" to cover administration costs, to contribute to student support bodies and, in some cases, to pay for local transport passes.
Battle lines drawn
It was just eight years ago that the Federal Constitutional Court rescinded the ban on tuition fees enshrined in the framework law governing higher education. This paved the way for individual states to introduce fees. Until then the German constitution, in deference to the UN Charter on Human Rights, had stipulated that "free tertiary education" was a basic human right, open to all and free of charge, irrespective of background or financial means.
But some conservative-led Länder, unhappy about any implied federal intrusion in education, traditionally a jealously guarded state policy area, successfully challenged the law. After that, North Rhine-Westphalia, Lower Saxony, Bavaria, Hesse, Baden-Wurttemberg, Hamburg and Saarland all ignored mass student protests and introduced upfront tuition fees.
But the battle did not end there. Although politicians offered assurances that the extra funds were being used to improve teaching and to cater better to students' individual needs, protests continued, culminating in mass demonstrations in 2009 that focused public attention on the students' plight. Meanwhile, the Left provided sustained political opposition: the Social Democrats and the Left Party joined forces to successfully block the introduction of tuition fees in Berlin, for example.
The rising power of the Green Party has also played a part in rolling back tuition fees. After a historic election victory in Baden-Wurttemberg in 2011 that led to the inauguration of Germany's first Green state premier, the state government abolished tuition fees. It replaced them with an obligatory "quality assurance" contribution amounting to €280 per student; for a variety of reasons, however, 44 per cent of all students are exempt.
The Greens are also making an impact in Lower Saxony, where they and the Social Democrats comprise the state's new left-wing government, which will abolish tuition fees early next year.
But even Bavaria, where the conservative-liberal (Christian Social Union/Free Democratic) regional government strongly backed fees, finally caved in to voter pressure in February after the Freie Wähler (Independent Voters) movement launched a referendum that drew huge support, especially from university associations, political groups and unions. In the end, about 15 per cent of the electorate signed a petition, which forced a debate on the issue and led the state government to abolish tuition fees by the end of the current academic year. Regional elections coming later this year were another factor in the decision: the state government did not relish the prospect of the region's students campaigning against it. Last but not least, a federal election looms in September, and conservative-led states such as Bavaria need to mobilise voters - including students - to keep Angela Merkel in power.
Now Bavaria's state government has pledged to make up the forgone income to the tune of €200 million.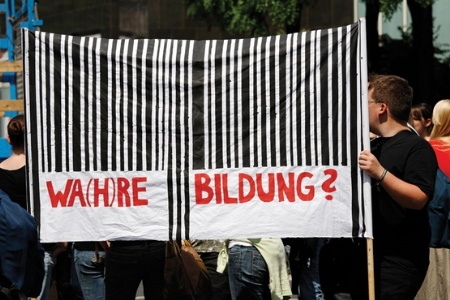 Lost opportunity?
Although students and many other Germans are pleased to see tuition fees shelved, some observers lament a lost opportunity.
Ulrich Müller, an expert on student policy at the Centre for Higher Education (CHE), is in no doubt about the positive benefits of fees. The CHE, a thinktank that oversees Germany's best-known university ranking system, is part of the Bertelsmann Foundation, which has lobbied since the mid-1990s for the introduction of tuition fees.
"If you look at the facts, there's no way you can oppose tuition fees," he contends. Müller goes on to list what has changed since they were introduced: "improved facilities, more individual tuition, longer opening hours at university libraries, more tutorial groups and a wider range of study courses".
Moreover, he is convinced that having to pay fees forces students to "think more carefully about what they want to study" and leads them to "make more conscious decisions".
Finally, fears that fees would mean young people deserting eastern Germany in droves in favour of west German universities proved largely unfounded, because in former East Germany "not one single state ever levied any tuition fees", Müller says.
As Bavaria's decision shows, the fee income forgone has be replaced. Horst Hippler, president of Germany's University Rectors' Conference and an outspoken supporter of tuition fees, has concerns.
"The public sector simply won't be able to make up the deficit long term," he says.
In any case, he asks, why shouldn't young people invest in their education by contributing to the costs? The model, he continues, could be "similar to Australia, where students get payback loans linked to specific income levels. So they only start paying when they're earning good money and can afford it."
But what about students from poor backgrounds who are reluctant to saddle themselves with so much debt? "We're talking about €1,000 a year," Hippler says. "That's a mere €3,500 for a BA and only €5,000 for an MA - I think that's within most people's reach."
As if to underline the point, the Confederation of German Employers' Associations, along with other industry groups, has drafted a 10-point plan aimed at finding new ways to support universities and students.
In addition to a system of "merit funding", whereby universities receive public cash based on graduation numbers and completion rates, the industry groups envisage a future in which all institutions receive an equal share of federal support funds - instead of universities relying solely on financing by Länder, whose generosity varies.
The groups also want tuition fees to be reintroduced, but in such a way that they are paid after graduation by those who reach a minimum salary threshold. At the same time, they call for more support for poor students, larger grants and cheaper loans. They also argue that child benefit payments, which go to parents until their children finish their studies, should in future be allocated directly to students.
Achim Meyer auf der Heyde, secretary general of the German National Association for Student Affairs, says: "Of course we support calls for sustained government funding for universities, and we are also in favour of child benefit payments being transferred directly to students." However, he rejects arguments in support of tuition fees. "There's no point in raising grants then depriving students of their means by introducing tuition fees."
Register to continue
Why register?
Registration is free and only takes a moment
Once registered, you can read 3 articles a month
Sign up for our newsletter
Register
Subscribe
Or subscribe for unlimited access to:
Unlimited access to news, views, insights & reviews
Digital editions
Digital access to THE's university and college rankings analysis
Subscribe
Already registered or a current subscriber? Login