Source: Rex
"It's not just about the money," Colin Riordan, vice-chancellor of Cardiff University, said of the forthcoming €2.7 billion (£1.95 billion) cut to European Union research funding.
Of course, the 3 per cent cut to Horizon 2020, the EU's seven-year, €80 billion fund for research and innovation, matters a great deal financially to UK universities.
The University of Cambridge won £51.9 million from the EU in 2013-14 – about 14 per cent of its total research income of £371 million last year, and more than double the sum it received from charitable sources.
Overall, UK universities were predicted to receive about £2 billion from Horizon 2020 in the first two years of the 2014-20 framework agreed in November after four years' negotiations.
At the UK's 24 Russell Group universities, EU research funds tot up to about £400 million a year, some 11 per cent of research income. That makes EU research funds "not just a bonus but a vital part" of university funding, according to the Russell Group.
"As competition on national science budgets grows, so the EU becomes very much more important," argued Cambridge's vice-chancellor, Sir Leszek Borysiewicz, at a reception in Brussels on 13 April for some 50 senior UK university leaders who travelled there to lobby against the research cuts.
But Professor Riordan, who led the Brussels delegation, said that the cuts will cost UK universities far more than just the tens of millions of pounds they are expected to lose in coming years.
"We get unbelievably good research when we work across borders in Europe, so we risk losing a lot if we move away from that system," he said.
In other words, the quality of research at UK universities that is enabled by EU programmes will be damaged by significant cuts.
Paul Boyle, vice-chancellor of the University of Leicester, also worried that the cuts would have other adverse consequences.
He said that success rates for European Research Council grants, at 12 per cent, are already far lower than those for any UK research council, where success rates range from 23 per cent to 32 per cent.
Any withdrawal of funds would further lower success rates and lead to more time and resources wasted on unsuccessful applications to the European scheme, Professor Boyle said. "There is such pressure on the system already, it will be tough to make further cuts on it," he added.
On a personal note, Professor Boyle said, he was also disappointed by last-minute cuts to Horizon 2020 because he was involved in its protracted negotiations while chief executive of the Economic and Social Research Council and president of Science Europe.
"An enormous amount of lobbying had gone into getting that amount," he said, adding that the cuts are regrettable because EU research funding has "demonstrated [that it leads to] real economic growth".
Vice-chancellors are also unhappy about the proposed method of clawing back funds for basic research by using an EU-backed loans system.
"You cannot fund a research fellowship on loan finance," said Sir Ian Diamond, principal and vice-chancellor of the University of Aberdeen, who added that it was "completely unclear" how a debt-based system would fund pure research that has no specified commercial outcomes.
That system is the new €21 billion European Fund for Strategic Investments – in part funded by €2.7 billion taken from Horizon 2020 – which aims to lever some €315 billion of investment from public and private sources to create jobs primarily by kick-starting major infrastructure projects.
Announced by European Commission president Jean-Claude Juncker in January, the fund has been criticised as an easy way to gain "quick wins" on employment at the expense of supporting longer-term innovation that can be generated by research institutions.
UK universities, which win about 20 per cent of all ERC grants, will be hardest hit among all EU nations.
Sir Ian said that the loss of EU funding would reduce opportunities for Aberdeen academics to network and collaborate with leading scholars on the Continent, which has produced excellent results.
"To be successful for ERC funding, you need to partner with the very best in Europe," he said. "It has led to better science and more opportunities for our researchers to get a global reputation."
Sir Ian, a former chief executive of the ESRC, also said that he was "particularly concerned by the cuts to the social sciences and humanities when the EU had said that it would treat these areas well".
The loss of a large slice of Horizon 2020 cash threatens to undo what had seemed like a great success story. In December, it was announced that Horizon 2020 represented a 30 per cent increase in research funding compared with the previous six years. But once inflation and the inclusion of other projects previously covered by other budgets are included, the €30 billion increase actually amounts to a 7 per cent cut in like-for-like funding, university leaders say.
With Mr Juncker's plan likely to be approved in June, despite opposition from several MEPs, the combination of the effective 7 per cent cut and the fresh 3 per cent reduction will amount to a 10 per cent cut in research funding in total, critics say.
"We know this battle is lost," said one university leader who was among the delegation but did not wish to be named. "But this trip is about drawing a line in the sand that says we will not accept these types of cuts without a fight."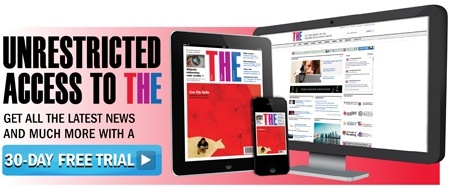 Register to continue
Why register?
Registration is free and only takes a moment
Once registered, you can read 3 articles a month
Sign up for our newsletter
Register
Subscribe
Or subscribe for unlimited access to:
Unlimited access to news, views, insights & reviews
Digital editions
Digital access to THE's university and college rankings analysis
Subscribe
Already registered or a current subscriber? Login