Source: Getty
University College London won £31 million more research funding than any other institution in the past financial year, figures indicate.
According to Times Higher Education's annual analysis of research council grant data, UCL won grants worth £135 million in 2012-13 at a success rate of 33 per cent by the number of applications.
The University of Cambridge and Imperial College London were the only other institutions to win more than £100 million, and only 13 institutions were awarded in excess of £30 million in total.
UCL's total represents a 90 per cent rise on the previous year's figures at a time when the total value of research council grant allocations increased by about 50 per cent.
David Price, vice-provost for research at UCL, said his institution had received a "tremendous boost" from its emphasis on building cross-disciplinary consortia around global challenges such as infectious diseases, energy demand and dementia.
"Those are areas in which we've put a lot of emphasis within our research strategy for many years, and people have been working long-term to build partnerships and exciting research programmes. This definitely isn't an overnight success," he said.
Tim Jones, pro vice-chancellor for research in science and medicine at the University of Warwick, also credited an interdisciplinary approach for the tripling in the value of its awards (to £45 million).
He said that Warwick had taken a deliberate decision two years ago to focus its research around "global research priorities" where the university had "critical mass and disciplinary expertise", and which aligned with funders' priorities.
"That has allowed us to assemble teams at an early stage to attract large grants," he said.
Based on a survey of its members, the University and College Union last month claimed that interdisciplinary research was being routinely excluded from Warwick's submissions to the research excellence framework. However, a spokesman for the university denied this.
Stay on target
Warwick also recorded one of the highest success rates among institutions that submitted more than 50 applications: 34 per cent. It was beaten only by Durham University (44 per cent), the University of York (38 per cent) and Newcastle University (35 per cent).
The lowest success rate for such institutions – 19 per cent – was recorded by the universities of Surrey and Swansea. Queen Mary, University of London, also recorded a relatively low success rate (20 per cent). However, the value of awards enjoyed by all three institutions rose significantly: by 73, 239 and 164 per cent, respectively.
The value of the grants awarded to most universities increased. Rises of more than 100 per cent were also recorded by Lancaster, Brunel, Cranfield and Newcastle universities and the universities of Strathclyde, Dundee, Loughborough, Nottingham and Warwick.
Many of these institutions are strong in areas funded by the Engineering and Physical Sciences Research Council, which nearly doubled the value of the awards it made in 2012-13.
The most significant loss of grant income among research-intensives came at the University of Southampton (down 32 per cent to £ million). The universities of Aberdeen and East Anglia also suffered declines of more than 20 per cent.
See data, below. Click here for the full data tables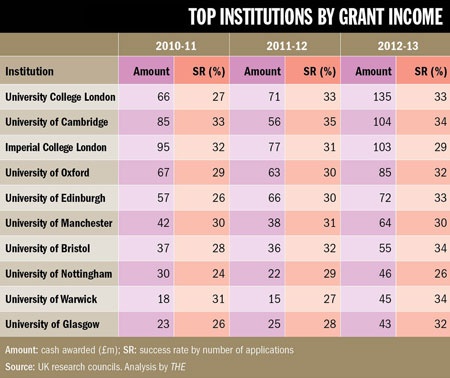 Register to continue
Why register?
Registration is free and only takes a moment
Once registered, you can read 3 articles a month
Sign up for our newsletter
Register
Subscribe
Or subscribe for unlimited access to:
Unlimited access to news, views, insights & reviews
Digital editions
Digital access to THE's university and college rankings analysis
Subscribe
Already registered or a current subscriber? Login