Source: Richard Lane
A sister and brother have created an "augmented lecture" incorporating music, dance and animation inspired by their experiences as bone marrow donor and recipient.
When Milton Mermikides, lecturer in music at the University of Surrey, collapsed in London's Bond Street in November 2004, he was rapidly diagnosed with acute lymphoblastic leukaemia. Despite odds of only one in four, his lone sibling Alex Mermikides, senior lecturer in drama at Kingston University, was a life-saving transplant match.
She is also a writer and director and he a composer, so she suggested in July 2012 that they work on a joint project. Funding from the Arts and Humanities Research Council enabled them to develop Bloodlines as part of the Chimera Network, based at Kingston and Surrey and dedicated to investigating the "intersections between performance, music and science". (The recipient of a stem cell transplant such as Milton is technically a "chimera", since he now contains two separate DNA systems.)
Initial plans were for a dramatic work based around the siblings' characters, said Alex. But her brother felt "shyness and reticence about sharing his own story", so instead of autobiography they explored "the body and what goes on in it".
She said: "We wanted to communicate something of what it's like to go through the transplant process. There is a good cancer community online, but information is not well disseminated beyond that. We also want to encourage people to join the bone marrow registry."
The first person to join their team was Ann Van de Velde, a haematologist at Antwerp University Hospital, who had contacted Milton about the descriptions of his treatment he had put up on his website. Discussions led to a series of short lectures that form one element of the Bloodlines project. They were later joined by digital artist Anna Tanczos and then Adam Kirkham and Caroline Lofthouse, dancers who developed a duet about the search for compatible circulatory systems.
Alex spent a few days in Antwerp and the whole team visited Hammersmith Hospital, where Milton's original treatment had taken place, for conversations with medics and patients. Milton has long been interested in data sonification, the process of turning non-musical material into musical form that has produced innovative works such as Brazilian composer Heitor Villa-Lobos' New York Skyline Melody. Milton created a score based on graphs of changing blood cell counts and incorporating recorded hospital sounds such as endless bleeps from medical monitors.
While Alex stressed that they "always started with the science" in each scene, combinations of art forms such as dance and animation are used to convey the more emotional aspects of the medical procedures: the endless restless nights, the "white noise" of full-body radiation, and the months of isolation during chemotherapy when even close family had to be masked during meetings with Milton.
Evolving versions of Bloodlines, adapted to different audiences, have been mounted at the Science Museum, the Rose Theatre in Kingston and London's Royal Central School of Speech and Drama. A section of the work was performed last year at a European bone marrow conference in London. Performances are also planned for Antwerp University Hospital in March, and at the Performing Science Conference at the University of Lincoln in April.
matthew.reisz@tsleducation.com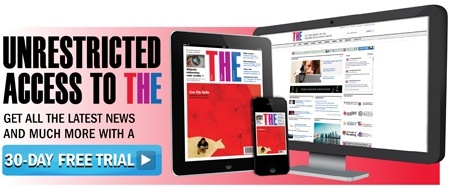 Register to continue
Why register?
Registration is free and only takes a moment
Once registered, you can read 3 articles a month
Sign up for our newsletter
Register
Subscribe
Or subscribe for unlimited access to:
Unlimited access to news, views, insights & reviews
Digital editions
Digital access to THE's university and college rankings analysis
Subscribe
Already registered or a current subscriber? Login